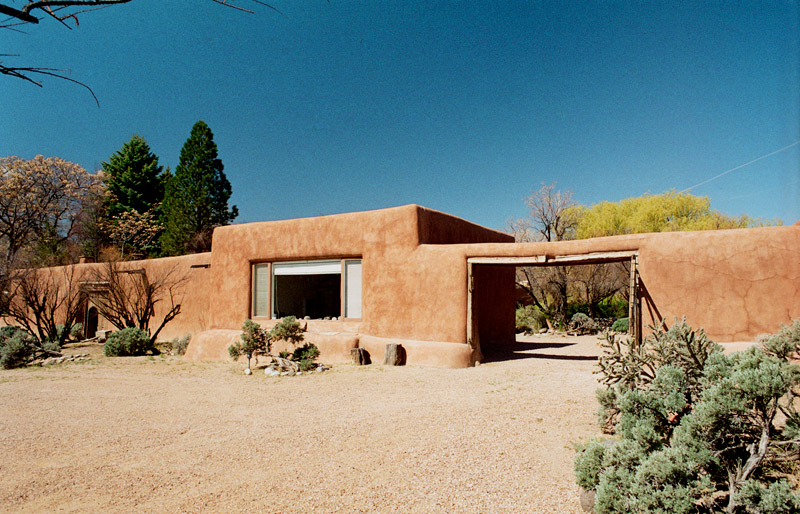 The Abiquiu home and studio is a 5,000 square foot (460 m2) Spanish Colonial-era compound that was utterly ruined when Miss O'Keeffe found it. She bought the property in 1945 and for the next four years supervised its restoration, which was carried out by her friend Maria Chabot.
Georgia O'Keeffe Home Technical Information
Architects: Unknown (Restoration by Maria Chabot)
Location: 12 Palvadera Rd., Abiquiu, New Mexico, USA
Area: 5,000 square foot (460 m2)
Project Year: 1744 (Renovation:1945-1949)
Photographs: © Krysta-Jabczenski, Unknown
When I first saw the Abiquiu house it was a ruin with an adobe wall around the garden broken in a couple places by falling trees. As I climbed and walked about in the ruin I found a patio with a very pretty well house and bucket to draw up water. It was a good-sized patio with a long wall with a door on one side. That wall with a door in it was something I had to have.1

– Georgia O'Keeffe1
Georgia O'Keeffe Home Photographs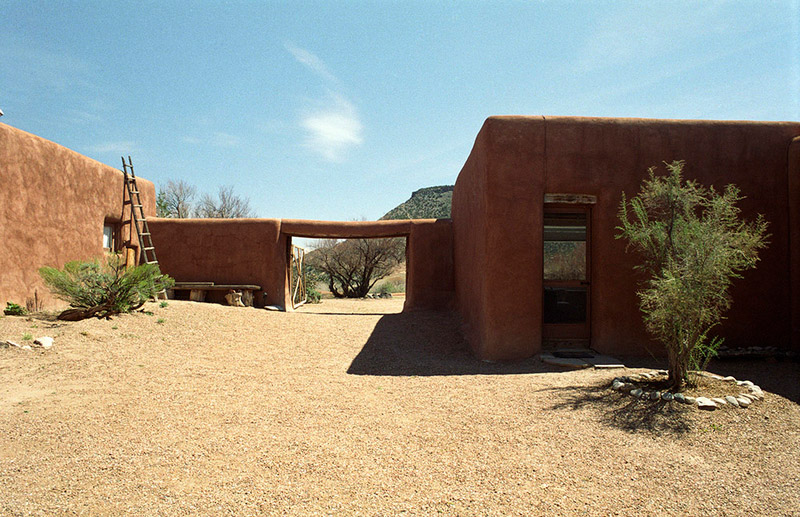 Text by the Architects
The Georgia O'Keeffe Home and Studio is located in the small unincorporated village of Abiquiú, near the St. Thomas Church. The building is a single-story adobe structure, built mainly in the traditional style. It has thick adobe walls and a flat roof supported by a network of vigas and latillas (smaller wooden elements crossing the larger viga beams).
The house is organized in wings a single room deep, which surrounds a central patio/plaza. The house has several modernist elements, including skylights and large picture windows that provide expansive views of the surrounding landscape and bring natural light into areas that such homes traditionally did not have. O'Keeffe was insistent on these deviations from the traditional form, stating in an interview that "I didn't want a Spanish house; I didn't want an Indian house, [or] a Mexican house; I wanted my house!"
Portions of the house are believed to date to the 1730s, and it was in deteriorating condition when Georgia O'Keeffe first spotted it in the 1930s. At the time, it was owned by the Roman Catholic church, which did not want to sell it. It eventually relented, and O'Keeffe was able to purchase it in 1945. She undertook to rehabilitate and modernize the property, work that was a collaborative effort with her friend Maria Chabot. This work was completed in 1949 when O'Keeffe made it her permanent home. Included in the compound is a smaller outbuilding which was her principal studio space.
Miss O'Keeffe often painted from inside her bedroom window that overlooks the Chama River Valley during the winter months. In Abiquiu, she also created her Cottonwood series, the paintings of the Abiquiu Mesa, and the road to Santa Fe.
The Abiquiu Home and Studio offers a unique look into the life of one of America's greatest artists. It gives viewers a chance to see the home, which was her vision. Throughout the property, one can see and feel O'Keeffe's time and love dedicated to this particular property in an exceptional town, Abiquiu.
The O'Keeffe Home and Studio reflects a blend of Native American and Spanish Colonial building styles regional architectural traditions dating back centuries. The oldest rooms were probably built in 1744. In the nineteenth century, the house was expanded into a pueblo-style adobe (mud brick) hacienda, with rows of rooms organized around a common open space, or plazuela.
It took several years to acquire and rebuild the house; O'Keeffe finally made Abiquiú her permanent home in 1949. The property's unique character, a quiet sanctuary from which to draw inspiration, perfectly suited O'Keeffe's needs.
O'Keeffe lived in the home from 1949 until 1984. She died in Santa Fe on March 6, 1986, at 98. The O'Keeffe Home and Studio was designated a National Historic landmark in 1998 and is now part of the Georgia O'Keeffe Museum.
O'Keeffe was a Modernist whose work was deeply rooted in place. She was drawn to the ruins in Abiquiú, preserved fragments that remained and restored traditional adobe forms—while transforming the house inside and out to afford light, views and her lifestyle.

– Hawkes, professor of practice in the Graduate Program in Historic Preservation at PennDesign
Georgia O'Keeffe Home Plans
Project Image Gallery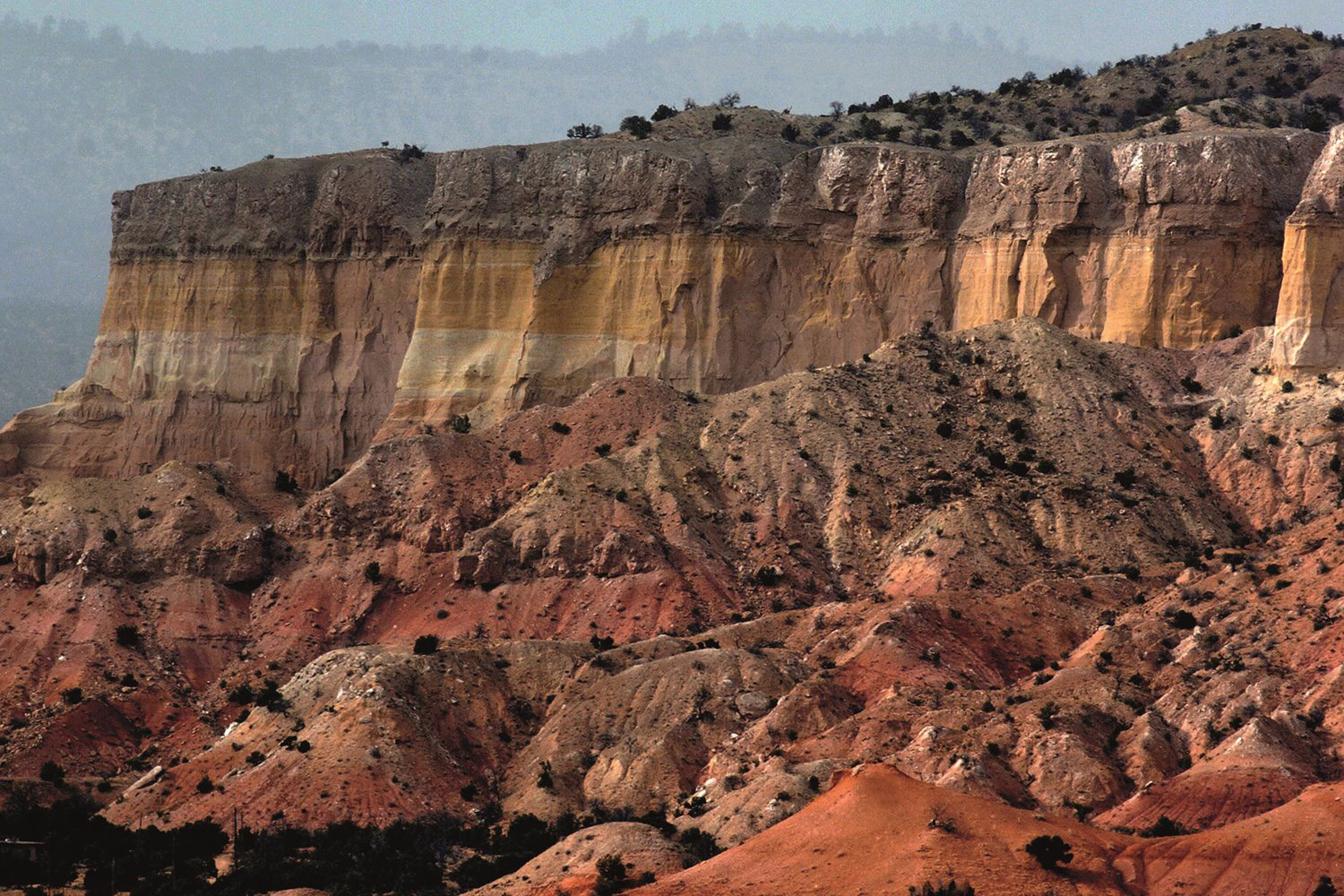 About Georgia O'Keeffe
Georgia Totto O'Keeffe (November 15, 1887 – March 6, 1986) was an American modernist artist. She was known for her paintings of enlarged flowers, New York skyscrapers, and New Mexico landscapes. O'Keeffe has been called the "Mother of American modernism."
In 1905, O'Keeffe began art training at the School of the Art Institute of Chicago and then the Art Students League of New York. In 1908, unable to fund further education, she worked for two years as a commercial illustrator and then taught in Virginia, Texas, and South Carolina between 1911 and 1918. She studied art in the summers between 1912 and 1914 and was introduced to the principles and philosophies of Arthur Wesley Dow, who created works of art based upon personal style, design, and interpretation of subjects, rather than trying to copy or represent them.
O'Keeffe and Stieglitz lived together in New York until 1929, when O'Keeffe began spending part of the year in the Southwest, which served as inspiration for her paintings of New Mexico landscapes and images of animal skulls, such as Cow's Skull: Red, White, and Blue and Ram's Head White Hollyhock and Little Hills. After Stieglitz's death, she lived in New Mexico at Georgia O'Keeffe Home and Studio in Abiquiú until the last years, when she lived in Santa Fe. In 2014, O'Keeffe's 1932 painting Jimson Weed/White Flower No. 1 sold for $44,405,000, more than three times the previous world auction record for any female artist. After her death, the Georgia O'Keeffe Museum was established in Santa Fe.
Georgia O'Keeffe Hardcover – July 13, 2021 by Georgia O'Keeffe (Artist), Catherine Millet (Contributor), Didier Ottinger (Contributor), Ariel Plotek (Contributor), Anna Hiddleston-Galloni (Contributor), Dale Kronkright (Contributor), Andrés Sánchez Ledesma (Contributor), Marta Palao (Contributor), Susana Pérez (Contributor), Ubaldo Sedano (Contributor)
[cite]