Nestled in Sengokubara, Japan, the exquisite timber house Villa, designed by renowned Japanese architect Shigeru Ban, boasts a harmonious square layout that thoughtfully integrates the surrounding natural environment. At the heart of this elegant abode lies an inviting interior courtyard, which serves as the focal point for the meticulously arranged living spaces. From the entrance, each room radiates outward in a radial manner, creating an organic flow that enhances the sense of connectivity and balance within the home while showcasing Ban's architectural prowess and dedication to sustainable design.

Villa at Sengokubara by Shigeru Ban technical information
This house is, indeed, a result of my vision of enjoyable and flexible living, which evolved from the client's own vision toward a living and a family life.

– Shigeru Ban
Villa at Sengokubara Photographs
Embracing Nature: Shigeru Ban Architects' Innovative Timber House Villa
Nestled in a unique flag pole-shaped site, the Timber House Villa at Sengokubara, designed by Shigeru Ban Architects, is a stunning 2-story wooden residence that seamlessly integrates indoor and outdoor living. The home's thoughtful design revolves around a 15-meter diameter interior courtyard, with all spaces arranged radially from the entrance, emphasizing a harmonious connection between various living areas.
The expansive roof of the house angles gently inward, forming a protective canopy around the courtyard's perimeter while varying in height to create a welcoming atmosphere with lower ceilings at the entrance. This variation in height achieves a dynamic range of ceiling heights, from 2.4 meters to an impressive 7.5 meters.
At the heart of the residence, the main living room can be effortlessly merged with the interior courtyard by opening the eight sliding doors separating the two spaces, offering flexibility and fostering a seamless indoor-outdoor living experience.
Constructed with wooden columns and beams, the structure employs 75mm x 350mm L-shaped pieces meticulously arranged in a radial pattern, giving rise to the large, one-way sloped roof that characterizes the residence. This innovative design showcases Shigeru Ban Architects' commitment to creating elegant, functional, and sustainable living spaces that embrace and enhance their natural surroundings.
Villa at Sengokubara Plans
Villa at Sengokubara Gallery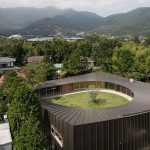 About Shigeru Ban
Shigeru Ban is a Japanese architect known for his innovative work with paper, particularly recycled cardboard tubes used to quickly and efficiently house disaster victims. Many of his notable designs are structures that are temporary, prefabricated, or incorporate inexpensive and unconventional materials in innovative ways. In 2014, Ban was named the 37th recipient of the Pritzker Architecture Prize, the most prestigious prize in modern architecture.
Design Team: Shigeru Ban, Nobutaka Hiraga, Wataru Sakaki, Jun Matsumori
Structural Engineers: Hoshino Structural Engineering
General contractor: Hakone Construction