Completed in 1984, the House in Yokohama remains a standout example of the innovative and influential residential designs of Japanese architect Kazuo Shinohara (1925-2006). Shinohara was known for his blend of traditional Japanese architecture and modernist design principles, and this house is a testament to his long-lasting architectural convictions.
The house features a distinctive black exterior with a sloping roof that creates a sense of dynamism and movement. The interior is characterized by a series of interconnected spaces that flow seamlessly into one another, creating a sense of openness and flexibility. The use of natural materials, such as wood and stone, adds warmth and texture to the space.
Shinohara's attention to detail is evident throughout the house, from the carefully crafted joinery to the use of sliding partitions to create adaptable living spaces. The house is designed to be both functional and beautiful, with a strong emphasis on the relationship between the interior and exterior spaces.
Yokohama House Technical Information
It is hugely important to understand the process of designing a tiny work. On the one hand, there are so many tall buildings around us, such as in Shinjuku, but they possess no power. Then there is the tiny house I constructed on a small budget making use of inexpensive materials, and somehow this tiny house exerts influence.

– Kazuo Shinohara in Conversation with Hans Ulrich Obrist1
Yokohama House by Kazuo Shinohara Article
Text by the Architect
The House in Yokohama, completed in 1986, was Japanese architect Kazuo Shinohara's attempt to show the discreteness of both two-dimensional and three-dimensional shapes in one project.
Using lots of geometrical forms in his design, such as the quarter cylinder for the main building and triangular windows, the form of the house itself is an experiment of stimulating a different spatial experience through living in spaces of non-everyday shapes.
While one can still discern the discrete geometric shapes of the house, it is evident that the design is a chaotic one; it is the architect's deliberate interpretation of how to embrace the beauty of chaos of cities in an architectural language.
The Japanese house is the ground of being for Shinohara both figuratively and literally (three of his built projects utilize Earthen floors). From there he developed an autonomous research-driven practice unlike any other at the time, one that seemed to simultaneously transcend and perfectly contain his era. In a conversation with Hans-Ulrich Obrist recently republished in Quaderns, Shinohara remarked that his chaotic bent was very "un-avant-garde" at a time when the architects of the International Style prioritized the near fascist ordeal of total order.

One gets the impression that Shinohara was kind of out there: too cool for the Metabolists, too intellectual for paper Modernists, evasive of the press, exalted by his students (Ito, Hasegawa, Sakamoto), and highly respected by his clients who were more often than not other artists, writers, poets, art directors, film producers, and intellectuals of all stripes. He is revered by contemporary Japanese firms like SANAA and Atelier Bow Wow. Shinohara is an architect's architect if there ever was one. His reputation for uncompromising integrity is flawless. To this end, he maintained strict control over the publication of his work.

– Jon Leon in The Art Book Review
Yokohama House Plans
Yokohama House by Kazuo Shinohara Gallery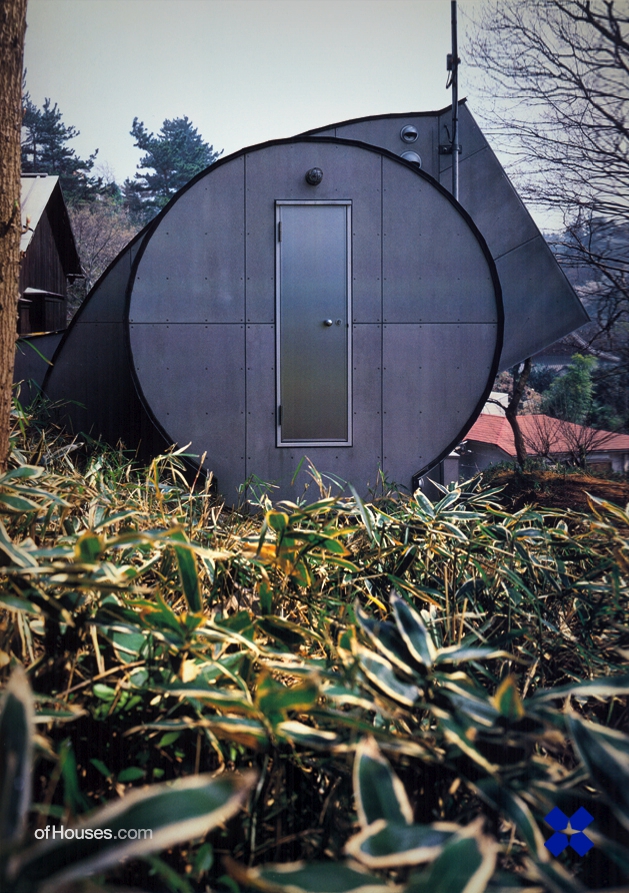 About Kazuo Shinohara
Kazuo Shinohara (1925-2006) was a Japanese architect, educator, and writer. Before practicing architecture, he studied mathematics, which influenced his particular conception of architecture and the city. Between 1958 and 1978, Shinohara completed thirty-eight private residences, demonstrating his ongoing interest in the relationship between the small scale of single-family houses and the conception of the whole city and recurrent themes in Metabolism towards which he maintained a critical stance in several respects.
He has proved to be one of the most influential architects of his generation in shaping contemporary Japanese architecture. His influence stretches from Toyo Ito, Itsuko Hasegawa, and Kazunari Sakamoto, via Kazuyo Sejima, to the many excellent young studios working today. Nevertheless, his work remains little known in the West, partly due to the scarcity of publications on his work – which in turn was due to the rigorous control the architect maintained over the publication of his work. Shinohara carefully selected the photographs and texts that accompanied each project and even refused Gustavo Gili's first proposal in 2001 to revisit and photograph his buildings.
Hans Ulrich Obrist: Interviews, Volume 2, February 28, 2010 by Charles Arsène-Henry, Shumon Basar, Karen Marta, Hans Ulrich Obrist