In 1988, architect Hans Kollhoff presented his innovative proposal, "The Compact City of Atlanpole," for the "Technopole" competition. Envisioned as an urban nexus housing research and educational facilities for high-tech industries, the design encapsulates the dynamism of an entire city within a singular, impressive structure, thereby asserting its solitary presence amidst the pastoral surroundings.
The Compact City of Atlanpole Technical Information
New technology will make it possible to live and work in the same area at the same time. A greater need for informal personal contact in the private sphere will contrast with the tendency towards specialisation at work. This will give rise to the idea of a compact city.

– Hans Kollhoff, 1988
The Compact City of Atlanpole Plans
Envisioning the Future: Atlanpole – The Compact City in a Landscape
Text by the Architect
The metropolis of the future will be gauged by its capacity to provide readily available living and working spaces. In this envisioned cityscape, the individuals working in research labs or industrial buildings will have their homes, leisure activities, and amenities within minutes' reach. They could comfortably enjoy a beverage at a street café while appreciating the distant landscape, with the awareness that they're merely five minutes away from the buzzing atmosphere of a concert hall, a sophisticated ballroom, or a fine dining restaurant.
Such a city design grants its inhabitants an unprecedented spectrum of activities to partake in, and offers the flexibility for spontaneous decision-making. Technological advancements have blurred the traditional boundaries between living and working environments. This reflects the ongoing erosion of segmentation between various aspects of life, resulting in a blend between the professional sphere and personal activity areas.
In line with the trend towards professional specialization, there's an increasing demand for spontaneous personal contact, even extending into the private sphere. Hence, we envisage Atlanpole, our proposed communication center, akin to a gigantic home that encapsulates the dynamism of an entire city. This solitary structure, standing bold and solitary in an expansive landscape, is designed to be a lively hub teeming with energy. Nestled by the Erdre, a tributary of the Loire, it serves as a satellite to the city of Nantes, embodying a fusion of urban life and pastoral tranquility.
The Compact City of Atlanpole Plans
The Compact City of Atlanpole Image Gallery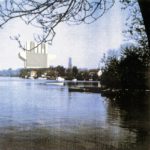 About Hans Kollhoff Architects
Hans Kollhoff is a German architect and professor representative of both Postmodern and New Classical Architecture.
A classical building style has always characterized Hans Kollhoff's architecture, and the use of traditional materials, such as stone and brick, worked according to conventional methods.  Thus, he is sometimes criticized for creating an outdated "retro-architecture" that loses itself in a nostalgic imitation of traditional formalism. Kollhoff's work, with its attention to detail, may be read as a continuation of the work of early twentieth-century architects.
In Berlin, he designed Potsdamer Platz, a high-rise tower in an old-New York brick style, for DaimlerChrysler. He was also responsible for the master planning of high-rise buildings on the Alexanderplatz. 
Since 2004 Kollhoff leads the "Bauakademie" project, whose goal is to reconstruct the Karl Friedrich Schinkel building, Berlin 1836, which was demolished in 1962.