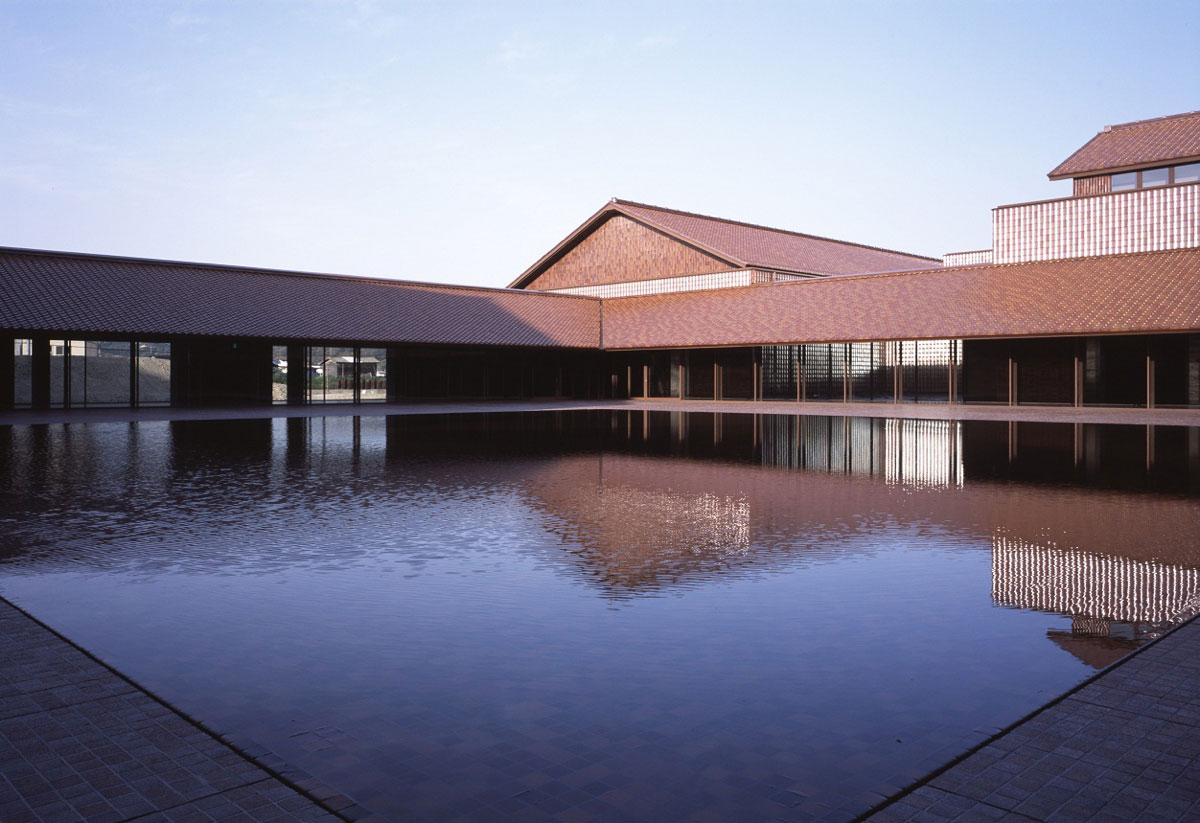 The Shimane Arts Center in Japan by Architect Hiroshi Naito  is a nationally prominent facility that was born in response to impassioned requests of the Shimane citizens to build an establishment in the Iwami Region that serves as both a museum of art and a theater.

Shimane Arts Center technical information
I am just an ordinary man. Looking back on my past, it can certainly be said that I have been privileged to have been granted with many fortunate opportunities. Yet I have never been marked by any exceptional talent. I thus believe that the things that I can do can be done by anybody.

It may be possible that what is needed right now, and what we will eventually arrive at, is an appreciation for a sense of a "great ordinariness".

–  Hiroshi Naito in The Site of My Mind Exhibition
Shimane Arts Center Article
The museum is designed by Hiroshi Naito and is known as Grand Toit (from the French for Large Roof). opened in 2005. With floor space 17,800 square metres, it is roofed by approx. 280,000
'Grand Toit' meaning 'large roof' in French, is a nickname chosen out of 16,456 nationwide competition entries. On that large roof and walls of the center have been used the Sekishu tiles that inherit the traditions and culture of the Iwami area. The characteristic red hue of these tiles shines on the stores and houses that line the street, and it is certain that they are a symbol of this area's development. Wherever you move around the building the same ceramic is used but the changing light causes the tiles to alter colour and texture, from orange to green and even to gold at times.
As a shrine for the prefecture's arts and culture, the center endeavors to act as a place for the creation of new culture while cherishing the history and natural spirit of the region. At the same time, this center offers the opportunity for everyone to appreciate the excellent art and culture of Japan and the world.
The courtyard is surrounded by the Large Hall, the Small Hall and the Art Museum. The tile (Sekishu-gawara) used for the roof and outside walls were specially created for Shimane Arts Center by the local tile industry.
The theater wall was designed to hold acoustic reverberation of 1.8 seconds at 500Hz/without an audience. It is one of the best facilities in western Japan.
Shimane Arts Center Plans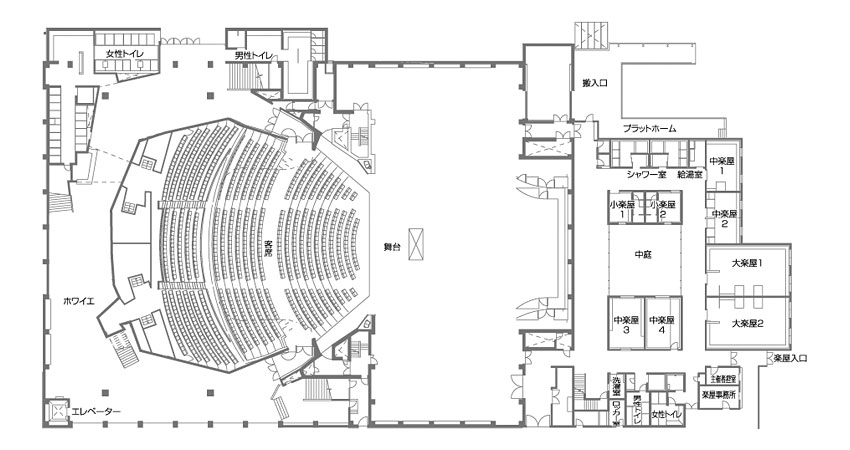 Shimane Arts Center Plans
About Hiroshi Naito
Hiroshi Naito, one of the major exponents of contemporary Japanese architecture, has attracted attention in Europe and North America both through his technically advanced yet culturally and environmentally sensitive buildings, and through his inspiring critique of dominant trends in Western and Western-style Japanese architecture.
He seeks to design buildings that "breathe with" their natural as well as cultural surroundings. As such, Naito's approach is to be understood as a provocative alternative to an oftentimes rather technocratic ecological architecture of European and North American origin.
Hiroshi Naito is currently one of Japan's most active and innovative architects. His special passion is complex wooden structures and the use of ornate and artistic roofing tiles. Although he has not thus far designed outside Japan, his magnificent museums and cultural event buildings – but also his private homes in the Tokyo area – have created an international sensation.
[cite]