Ziggurats were ancient towering, stepped structures built in the ancient Mesopotamian valley and western Iranian plateau, having the form of a terraced step pyramid of successively receding stories or levels. They were made of mud brick that appear to have served as temples to the ancient gods of Mesopotamia. Ziggurat bases were square or rectangular. Their walls were sloping.

Ziggurat Temples technical information
Ziggurats Photographs
Construction of the Ziggurat
The Ziggurat at Ur, a massive stepped pyramid about 210 by 150 feet in size, is the most well-preserved monument from the remote age of the Sumerians. It consists of a series of successively smaller platforms which rose to a height of about 64 feet, and was constructed with a solid core of mud-brick covered by a thick skin of burnt-brick to protect it from the elements. Its corners are oriented to the compass points, and like the Parthenon, its walls slope slightly inwards, giving an impression of solidity.
To build a ziggurat, builders stacked squares of diminishing size, like a step pyramid, but unlike a step pyramid there were stairs to climb to the next higher level. With a base of about 50 feet to a side, ziggurats may have been as high as 150 feet. At the top was a small room assumed to be a religious place. Ziggurats may have been conceived of as homes for the ancient gods.
The ziggurat was part of a temple complex that served as an administrative center for the city, and it was also thought to be the place on earth where the moon god Nanna, the patron deity of Ur, had chosen to dwell. Nanna was depicted as a wise and unfathomable old man with a flowing beard and four horns, and a single small shrine to the god was placed upon the ziggurat's summit. This was occupied each night by only one person, chosen by the priests from among everyone in the city. A kitchen, likely used to prepare food for the god, was located at the base of one of the ziggurat's side stairways.
Notable ziggurats include the Great Ziggurat of Ur near Nasiriyah, Iraq; the Ziggurat of Aqar Quf near Baghdad, Iraq; the now destroyed Etemenanki in Babylon; Chogha Zanbil in Khūzestān, Iran; and Sialk near Kashan, Iran.
Ziggurat Plans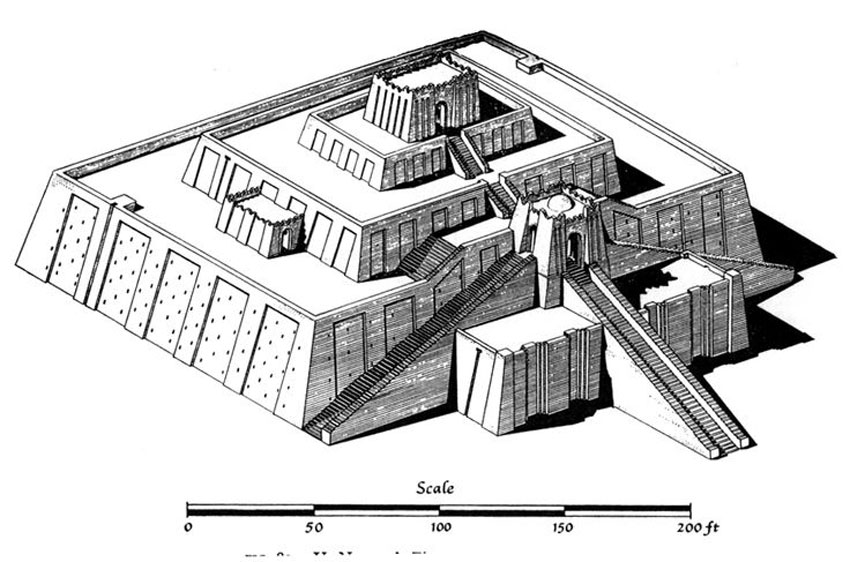 Neo-Sumerian Great Ziggurat of Ur Axonometric
Ziggurat Temples Gallery