Designed by the Swiss architect Le Corbusier, La Villa La Roche stands as a seminal work in the annals of modern architecture. One of the 17 buildings by Le Corbusier designated as a World Heritage site, this house serves as a touchstone in the architectural language developed during the 1920s and culminating in the iconic Villa Savoye in 1930.
Villa La Roche Technical Information
Space and light and order. Those are the things that men need just as much as they need bread or a place to sleep.

– Le Corbusier1
Villa La Roche Photographs
Villa La Roche: The Birth of a Vision
In the early 20th century, Raoul Albert La Roche, a Swiss banker and art collector, befriended Le Corbusier. La Roche was an enthusiast of modern European painting, resonating with the aesthetic purity manifest in Le Corbusier's works. His rapidly growing art collection soon demanded a specialized space for display, prompting La Roche to commission Le Corbusier to design a house gallery.
Nestled at the end of Doctor Blanche Lane in the 16th arrondissement of Paris, La Villa La Roche was designed between 1923 and 1925. At the time, the neighborhood was undergoing significant development. Le Corbusier, along with his cousin Pierre Jeanneret, undertook this unique project that combined both a gallery for La Roche's art collection and a residential space under one roof.
The Five Points of New Architecture
Le Corbusier implemented his famous "Five Points of a New Architecture" in the design:
Pilotis (Pillars):

The ground-level space is liberated by elevating the structure on pillars, which also facilitates the creation of a garden.



Horizontal Windows:

The absence of load-bearing walls allowed Le Corbusier to employ long, horizontal windows, thereby ensuring natural light permeates the interiors.



Free Plan:

The use of reinforced concrete enabled a free floor plan, offering flexibility in internal partitioning.



Free Facade:

A facade devoid of structural constraints gives the architect freedom in exterior design.



Roof Gardens:

The flat roof not only serves aesthetic functions but also acts as a functional garden space.
Purist Style
Le Corbusier embraced the Purist Style, a subset of modern architecture that emphasizes geometric simplicity and a lack of ornamentation. La Villa La Roche serves as a template for this style, heralding a new architectural language that deviates from the academic norms of the time.
An essential feature of the villa is the "architectural promenade," a journey orchestrated by the design that allows visitors to experience the space in a choreographed manner. This concept reached its pinnacle in Le Corbusier's later work, the Villa Savoye.
A distinguishing feature of La Villa La Roche is how the architectural features were tailored to house La Roche's art collection. The design showcases Le Corbusier's keen interest in "the specific reactions of color," a technique aimed at guiding a visitor's focus toward specific portions of the building.
Strategy and Site Planning
Le Corbusier based the villa's design on multiple strategic elements like generic configuration, separation, contrast, nuclear connection, setbacks, and boundaries. These elements worked in harmony with the natural surroundings and sunlight to offer an exceptional living and gallery space.
La Villa La Roche encapsulates Le Corbusier's revolutionary spirit, blending form and function into a seamless whole. It serves not just as a residential space or a gallery but as a manifestation of modernist principles that have greatly influenced the trajectory of 20th-century architecture. A visit to this Parisian gem is akin to stepping into a time capsule—one that captures the zeitgeist of an era where boundaries were pushed, and the modern architectural language was born.
Villa La Roche Plans
Image Gallery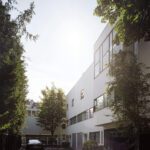 About Le Corbusier
Le Corbusier, born Charles-Édouard Jeanneret-Gris in 1887, was a Swiss-French architect, designer, painter, and urban planner who became a pioneer of modern architecture. Known for his revolutionary theories and design principles, such as the Five Points of Architecture and the concept of architectural promenade, he left an indelible mark on the 20th-century urban landscape with iconic works like Villa Savoye, Unité d'Habitation and the city plan of Chandigarh, India. His bold ideas about functionality, form, and the social purpose of architecture were encapsulated in his famous dictum, "A house is a machine for living in," challenging conventional architectural norms and influencing generations of architects worldwide.
Notes & Additional Credits