Arcosanti is more than just an architectural endeavor; it's an exploration into the potential future of human habitats. Nestled in the arid landscapes of Yavapai County, Arizona, it stands as a living, evolving example of "arcology"—a portmanteau of architecture and ecology coined by Italian-American architect Paolo Soleri. Since its inception in 1970, this experimental town has sought to marry the bustling energy of urban life with the environmental stewardship of ecological design.
Arcosanti Technical Information
If you are truly concerned about the problems of pollution, waste, energy depletion, land, water, air and biological conservation, poverty, segregation, intolerance, population containment, fear, and disillusionment, join us.

– Paolo Soleri1-2
Arcosanti Photographs
The Concept: Arcology
Paolo Soleri introduced the world to the concept of arcology as a way to rethink the urban environment. Rather than viewing architecture and ecology as separate entities, Soleri proposed their amalgamation into a unified concept, aiming to forge communities that exist in harmony with the natural world. In this view, cities should not be sprawling, resource-draining behemoths but rather, vertically integrated, self-sustaining entities that encourage human interaction while respecting the natural environment.
When it comes to construction, Arcosanti deviates from conventional methods, adopting unique materials and orientation techniques. The use of tilt-up concrete panels made from local silt adds an earthy aesthetic while ensuring the built environment blends seamlessly into the surrounding landscape. Artwork is often integrated directly into these panels, adding an extra layer of personality to the architecture.
Sunlight plays a pivotal role in the design of Arcosanti's structures. Most buildings face southward to capitalize on natural light and heat during the winter, while the roof designs are tailored to minimize exposure during the scorching Arizona summers. The apse-shaped structure housing the bronze casting area pays homage to classical architectural forms while serving a functional purpose in the community's bell-making enterprise.
The ambition of Arcosanti is not just to construct buildings but to foster a vibrant, self-sustaining community. Presently, the town comprises thirteen significant structures, including a visitors' center, cafes, workshops for ceramics and bronze casting, and residential spaces. An organic, intricate layout forgoes the grid system commonly found in U.S. cities, creating an atmosphere designed to maximize social interactions among its 50 to 150 inhabitants, many of whom are students, volunteers, or workshop participants.
Arcosanti's economic underpinnings are as unique as its architecture. The sale of bells—crafted from clay and bronze right on site—provides a significant portion of its funding. Workshop fees and donations constitute other revenue streams, while most of the construction and day-to-day operations are handled by volunteers and low-wage workers.
Educational Hub
Arcosanti is, at its core, an educational endeavor. Thousands of students and professionals from around the world have come to participate in workshops covering a myriad of subjects from architecture to philosophy, science, and agriculture. It has become a living classroom where the lines between education and everyday life are blurred.
Despite the slow pace of construction and the setbacks, Arcosanti remains a compelling testament to Paolo Soleri's vision. While it has not yet reached its planned population of 5,000 or completed its grander "Arcosanti 5000" design, it serves as a unique case study in sustainable urban planning. With 40,000 tourists visiting yearly, its impact goes beyond its physical boundaries, offering lessons and inspiration for architects, urban planners, and dreamers around the world.
Arcosanti encapsulates Paolo Soleri's commitment to reimagining the possibilities of architecture in harmony with ecology. It challenges us to think more deeply about the urban spaces we inhabit, the communities we build, and the planet we share. As we face the imminent challenges of climate change and population growth, the principles underlying Arcosanti offer more than just aesthetic intrigue—they provide a blueprint for a more sustainable, integrated future.
Arcosanti Plans
Arcosanti Image Gallery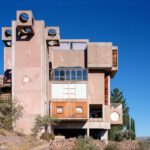 About Paolo Soleri
Paolo Soleri (1919–2013) was an Italian-American architect, visionary, and urban planner best known for introducing the concept of "arcology," a blend of architecture and ecology aimed at creating more sustainable and integrated human habitats. Born in Turin, Italy, Soleri received his Ph.D. in Architecture from the Polytechnic University of Turin. After a brief apprenticeship with Frank Lloyd Wright, he broke away to formulate his own theories, eventually moving to Arizona to embark on his most famous project, Arcosanti, an experimental town designed to embody the principles of arcology. Over the years, Soleri's ideas have influenced multiple generations of architects and urban designers, leaving an indelible imprint on the discourse around sustainable living and urban planning.
Notes & Additional Credits
The quote encapsulates Soleri's vision for Arcosanti as not merely an architectural experiment but as a holistic approach to solving broader ecological and social issues. It serves as an invitation for collective action towards building a more sustainable and integrated human habitat.
Arcosanti Archetype: The Rebirth of Cities by Renaissance Thinker Paolo Soleri by Marie Wilson, Michel Sarda