Nestled in the heart of São Paulo, Brazil, the Vilanova Artigas House stands as a monument to one of the city's most celebrated architects, João Batista Vilanova Artigas. At first glance, this distinctive residence challenges conventional design elements, appearing as a seamless blend of influences from modernist greats like Frank Lloyd Wright and Le Corbusier. Yet, upon closer inspection, one recognizes its status as more than just an architectural masterpiece; it is a narrative of its time, embodying a unique ethical stance and deep socio-political implications.
Vilanova Artigas Residence Technical Information
Architecture is not about sheltering; it's about organizing space. Sheltering is a plus.

– Vilanova Artigas1-2
Vilanova Artigas Residence Photographs
Breaking Ground and Traditions: Disrupting Social Norms
Built in two phases, the first structure, known as the Casinha, was erected in 1942 for a couple without children. Its design was heavily influenced by Frank Lloyd Wright's organizational architecture, featuring simplicity and elegant geometry. The second building, completed in 1949, displayed an evolutionary leap influenced by Le Corbusier's rationalism and the modernist spirit then emanating from Rio de Janeiro.
A striking feature of both houses is the absence of servants' quarters—a significant departure from traditional Brazilian homes of the era, reflecting the architect's rejection of the lingering societal impacts of slavery. Both homes are also without a direct kitchen-to-backyard door, marking a conscious choice to break from the norms that had underscored Brazil's social fabric.
Vilanova Artigas didn't merely place his professional stamp on this house; he infused it with his personality and ideological leanings. The living room of the 1949 house was not just any room; it was a stage for serious intellectual debates and discussions within the Communist Party, of which Artigas was a member. The space also hosted meetings of the Brazilian Student Movement in the 1960s, carried out by his children and friends.
The house made use of a rich palette of materials: reinforced concrete, large glass panes, and brick walls painted in vibrant shades. Despite its volume, the social area is simple, separated only by walls and tall windows that provide panoramic views. Even the roof was crafted to be a geometric masterpiece, designed in the form of a butterfly's wings.
Vilanova Artigas Residence Functionality
The house's design supports a fluid connectivity between spaces, promoting a collective experience. There are no hidden corners, and the openness is apparent right from the entrance, through the living room and the kitchen, and even to the bedrooms. The only divisions are subtle, manifested as two bathrooms and a kitchen separating social and private areas.
Listed by CONDEPHAAT for its revolutionary architecture, the house now serves as a cultural hub. It's managed by Giz Brasil, an editorial group focused on architecture and design, which hosts various activities, including guided tours.
Interestingly, while the Casinha remains a private residence, the 1949 house has transformed into Café Artigas. This transformation isn't just a commercial pivot; it's a tribute to São Paulo's architectural canon, with dishes named after other prominent architects like Paulo Mendes da Rocha and Bo Bardi.
The Vilanova Artigas House isn't just an architectural feat; it's a living, evolving testament to the audacious spirit of its creator and the socio-political transformations of its time. As São Paulo continues to expand, the importance of this pioneering structure as a cultural and historical landmark only grows, solidifying its place in the annals of architectural innovation.
Vilanova Artigas Residence Plans
Vilanova Artigas Residence Image Gallery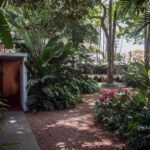 About Vilanova Artigas
João Batista Vilanova Artigas was a seminal Brazilian architect and educator, primarily known for his revolutionary contributions to modernist architecture in São Paulo and other Brazilian cities. Born in 1915, Artigas was a significant figure in the São Paulo School of Architecture and was one of the founders of the Faculty of Architecture and Urbanism at the University of São Paulo (FAU-USP). His architectural style, often marked by bold geometric forms and expansive open spaces, challenged traditional designs and was deeply influenced by both Frank Lloyd Wright and Le Corbusier. Beyond his structures, Artigas left an enduring legacy through his role as an educator, influencing a generation of architects who came to shape Brazil's architectural landscape.
Notes & Additional Credits
The quote encapsulates the essence of how he viewed his work, focusing not just on the practical aspects of providing shelter but also on the more abstract and complex task of creating meaningful, organized spaces.

Vilanova Artigas. Casas Paulistas

by Marcio Cotrim