Completed in 1964 under the creative mastery of Oscar Niemeyer, the National Congress of Brazil serves as a nexus of historical context, potent symbolism, and audacious artistic innovation. Situated at the heart of Lúcio Costa's avian-inspired urban blueprint for Brasília, this iconic edifice embodies a vision that Brazil had harbored since its inaugural Republican Constitution in 1891. This long-standing dream was brought to fruition at the culmination of the 1950s, guided by the progressive leadership of President Juscelino Kubitschek and articulated through the architectural brilliance of Oscar Niemeyer.
National Congress of Brazil Technical Information
It is not the right angle that attracts me, nor the straight line, hard and inflexible, created by man. What attracts me is the free and sensual curve — the curve that I find in the mountains of my country, in the sinuous course of its rivers, in the body of the beloved woman.

– Oscar Niemeyer1-2
National Congress of Brazil Photographs
The Genesis: A Symphony of Function and Form
The brainchild of Kubitschek's vision of "Fifty years of progress in five," Brasília was more than just a capital city; it was the embodiment of a nation's aspirations. As the artistic authority over Brasília's monumental structures, Niemeyer became the steward of this grandiose vision, working in lockstep with Costa, who won the national competition for the master plan.
Marrying functionality and artistic expression, the National Congress is both a legislative haven and an architectural spectacle. Here, Costa's avenues rise to greet Niemeyer's two-story plinth, their trajectories forming an unbroken link of urbanism and architecture. The iconic twin "cupolas," or domes, crown the assembly chambers of Brazil's bicameral legislature, encapsulating the symbolism and potency of other great seats of power, like the U.S. Capitol or St. Peter's Basilica.
Beyond the assembly chambers, twin 27-story towers house legislative offices and administrative functions. Their five-sided plan and angled façades epitomize not just architectural ingenuity but also convey a sense of democratic transparency.
Dissonance and Resonance: Public Perception
Public opinion on the National Congress—and Brasília as a whole—has swayed over the decades. From being lauded as a national utopia to criticized as an "Orwellian nightmare," the city and its iconic buildings have elicited polarized views. Despite the criticisms, the very fact that Brasília was declared a UNESCO World Heritage Site in 1987 attests to its architectural and cultural significance.
Recent years have seen the populace reclaim the National Congress as a symbol of democracy, especially during nationwide protests. This reclamation seems almost poetic, given Niemeyer's original intention of the marble-clad roof of the plinth to be a public plaza—a vision truncated by security concerns.
Oscar Niemeyer's National Congress of Brazil remains a pivotal landmark, not just in the context of Brazilian Modernism but as an enduring symbol of a nation's aspirations and complexities. It is a built manifesto that reverberates through time, continually provoking thought and conversation. And just like Niemeyer's other works, it challenges us to ponder on the multidimensional roles that architecture plays in shaping societies and ideals.
National Congress of Brazil Plans
National Congress of Brazil Image Gallery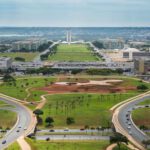 About Oscar Niemeyer
Oscar Niemeyer was a Brazilian architect who rose to international fame as a pioneer of modernist architecture, renowned for his innovative use of curves and abstract forms. Born in 1907 and active well into his late years, Niemeyer was instrumental in designing the city of Brasília, Brazil's capital, alongside urban planner Lúcio Costa. A protégé of Le Corbusier, he was celebrated for integrating buildings with their natural surroundings and for his inventive public structures, such as the National Congress of Brazil and the Cathedral of Brasília. His work is not just an artistic statement but also a political one, often embodying ideals of democracy, progress, and social equality. He passed away in 2012, leaving behind a legacy that has had a profound influence on architectural thought and practice worldwide.
Notes & Additional Credits
Brasília by Willy Stäubli. New York: Universe Books, Inc., 1965.
The quote encapsulates Niemeyer's approach to architecture and, specifically, his design of the National Congress of Brazil in Brasília. It emphasizes his affinity for organic, curvilinear forms over rigid, angular structures, a philosophy that is evident in the design of the iconic building.
Oscar Niemeyer and Brazilian Free-form Modernism by  . New York: George Braziller, Inc., 1994.
Oscar Niemeyer: Curves of Irreverence by Philippou, Styliane. New Haven: Yale University Press, 2008.