The Palenque Mezcal Milagrito by Ambrosi Etchegaray in Oaxaca, Mexico, beautifully melds traditional mezcal-making practices with modern exportation standards. Focused around the earth oven that has been in the same location for three generations, the design features concrete frames and rammed earth walls, creating a space that embodies the legacy of mezcal production. By encompassing essential areas like the production facility, bottling area, laboratory, and pavilion, the project demonstrates a respectful balance between age-old customs and contemporary market demands, preserving the rich cultural heritage of mezcal-making in the region.
Palenque Mezcal Milagrito Technical Information
The project centered on renovating the production spaces in such a way that exportation standards could be met while maintaining the traditional place, family, and artisanal production.

– Ambrosi Etchegaray Architects
Palenque Mezcal Milagrito Photographs
Text by the Architects
Legacy
1. The action of transmitting something down to other people.
2. Something that is left or transferred across generations.
Mezcal
1. (From náhuatl mexcalli, 'cooked leaves of maguey', from metl 'maguey' and ixcalli 'cooked') Traditional Mexican alcoholic beverage elaborated from the distillation of the agave plants.
Palenque
1. Physical space where activities related to the production of Mezcal take place.
Nestled in the village of Matatlan in Oaxaca, a region steeped in the generations-old tradition of making mezcal, local producers face a dilemma: adapting to the emerging market demands without losing the essence of their traditional methods.
The Palenque Mezcal Milagrito project, helmed by architects Jorge Ambrosi and Gabriela Etchegaray, arose from this challenge. The vision was to renovate the production spaces to meet exportation standards while preserving the local identity and artisanal methods of production.
The design revolves around the earth oven, a central figure that has been part of the landscape for three generations behind the family's house. By organizing the stages of production around this central element, the design connects the past with the present.
A series of concrete frames and rammed earth walls, utilizing dirt excavated on-site, define the space. The central area functions as the heart of the project, a hub that connects different phases of production. This layout embodies the inherited rituals associated with the drink, the land, and the families that have crafted mezcal for generations.
The site includes four essential spaces for mezcal development: palenque, bottling area, laboratory, and pavilion. Each space is a testament to the harmonious blend of modern demands and timeless tradition.
Palenque Mezcal Milagrito Plans
Image Gallery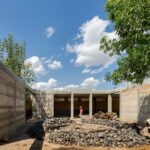 About Ambrosi Etchegaray
Ambrosi Etchegaray is an architecture firm based in Mexico, founded by architects Jorge Ambrosi and Gabriela Etchegaray. The duo is known for their work that harmonizes with both the cultural context and natural environment, often blending traditional techniques with contemporary design. Their work has received recognition for its thoughtful approach to materiality, form, and place, emphasizing a strong connection between architecture and its surroundings. Projects like Palenque Mezcal Milagrito reflect their commitment to preserving cultural heritage while innovating to meet modern needs and standards.
Notes & Additional Credits
Lead Architects: Jorge Ambrosi, Gabriela Etchegaray
Design Team: Gerardo Reyes