Completed in 2004 by architectural firm Foster + Partners, 30 St Mary Axe, affectionately known as "The Gherkin," stands as a distinctive landmark in London, England. As London's first ecological tall building, it's a pioneering achievement in sustainable architecture, emblematic of the city's innovative spirit. With a design rooted in a multifaceted approach that fuses technical prowess, architectural elegance, social connectivity, and spatial ingenuity, the building's 41 soaring stories encompass 46,400 square meters of net office space. 
The Gherkin Technical Information
We're moving towards a world where ecology and technology are completely compatible.

– Norman Foster13
The Gherkin Photographs
A Masterpiece by Norman Foster
Generated by a circular plan and radial geometry, the building's unique form responds to site constraints, appearing more slender than a rectangular block and maximizing the public realm at street level. This profile also helps reduce wind deflections, maintains a comfortable environment at ground level, and allows a unique natural ventilation system.
Conceptually, this tower builds upon ideas previously explored in the Commerzbank and the theoretical Climatroffice project with Buckminster Fuller. The energy-conscious enclosure resolves walls and roof into a continuous triangulated skin. The diagonally braced structure permits column-free floor space, a fully glazed facade, and an innovative natural ventilation system. Atria between floors create informal spaces spiraling up the building, serving as social focus points and the building's "lungs." This system and other sustainable measures cut energy consumption in half compared to conventional office towers.
Architecture and Design: Breaking Conventional Boundaries
Gherkin's design is anything but traditional. Its unique shape, reminiscent of a gherkin pickle, represents a triumph in engineering and a departure from conventional skyscraper designs.
The Gherkin's exoskeleton comprises 7,429 glass panels that follow a spiraling pattern, creating a lattice shell that provides both stability and aesthetic appeal. This diagrid structure reduces the need for internal columns, thus creating a more open and spacious interior.
The Gherkin's distinctive form widens as it rises and tapers towards its apex. Its profile reduces wind deflections compared to a rectilinear tower of similar size. This environmental consideration helps maintain a comfortable environment at street level and creates external pressure differentials that drive the unique system of natural ventilation mentioned earlier. These features contribute to a building that uses only half the energy consumed by a conventionally air-conditioned office tower.
The tower's 41 floors house office spaces, dining facilities, shops, and cafés, accessed from a newly created piazza. At the summit, a club room offers a breathtaking 360-degree panorama across the capital. The column-free floor space and fully glazed facade open up the building to light and views.
Impact on London's Skyline: A New Landmark
The Gherkin's revolutionary approach, both technically and architecturally, has cemented its status as an essential addition to London's cityscape. Its impact is felt not only in its physical presence but in the new standards it has set for future urban developments.
The 30 St Mary Axe's successes have inspired other innovative and sustainable skyscraper designs in London and around the world. By demonstrating that aesthetics, functionality, sustainability, and social considerations can harmonize within a commercial building, it has fueled a new wave of architectural thinking.
The Gherkin Plans
The Gherkin Image Gallery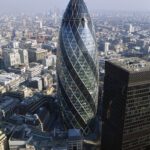 About Foster + Partners
Foster + Partners is a British international studio for architecture and integrated design, founded by Lord Norman Foster in 1967. Headquartered in London, the firm has become a pioneering force in modern architecture, emphasizing sustainability, technological innovation, and collaborative design. Notable projects include The Gherkin (30 St Mary Axe) in London, The Millennium Bridge in London, Apple Park in Cupertino, and the Hong Kong International Airport. The practice, known for its innovative approach and ability to integrate buildings with their surroundings, works closely with engineers, designers, and specialists from various fields to create holistic designs. The firm's commitment to social life and community enrichment through architecture has led to numerous awards, including the Pritzker Architecture Prize awarded to Norman Foster in 1999. 
Notes & Additional Credits
Design Team: Norman Foster, Stefan Behling, Grant Brooker, Michael Gentz, Rob Harrison, Paul Kalkoven, Robin Partington, Paul Scott, Ken Shuttleworth, Hugh Whitehead, Francis Aish, Gamma Basra, Geoff Bee,  Aike Behrens, Ian Bogle, Thomas Brune, Julian Cross, Joel Davenport, Ben Dobbin, Chris Kallan, Jürgen Küppers, Paul Leadbeatter, Stuart Milne,  Jacob Nørlov, Tim O'Rourke, Jason Parker, Ben Puddy, Simon Reed,  Narinder Sagoo, Sebastian Schoell, Michael Sehmsdorf, John Small,  Robbie Turner, Neil Vandersteen, John Walden, Tim Walpole-Walsh,  Richard Wotton, Helen Yabsley
Structural Engineer: Arup
Project Management: RWG Associates
Construction Management: Kontor GTCM
Mechanical and Electrical Engineers: Hilson Moran Partnership Ltd
Cost Consultant: Gardiner & Theobald
Planning Consultant: Montagu Evans
Legal Advisors: Linklaters & Alliance
Urban Design and Conservation Consultants: The Richard Coleman Consultancy
Environmental Engineers: BDSP Partnership
Fire Engineers: Arup Fire
Lift Engineers: Van Deusen & Associates
Norman Foster by Norman Foster (Illustrator) & Philip Jodidio