Completed in 2009 by A. Lerman Architects, the transformation of a former print factory at 117 Herzl Street, Tel Aviv, provides an intriguing study in architectural reuse. The building, originally unremarkable and generic, has undergone an extraordinary intervention that transcends traditional design norms. The following exploration examines the complexity of this redesign, capturing the essence of Tel Aviv's urban life, and showcasing the contrasts and tensions that create a 'bastard' or mongrel modernism.
117 Herzl St. Art Gallery Technical Information
Potential tensions are mapped, then highlighted: new versus old; sensual versus alienated; exposed versus hidden; high versus low; shining versus dim; clear versus opaque; open versus closed; clean versus dirty. This, for us, is the city of Tel Aviv.

– A. Lerman Architects
117 Herzl St. Art Gallery Photographs
A New Expression of Space: Tel Aviv's Intervention in Re-Use
The particular site was once considered mediocre, described positively for its practicality, unremarkable design, and generic nature. Its faded appearance might have led many to dismiss its potential. However, for principal architect Asaf Lerman, the building's inherent neutrality presented an opportunity for a bold and creative intervention far beyond a mere cosmetic uplift.
The process of transformation was not confined to the creation of a polished art space. It evolved into an exploration and manifestation of the conflict between the existing structure and the new purpose it was to serve. By employing contemporary tools and concepts, Lerman was able to showcase the tensions and dynamics between these two worlds, providing insight into a new category of spatial experience.
The design further delves into Tel Aviv's own complex identity. Rather than adhering to a pure form of modernism – a path historically taken by the city – the design embraces what can be described as 'bastard' or mongrel modernism. This new form, emerging from urban life's contradictions and confusions, reflects the hybrid nature of Tel Aviv and its intrinsic overlap with Jaffa.
This is most evident in the gallery's 'hot-cold' design interaction. By mapping and highlighting various dichotomies – new versus old, sensual versus alienated, high versus low, and more – the design paints a rich and textured portrait of Tel Aviv. Each contrast resonates deeply with the city's multifaceted character, contributing to a more profound understanding of the urban environment.
The transformation of 117 Herzl Street is not just a renovation but a profound reinterpretation of space and modernism. It's a visual essay that mirrors the complexities, contradictions, and vivacity of Tel Aviv. This intervention within an existing industrial building is a testament to the city's ever-evolving architectural narrative, providing a fresh perspective on the dialogue between the past and present and between the ordinary and extraordinary.
117 Herzl St. Art Gallery Plans
117 Herzl St. Art Gallery Image Gallery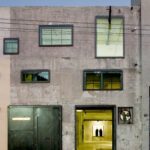 About A. Lerman Architects
A. Lerman Architects, located in Tel Aviv's south, transformed a locksmith workshop into an architectural studio in 2006. Founded by Asaf Lerman, an Architectural Association graduate, the practice focuses on public projects. Asaf is also an advocate for civic rights in our rapidly privatizing world. The team's methodology emphasizes a detailed analysis of the site and its context, articulating and prioritizing design parameters. This approach helps to shape the architectural effects on specific layers of context and has led to the design of some of Israel's most notable public buildings through competitions. The firm specializes in revitalizing iconic Israeli buildings, enhancing their public interface and modern appeal.
Notes & Additional Credits
Principal architect:

Asaf Lerman