Migliore+Servetto has crafted a unique design for Electa bookshops, weaving culture and conversation into the architectural fabric of extraordinary locations. From the Colosseum Archaeological Park in Rome to the spaces of the Biennale in Venice, these new format stores stand as beacons for readers and aesthetes alike.
Electa Bookshop Technical Information
The set-up has its strength in being a flexible, adaptable and interchangeable system in the context of the different needs and sizes of the environments and to offer diversified levels of interpretation.

– Migliore+Servetto Architects
Electa Bookshop Photographs
Electa Bookshop: A Unifying Design with Unique Character
At the core of the design is an exceptionally light furniture system characterized by light hues and transparency achieved through micro-perforated metal sheeting. Despite this uniformity, each store is infused with its distinctive identity by precise color variations. From the sulfurous yellow of Colosseum's First Gallery to the green celadon at San Gregorio al Palatino, each space is crafted to have its singular aura.
Studio Sonnoli enhances the uniqueness of the places by integrating full-height graphic fields as backdrops for the furniture. These graphic spaces, bridging memory and irony, allow a narrative flow of quotes and references interspersed between shelves.
The Clivo Palatino store illustrates the thoughtfulness behind each location. Nestled inside a newly constructed lower volume, the space is adorned with a large ribbon window offering an optimal view of the Archaeological Park. A series of specially designed bases and mobile towers add to the versatility of the setup.
Migliore+Servetto's design doesn't just showcase books; it invites visitors into a dialogue with the imposing and monumental context in which each bookstore resides. The flexible, adaptable, and interchangeable setup caters to diverse environments and levels of interpretation.
The exhibition space is meticulously structured around five elements: wall displays, wall focus elements, double-sided central elements, thematic islands, and a checkout element. These components seamlessly work together, providing the frame for products, defining paths and flows, and supporting customers.
More than a sales space, the bookshop evolves into a narrative landscape, a contemporary Wunderkammer. Visitors are enveloped by Electa's refined selection, a place of discovery and memory, stimulating cultural growth through the content's valorization and a dialogue with the remarkable architectural surroundings.
In all, these new spaces by Migliore+Servetto transform bookstores into experiences, emphasizing not just the architecture but the meaning and relationships each space can foster. By focusing on visitors and their journeys through these spaces, the bookshops transcend mere commerce to become timeless venues for culture and connection.
Electa Bookshop Image Gallery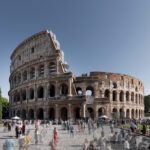 About Migliore+Servetto
Founded in 1997 by Ico Migliore and Mara Servetto, Migliore+Servetto is a Milan-based design studio with over 800 projects in 21 countries. Awarded three Compassi d'Oro, the firm specializes in branding, narrative spaces, and diverse design realms, including interior, graphics, video, and multimedia. Both founders hold teaching positions, and the firm has collaborated with major companies like Max Mara, Tod's, and Adidas. Their notable works encompass cultural landmarks in Europe, urban design projects in Busan, South Korea, and the conceptualization of spaces for the Generali Group's social foundation, The Human Safety Net.