The Kanagawa Institute of Technology (KAIT) Workshop, completed in 2008 near Tokyo, is a groundbreaking project where architect Junya Ishigami successfully materialized his vision of blurring spatial boundaries. This innovative design concept aimed to create an ambiguous space devoid of visible or identifiable demarcations.
KAIT Workshop's architectural masterpiece showcases an open-plan layout, where structural columns appear to blend into the surroundings seamlessly. The meticulously designed, irregularly spaced columns eliminate the need for walls, resulting in a fluid and adaptable environment. This unobstructed, flexible space fosters creativity, collaboration, and a sense of community among its users, making it an ideal setting for learning and exploration.
KAIT Workshop Technical Information
I was beginning to think there could be a flexibility that results when the plans or other different factors remain in effect, from simply softening and blurring their boundaries. Through this thinking my interest shifted. I became interested in finding a way to design space somehow free of geometry or any rules. I imagined this could lead to a new universality in space.

–  Junya Ishigami
Kanagawa Institute of Technology Workshop Photographs
KAIT Workshop: A Harmonious Blend of Architecture and Nature
Reflecting the surrounding cherry blossom trees onto its transparent façade, the 'KAIT' studio/workplace by Japanese Junya ishigami+associates offers a range of experiences within one open-plan volume. Located at the Kanagawa Institute of Technology campus in Tokyo's suburbs, the building was designed to offer multiple activities, enabling a sense of flexibility for its users. The client's brief called for a place where students could work on diverse self-initiated projects of making things while also being open to local public usage.
To ensure that users would be have the freedom to alter the spaces to meet different needs within a reasonably short time period, it began to make more sense to me to pursue flexibility in the relations between adjoining places, and in the way various spaces are connected with each other.

–  Junya Ishigami
The resulting free-forming room both blurs its edges between the numerous internal programs and the connection between inside and outside. A total of 305 pillars are dotted throughout, with differences in size and shape; they reference tree trunks' unpredictable nature, evoking the sense of wandering through an unknown forest.
Text by the Architects
A quality of nature is that it is governed by certain rules which at the same time we're never really aware of. I am interested in creating something that would merge into this normally that surrounds us.

–  Junya Ishigami
The project aims to seek the ambiguity of architecture. The building is a single-story, one-room, roughly 2000 square meters large. It is a facility for students to come in whenever they like. The facades are all glass. There are no earthquake-resisting walls or braces whatsoever. This building relies entirely on an ensemble of slight columns of varying proportions.
None of the 305 columns are identical in the cross-shaped section and angle. Subtle differences in the shape of the columns are defined by their structural purpose and the role of the spaces they create. Groups of columns ambiguously divide the area to create several different spaces. The columns are arranged within the architecture as trees are placed on a landscape. It makes a comfortable space like a forest.
Kanagawa Institute of Technology Workshop Plans
Kanagawa Institute of Technology Image Gallery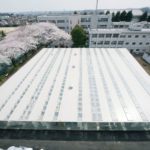 About Junya Ishigami
Junya Ishigami was born in 1974 and graduated as an architect in the year 2000. He worked with Kazuyo Sejima and Ryue Nishizawa before setting up his Tokyo-based atelier Junya Ishigami+associates in 2004.
Ishigami showed solo in the Japanese pavilion at the 11th Venice Architecture Biennale in 2008 and was the youngest-ever recipient of the Architectural Institute of Japan Prize for the Kanagawa Institute of Technology KAIT Workshop in 2009. In 2010 he won the Golden Lion for Best Project at the 12th Venice Architecture Biennale, and in the same year, he became an associate professor at Tohoku University in Japan.