Alejandro Aravena, the Chilean architect winner of the Pritzker 2016 prize is a social housing visionary, who engaged with residents in planning their own particular homes. He encourages architects from everywhere throughout the world to address issues of poverty, contamination, and segregation. Watch his talk in TED from October 2014 to understand a little bit better his philosophy if you haven't seen it already.
Alejandro Aravena Video Technical Information – Pritzker Prize 2016
Video: Alejandro Aravena: My architectural philosophy? Bring the community into the process
Studio: Elemental
Filmed: October 2014
Architect: Alejandro Aravena
Country: Chile
Source: Tedtalks
Duration: 15 minutes
The force of self construction, the force of common sense, or the force of nature, all these forces need to be translated into form, and what that form is modeling and shaping is not cement, bricks, or wood. It is life itself. Design's power of synthesis is just an attempt to put at the innermost core of architecture the force of life.

― Alejandro Aravena
ALEJANDRO ARAVENA PRITZKER
The radical Chilean architect Alejandro Aravena, known for his pioneering social housing projects in Latin America, has been named as the winner of the 2016 Pritzker prize.
The 48-year-old, who is also the curator of this year's Venice Architecture Biennale, has made a name for himself over the past decade with projects that reinvent low-cost housing and engage residents in the design of their own homes.
When asked to build housing for 100 families in Chile ten years ago, Alejandro Aravena looked to an unusual inspiration: the wisdom of favelas and slums. Rather than building a large building with small units, he built flexible half-homes that each family could expand on. It was a complex problem, but with a simple solution — one that he arrived at by working with the families themselves. With a chalkboard and beautiful images of his designs, Aravena walks us through three projects where clever rethinking led to beautiful design with great benefit.
It is a refreshing choice for the Pritzker, usually awarded to career architects whose portfolios brim with grand cultural monuments.
SOCIAL HOUSING BY ALEJANDRO ARAVENA
Elemental ultimately developed a system in which half of each building would be constructed in a first phase – and the other half in a later second phase: allowing residents to incrementally invest in their own homes, made possible through public funding.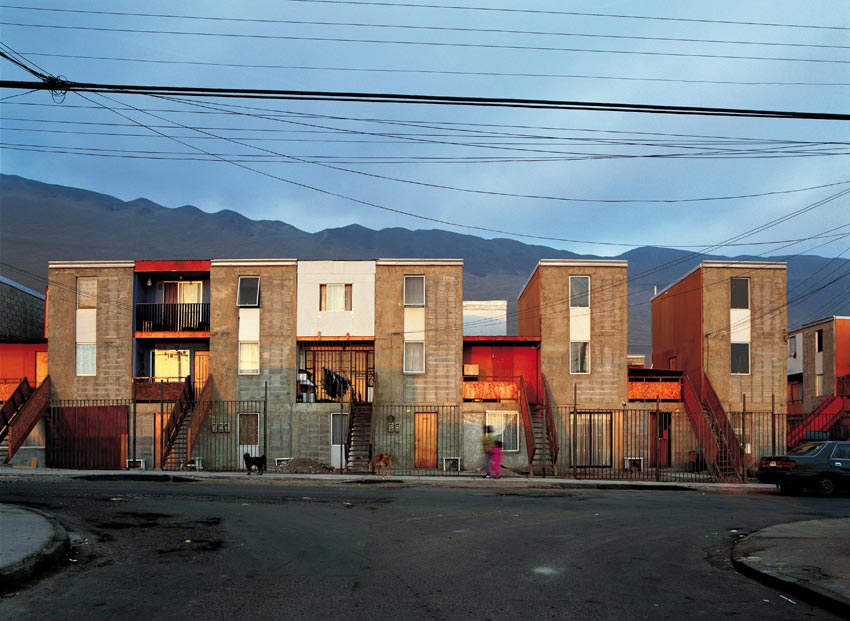 After a few years, the second phase was completed by the residents.
About Alejandro Aravena
Throughout his career, Alejandro Aravena has grappled with what he calls the "double condition of cities." Attracting people, knowledge, development, and opportunities, on one hand, the Chilean architect says cities also concentrate and magnify social pressures.
Through Elemental, the firm he founded in 1994, Aravena has devoted as much time to the design of iconic structures like the San Joaquin Universidad Catolica's "Siamese Towers" and Santiago's Metropolitan Park as he has to the design of flexible and beautiful low-cost housing for low-income families. The firm's work is not just about buildings, but about shaping lives.
Source: Ted Talks