In the wake of World War II, Europe was confronted with an unprecedented housing crisis. Marseille, like many other cities, was marred by the scars of war, leaving thousands without homes. It was in this precarious context that Le Corbusier was commissioned to design the Unité d'Habitation. Unlike his previous projects, predominantly consisting of individual villas, this was a grand exercise in creating a new form of community living.
L'Unité d'Habitation de Marseille Technical Information
Space and light and order. Those are the things that men need just as much as they need bread or a place to sleep.

– Le Corbusier1-2
L'Unité d'Habitation de Marseille Photographs
The Making of a Vertical Garden City
Standing at 135 meters long, 56 meters high, and 24 meters wide, the building transcends conventional residential architecture. Mounted on large pilotis, it accommodates 330 apartments divided into 23 different types, designed to house between 1,500 and 1,700 residents. The use of béton brut (rough-cast concrete) in the construction was not only a cost-saving measure in post-war Europe but also laid the foundation for what would be known as Brutalism.
The building's innovative "bottle rack" structural system is a departure from traditional housing models. Apartments are essentially inserted into an independent framework of posts and reinforced concrete beams. Le Corbusier brought to life the concept of a "vertical garden city," wherein the building's inhabitants would experience the sense of a traditional neighborhood within the confines of a single structure.
Floors seven and eight house a shopping street, a hotel restaurant, and other communal facilities. This spatial organization negates the need for residents to venture outside for basic amenities. Above, the roof transforms into a public garden terrace featuring a gym, a shallow pool, and even a kindergarten. Within this vertical settlement, Le Corbusier achieved a fine balance between individual apartments and shared spaces, adhering to the Modulor system—a universal scale based on human proportions and the Golden Ratio.
A Living Ideology: Insights into Design and Social Construct
Among the many innovative design aspects of the Unité d'Habitation is the layout of its corridors. Rather than the conventional double-stacked design, Le Corbusier opted for corridors every three floors, effectively making each "interior street" serve multiple levels. This strategic placement, coupled with the use of elevators and emergency staircases, promotes both efficient movement and social interaction.
The use of cellular apartments, fabricated off-site and assembled within the concrete frame, offers residents a self-contained but integral part of the larger community. The internal structure complies with Le Corbusier's Modulor proportions, offering spaces that are harmoniously scaled to human dimensions. These cells form a network of private spaces imbued with naval and monastic simplicity and rationalism.
The Unité d'Habitation serves as a stark reminder of the conditions of post-war Europe. Though constructed primarily for economic reasons, the béton brut exterior captures the zeitgeist of a continent emerging from the ruins, rough, worn, and unforgiving. Yet, the building resonates with the hope and dynamism of a new form of urban living.
While the Unité d'Habitation laid the blueprint for public housing across the globe, not all ventures have succeeded in replicating its success. Many criticized Le Corbusier for inspiring the monotonous architecture that plagued French suburbs in the 1970s. Nonetheless, the Unité remains an unparalleled feat, embodying Le Corbusier's vision for a new form of collective housing.
L'Unité d'Habitation de Marseille Plans
L'Unité d'Habitation de Marseille Image Gallery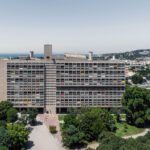 About Le Corbusier
Le Corbusier, born Charles-Édouard Jeanneret-Gris in 1887 in Switzerland, was a pioneering architect, urban planner, designer, and writer who is widely considered one of the most influential figures in modern architecture. Known for his minimalist, functionalist designs and for his key role in developing the International Style, he had a profound impact on urban planning and was an advocate for the use of reinforced concrete and geometric forms. His notable works include the Villa Savoye in France, the Capitol Complex in Chandigarh, India, and the Unité d'Habitation in Marseille. Le Corbusier's revolutionary ideas were encapsulated in his Five Points of Architecture and his Modulor proportioning system, both of which have had lasting implications for the field.
Notes & Additional Credits
The quote reflects the essential design elements in the Unité d'Habitation project, emphasizing the need for well-organized, well-lit spaces.
Le Corbusier: Unité d'habitation by Bärbel Högner, Le Corbusier