When you step into Le Corbusier's Studio-Apartment in Paris, you step into a realm where architecture, natural light, and personal life converge into a harmonious entity. The apartment, perched on the top two floors of the Immeuble Molitor building at 24 rue Nungesser et Coli, was a pivotal experiment for Le Corbusier and his frequent collaborator Pierre Jeanneret. Constructed between 1931 and 1934, the apartment offers an intimate glimpse into the iconic architect's private life and creative explorations.
Le Corbusier's Studio Apartment Technical Information
Architecture is the learned game, correct and magnificent, of forms assembled in the light.

– Le Corbusier1-2
Le Corbusier's Studio Apartment Photographs
The Convergence of Light and Life
Nestled in the outskirts of Paris near Boulogne, this dual-purpose apartment offered Le Corbusier an opportunity to actualize his vision for a "radiant city." Owing to its east-west orientation and absence of obtrusive structures in the surroundings, the residence bathes in sunlight. The architect seized this as an opportunity to create the first residential apartment made entirely of glass. The design ensured abundant natural light for both the personal living spaces and the painting studio, fulfilling the radiant conditions envisioned by Le Corbusier himself.
In 2016, the site gained its rightful place as a UNESCO World Heritage site, joining a group of 17 works by Le Corbusier that have been granted this distinction. Radical for its time, it was the world's first building with an entirely glazed façade, a revolutionary decision that has since influenced contemporary architecture.
Le Corbusier moved into this apartment in 1934 with his new wife, Yvonne Gallis, whom he met in 1922, along with his housekeeper and his dog, Pinceau. The layout of the apartment building allowed for a 'free plan' that could be customized within each household, in keeping with Le Corbusier's Cité Radieuse theories. Amenities like double glazing, personal and service lifts, central heating, and ground-floor garages set a new benchmark for residential comfort.
The apartment became a sanctum for both familial life and artistic endeavor, as it housed not just living spaces but also a dedicated studio for painting. Yvonne lived there until her death in 1957, and Le Corbusier continued to inhabit it until his death in 1965.
In 2016, the Fondation Le Corbusier commenced a two-year restoration project. The restoration aimed to reclaim the apartment's former glory, rejuvenating the peeling walls and crumbling glass bricks. Partnering with François Chatillon architecture practice and paint restorer Marie-Odile Hubert, the project focused on maintaining the original palette of colors and textures.
The furniture, like the Grand Confort armchair co-designed by Le Corbusier, Pierre Jeanneret, and Charlotte Perriand, along with artworks by Fernand Léger and others, was returned to its original setting. The entire interior layout, down to the marble table surrounded by four Thonet armchairs in the dining room, was restored meticulously.
A Personal Manifesto in Architecture
Le Corbusier's painting studio forms a remarkable feature of the apartment, illuminated by natural light yet designed to control its ingress. The 12-meter-long curving arch and the exposed brick wall serve as architectural elements that inspired Le Corbusier daily. Folding wooden panels were installed to modulate the intensity of light entering the studio. These thoughtful touches created a dynamic space where Le Corbusier could paint, write, and conceptualize.
The apartment is sprinkled with elements that are distinctively unique and handpicked by Le Corbusier. A stained-glass window designed by artist Brigitte Simon adds a geometric elegance, while Le Corbusier's ocean-liner-inspired bedroom reflects a blend of personal interest and architectural philosophy.
Italian furniture brand Cassina took up the responsibility of restoring the apartment's furniture, including the iconic LC2 lounge chair. A renewed cowhide rug adds to the intricate charm of the sitting area, continuing the theme of marrying functionality with aesthetics.
Visiting the studio apartment offers an enriching experience, a tangible journey through Le Corbusier's creative and personal milestones. Every component—be it furniture, color, or architectural detail—serves as an artifact that stands as a testament to Le Corbusier's vision.
Le Corbusier's Studio Apartment Plans
Le Corbusier's Studio Apartment Image Gallery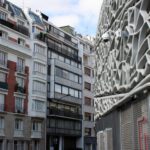 About Le Corbusier
Le Corbusier, born Charles-Édouard Jeanneret-Gris in 1887, was a Swiss-French architect, designer, urban planner, and painter who is widely regarded as one of the pioneers of modern architecture. Known for his revolutionary theories and impactful projects, he embraced functionalism, minimalism, and a keen focus on light and space to transform architectural design. Le Corbusier's influential works include iconic buildings like Villa Savoye in France and the Capitol Complex in Chandigarh, India, as well as seminal texts such as "Towards a New Architecture." His concept of the "Radiant City" and the modular system, known as the "Modulor," have had a profound influence on urban planning and architectural theory. His work continues to be studied and celebrated, and many of his buildings have been designated UNESCO World Heritage sites.
Notes & Additional Credits
The Many Lives of Apartment-Studio Le Corbusier: 1931-2014 by Franz Graf and Giula Marino 
The quote captures Le Corbusier's perception of architecture as a discipline that balances aesthetics, function, and the interplay of light and form. He was an advocate for the idea that architecture is not merely about constructing buildings but about creating harmonious spaces that elevate human experience.