In the rural eastern province of Rwanda, a striking example of thoughtful architectural design stands – the Komera Leadership Center. Presented by BE_Design, this center serves as a sanctuary for the health, education, and mentorship of young women while also facilitating family development initiatives and community gatherings. Commanding a strategic position on the main road, it has become an indispensable hub for the community's educational and social needs.
Komera Leadership Center Technical Information
The large roof connects the administration, health & counseling, classroom & gathering, kitchen & dining spaces, creating an abundance of covered exterior spaces for break-out classes and informal meetings.

– BE_Design Architects
Photographs
Versatility and Tradition: Designing Komera Leadership Center
The heart of the Komera Leadership Center is defined by its adaptable central space. Through the inclusion of large, hinging translucent panels, there is an element of versatility rarely encountered. When closed, these panels partition the area into three separate classrooms. A 90-degree open angle cultivates a sizeable meeting hall, while a full 270-degree opening accommodates larger events, such as performances and ceremonies. Supporting this metamorphic environment, large adjoining storage spaces facilitate a seamless transition between different functions.
The design reveals an embrace of local culture and tradition through roof forms, the interlaced eucalyptus screens, and brick patterns inspired by the region's "Imigongo" art. The very architectural design embodies 'Komera', a Rwandan term representing strength and courage. A broad roof serves to unite administrative, health & counseling, classroom & gathering, and kitchen & dining areas, thereby generating an abundance of covered exterior zones for additional classes and informal meetings. Eucalyptus screens supply shade, provide privacy, and further assimilate the structure with its natural environment.
Lastly, the collaboration with Rwanda Village Enterprises (RVE) ensured the center's construction utilized primarily locally-sourced materials. With a commitment to boosting the local economy, they employed a workforce comprising 40% women and provided on-site skilled labor training, safe working conditions, and financial security. The involvement of the community was pivotal to the project from its conception to completion, reinforcing the Komera Leadership Center as a true embodiment of the people it aims to serve.
Komera Leadership Center Plans
Komera Leadership Center Image Gallery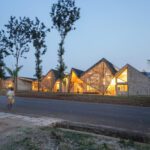 About BE_Design
Bruce Engel established BE_Design in 2016, leading projects in Tanzania, Rwanda, and Ghana. He also partners with MB Architecture on Long Island projects and a Vision Plan for East Hampton, NY. BE_Design operates from offices in New York, USA, and Kigali, Rwanda.