Completed in 2021 by the innovative architectural firm Atelier Apeiron, under the meticulous guidance of Yunchao Xu, the "Kindergarten of Museum Forest" is a paragon of their distinct "Apeironology" design ethos. This approach revolutionizes the traditional architectural paradigms and disciplines, offering a visionary alternative that is both engaging and enlightening.
In Xu's innovative narrative, an optimal learning environment for children is portrayed not merely as a series of classrooms but as an intimate, nurturing village. This conceptualization positions young learners in a verdant, organically evolving landscape that gently ascends, inviting joy and curiosity into a space that once felt static and uninviting.
Kindergarten of Museum Forest Technical Information
Children need a small town, rather than just a row of classrooms. Surrounded by green trees, new blocks rise gently, and the flowing space slowly blooms, infusing greater happiness into this old neighborhood.

– Yunchao Xu
Kindergarten of Museum Forest Photographs
Reimagining Early Childhood Education Spaces
Atelier Apeiron challenges the conventional Foucauldian discourse of modern society taming the human through disciplines. While disciplines structure and systematize society, they often imbue the educational sphere with a sense of correct behavior, rigid boundaries, and stifling standardization.
The firm believes the traditional delineation of a "good school" — large playgrounds, expansive classrooms, and multifunctional spaces — subtly encodes spatial discipline for children. As kindergartens are often children's first societal interaction, Atelier Apeiron emphasizes their design should encourage openness and freedom.
Revitalizing the Shenzhen Second Kindergarten, a foundational public institution in Shenzhen since 1982, posed significant challenges due to the spatial constraints and limited budget. However, Yunchao Xu, leveraging his first-ever kindergarten project, turned these constraints into an opportunity.
Moving away from his previous work on large-scale corporate headquarters, hi-tech parks, and cultural complexes, Xu reflects on how designing this kindergarten required releasing the typical architectural obsession with control. He brings into focus his experiences studying under the tutelage of Steven Holl and Kenneth Frampton at Columbia University, which helped him appreciate the elegance of modernist architecture. Despite these influences, Xu found the conventional design approach inadequate for the kindergarten project.
Seeking inspiration, Xu visited the old campus, allowing the sounds of playful children and the tranquility of the tree-lined paths to guide his design philosophy. Understanding the perceptual differences between adults and children towards spatial scale, he posited that young learners would appreciate a boundless walkway more than a sprawling playground, or a small boundary-less classroom over a large, fully equipped one.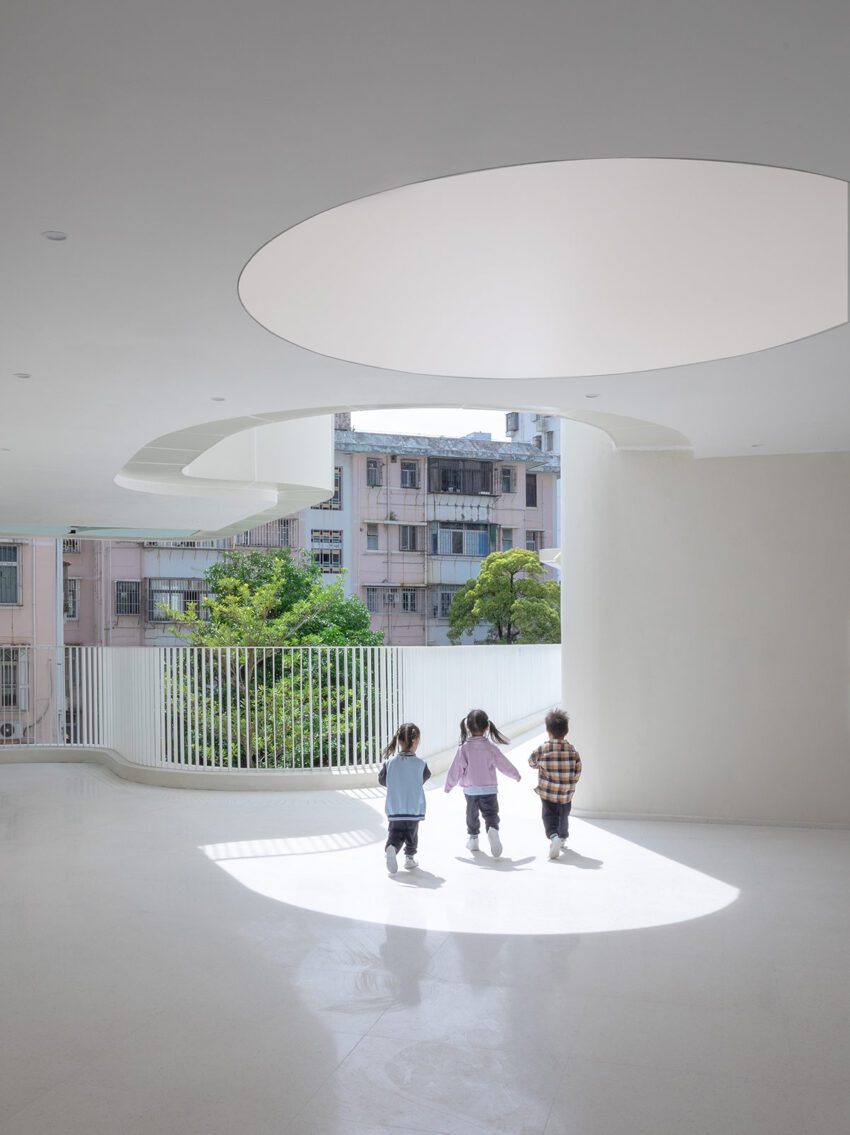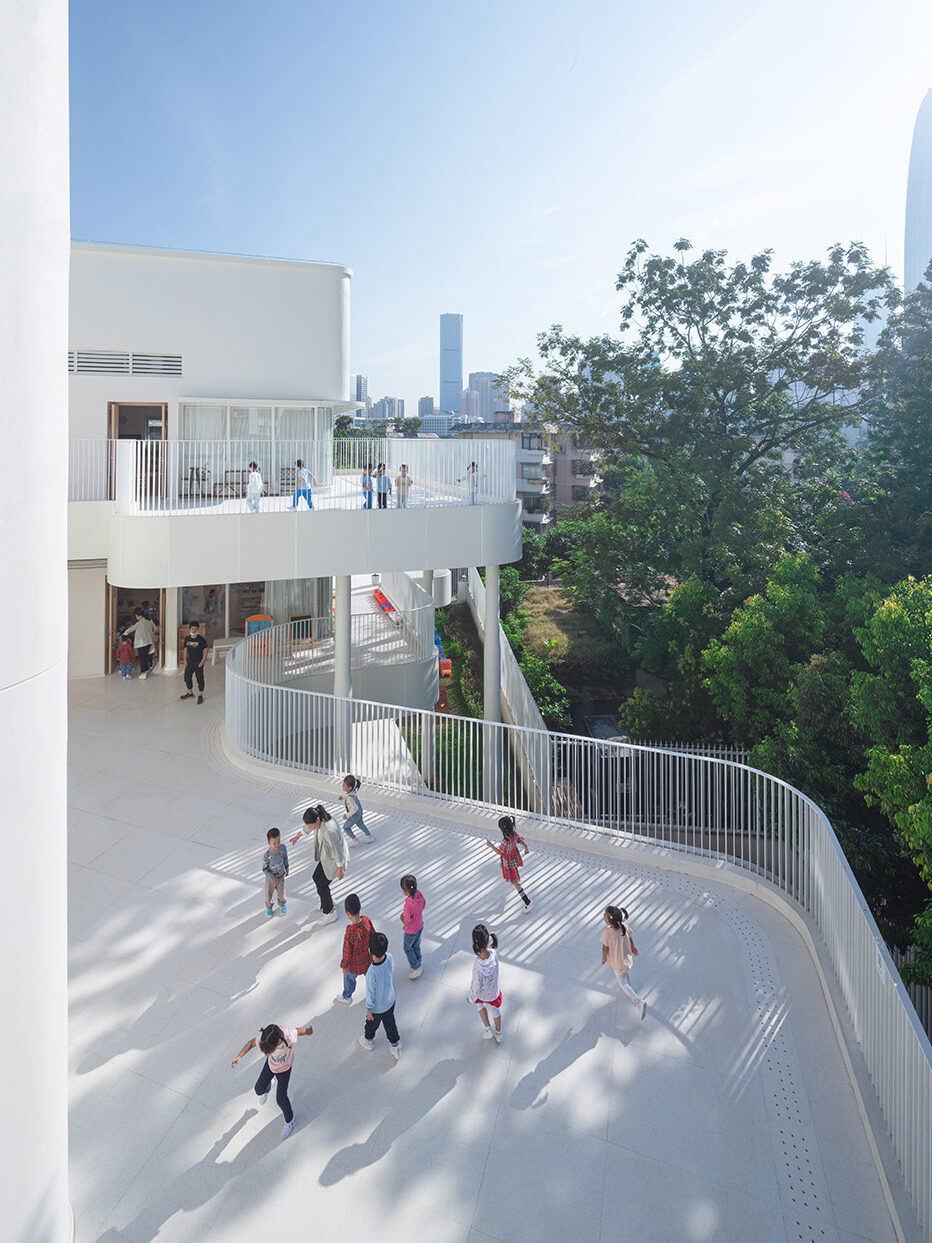 Drawing from this realization, Xu eschews the common approach of designing kindergartens as amusement parks, considering them to be restrictive and rule-governed spaces. Rather than directing children towards preset play structures, Xu argues for blank spaces, free of noise and clutter, where children can set their own rules and explore at their will.
Xu's vision for the kindergarten manifests as a minimalistic, modern, and organically spread out space. The creamy white exterior walls and warm wood-colored interiors punctuate the crowded community, creating a soothing oasis of calm. The architectural design deftly interweaves built and natural environments, integrating the campus into the community landscape. The result is a space rich in natural sunlight, smooth ventilation, and a tangible connection to the natural world.
The building's organic layout, akin to a blooming flower, encourages children to freely navigate the campus. The transparent flow spaces and narrow gaps become intriguing passages for children to explore. Oval corridors connect the old and new buildings, providing protection from the elements, and, surprisingly, exceeding Xu's initial cost-benefit analysis expectations.
Contrasting the efficiency-driven design principles of primary and secondary school designs, Xu emphasizes that kindergarten design should value child-like exploratory tendencies over streamlined efficiency. The undefined spaces within the campus allow spontaneous, free-flowing activities, empowering children to move beyond the classroom and turn blank walls and floors into canvases for their creativity.
Xu's architectural testament, referencing "One Hundred Languages of Children," aims to restore the ninety-nine languages often stolen from children in conventional educational settings. The architectural ethos of the kindergarten disrupts the traditional paradigm, offering a boundary-less learning paradise for children.
Preserving the essence of the old campus, Xu maintains old trees and a long-standing deer sculpture, ensuring the new structure embraces the past while envisioning a future. Much like the undefined, unconstrained growth of children, Xu hopes the kindergarten will adapt to the evolving needs of its young learners and teachers, accompanying them in their transformative journey.
Kindergarten of Museum Forest Plans
Kindergarten of Museum Forest Image Gallery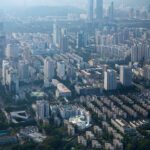 About Atelier Apeiron
Based in Shenzhen, China, Yunchao Xu/Atelier Apeiron is a firm comprised of creative international architects and designers. The word "Apeiron," derived from ancient Greek, encapsulates the firm's design philosophy marked by continuous thinking, rethinking, research, and practical applications of architecture. Leveraging the Shenzhen Architectural Design Institute (SZAD) platform, Yunchao Xu/Atelier Apeiron provides professional services in the fields of architectural design, urban, interior, product, and graphic design.
Notes & Additional Credits
Lead Designer/Architect: Yunchao Xu
Designers/Architects:

Hongrui Liu, Jiachuan Qi, Jianxuan Chen, Kan Gao, Elvis Lin, Yang Shi, Shengjie Zhang, Kun Qian, Lulu Chen, Tianxiong Li

Technical Designer CAD:

SZAD

Constructors:

Shanghai Baoye Group Corp., Ltd 

Engineers:

SZAD 

Interior Designers collaborators:

Zhiliang Zhang

Landscape architects:

Yanjun Xing, Rui Lin

Lighting consultant:

GD Lighting 

Electrical:

Ying Lin, Wensheng Lin 

Plumbing:

Ping Li, Ting Wu

Heating, ventilation, and air conditioning:

Lichun Li, Yuanxiong He, Jing Huang