Completed in 1994, the Igualada Cemetery, designed by the Spanish architects Carme Pinós and Enric Miralles, is nestled on the slopes of Igualada near Barcelona, Spain. The cemetery serves as a canvas for their brilliant treatment of complex topography. Situated on an old quarry, the landscape itself provides a hauntingly beautiful backdrop for this sacred place.
According to Enric Miralles, the cemetery is a work that emerged through a prolonged process of reflection and slow construction. For the architect, the project felt as though it had "somehow already existed when the first earthworks began." This quality is an intentional tectonic enhancement of the original earthworks, preserving the innate character of the site rather than imposing new forms onto it.
Igualada Cemetery Technical Information
Working on a project that seems to have existed beforehand in that place; that was, somehow, already complete when the first earthworks began.

– Enric Miralles1
Igualada Cemetery Photographs
The Earthly Elements of Igualada Cemetery
Prefabrication, a technique often employed for construction efficiency and cost-effectiveness, takes on a different role in the cemetery. Here, prefabrication is used not to streamline construction but to provide a broader architectural vocabulary and greater expressive depth. Concrete walls, gabions, reinforced earth, and clusters of prefabricated concrete niches blend seamlessly with the topography as if they had always belonged there.
In the cemetery, these prefabricated concrete niches, designed to house burial slots, are arranged in clusters that either slope forward or backward. Each is crowned with prefabricated concrete cornices and gravestone plaques, creating a mosaic within a mosaic of slopes. The coarse, unfinished quality of these elements contributes to the feeling that they are integral to the landscape, pre-existing the architects' intervention.
The complex topography is manipulated and molded to create a series of on-site concrete walls, gabions, and reinforced earth constructions. Along the edges of this configuration are clusters of prefabricated concrete crates to house the burial niches. The deliberate orchestration of these elements produces an undulating terrain that feels both natural and poetic.
An Architectural Symphony of Souls
Running concurrently with the construction of the cemetery was the design and building of the Olympic Archery Range (1991), also by Miralles and Pinós. For Miralles, this was a project that evolved within the Igualada Cemetery project but at a different pace. Describing it as "a project that appears and takes form in an instant," the archery range serves as a more conclusive chapter that reflects the cemetery's essence. Prefabrication here aims for the texturing of a single element, repeated with slight variations to create a mosaic effect, not unlike the cemetery. However, what remains constant in both projects is the low-tech approach, forsaking advanced solutions for thermal insulation or water tightness to maintain architectural integrity.
Entering the cemetery is akin to a journey through an architectural masterpiece. A river of souls flows down a sloped plane, leading to a central open courtyard—a pond, perhaps, where this river of souls finds a temporary respite. This setting evokes a surreal, poetic image reminiscent of rivers silently devoured by the desert sands. On the slopes, the niches become retaining walls as if straining the banks of this symbolic river. In this hauntingly beautiful setting, the architects have managed to imbue their project with a sense of profound humanity, capturing the complicated but seemingly simple aesthetic of their work.
The cemetery moves in neither a vertical nor a horizontal axis but takes on an amorphous quality. This fluidity echoes in the paintings of the Final Judgment, with grave tombs and gravestones tossed in a day of wrath. In the Igualada Cemetery, the intense feeling of inhabiting this place of death forms an alliance with the need for form. The expressive construction by Miralles and Pinós gains an unprecedented solemnity here.
Igualada Cemetery Plans
Igualada Cemetery Image Gallery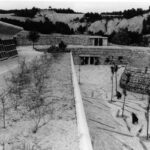 About Enric Miralles
Enric Miralles (1955-2000) was a renowned Catalan architect celebrated for his poetic and experimental approach to architecture. His work often carried out in collaboration with partners such as Carme Pinós and Benedetta Tagliabue, was characterized by a deep sensitivity to local culture and landscape, as well as an ability to transform traditional architectural forms and materials into contemporary expressions. His projects, such as the Scottish Parliament Building in Edinburgh and the Igualada Cemetery in Barcelona, stand as landmarks that challenge conventional design paradigms while embracing complexity, fluidity, and the tactile qualities of materials. Miralles' untimely death at the age of 45 left a lasting imprint on the architectural world, marking him as one of the most innovative and influential architects of his generation.
About Carme Pinós
Carme Pinós is an esteemed Spanish architect known for her versatile approach to design that seamlessly integrates architecture, urban planning, and landscape design. Her work is characterized by a keen sensitivity to the site-specific aspects of each project, whether it be the topographical nuances, material context, or cultural implications. Alongside her early collaborative projects with Enric Miralles, such as the lauded Igualada Cemetery, Pinós has carved out a distinct voice in the architecture world with solo ventures that explore themes of social inclusion, sustainability, and spatial dynamism. Her designs, ranging from public buildings to furniture collections, have earned her multiple awards and international recognition, solidifying her reputation as a leading figure in contemporary architecture.
Notes & Additional Credits
The quote encapsulates Miralles' approach to the cemetery project, emphasizing his philosophy of creating architecture that feels intrinsic to its site as if it had always been a part of the landscape.