Set within a meticulously preserved 19th-century residence in the vibrant heart of Morelia City, FMA presents Josafat Zalapa—an extraordinary gastronomic experience. The restaurant is conceptually anchored in the Japanese principle of "Omakase," translating to "I trust you" or "chef's selection." This offers diners an unparalleled, intimate journey as they witness the culinary artistry unfold before their eyes.
Josafat Zalapa Restaurant Technical Information
Inspired by the Japanese term 'Omakase,' patrons embark on an exclusive gastronomic voyage in an architectural setting that seamlessly integrates the building's historical layers with contemporary design elements.
Josafat Zalapa Restaurant Photographs
A Masterful Blend of Baroque and Contemporary Design
As visitors step into this historic edifice, they are greeted by a corridor and gallery that guide them to an inner courtyard. The space is tastefully punctuated with diverse art pieces, while a central sculptural installation featuring desiccated vegetation serves as a poetic nod to the building's historical continuum.
Comprising two primary areas adjacent to the courtyard, the layout artfully integrates Baroque architectural motifs. The central room showcases a stunning sculptural bar, surrounded by 20 impeccably designed chairs. An adjoining space features a more discreet bar area. Upon entry, patrons are immediately enveloped by monumental stone walls, drawing focus to the restaurant's pièce de résistance—an elongated chef's counter.
The project attains a harmonious equilibrium between historical architectural elements and contemporary design aesthetics—realized through furniture, decor, and materiality. This synergy cultivates an environment of refined elegance, subtle grandeur, and contemplative ambiance.
The bar's conceptualization magnifies the culinary mastery at play. Ingeniously incorporated indirect floor lighting illuminates the existing limestone walls, enhancing their textured history and architectural significance. A minimalist palette of wooden floors and pigmented cement coatings gracefully complements the walls.
The design philosophy prioritizes minimal intervention, preserving the innate architectural integrity of the historic building. Every element, from the bespoke linear lamps gracing the bar to the crafted chairs, has been custom-designed to elevate the dining experience.
Josafat Zalapa Restaurant Plans
Josafat Zalapa Restaurant Image Gallery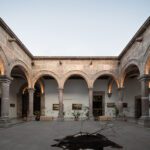 About FMA.
Founded in 2018 and based in Morelia, FMA. is an architecture and design studio helmed by the rising talent of architect Francisco Méndez. In a relatively short span, the studio has built a diverse portfolio encompassing commercial, hospitality, residential, and urban projects throughout Mexico. This breadth of innovative work has not only elevated their profile but also enabled them to generate projects with far-reaching societal impact. 
Notes & Additional Credits
Lead Architect: Francisco Javier Méndez Rodríguez
Furniture Design: Axoque Studio