Unveiling a masterstroke in architecture and a testament to collaborative artistic vision, the Casa Wabi Foundation has opened a new exhibition space at Sabino 336, Mexico City. This space, the latest extension of Casa Wabi, designed by renowned architect Alberto Kalach, intends to showcase both local and international artists, propelling Mexico City's flourishing art scene onto the global stage.
Casa Wabi Expansion Technical Information
I am only an accomplice to the creation of my work. The material has its own essence and will that I cannot control; it will do what it is meant to do.

– Bosco Sodi1-2
Casa Wabi Expansion Photographs
Alberto Kalach and Bosco Sodi: Merging Architecture, Art, and Ecology
Nestled amidst an industrial zone in the Atlampa neighborhood, not far from the Vasconcelos Library or the Tlatelolco's Insignia Tower, the Casa Wabi Foundation's new building sits humbly. Brick and concrete form the discreet facade that beautifully merges with the industrial context, subtly distinguished by its unique compositional gestures.
The centerpiece of the site is a central patio flanked by two distinct structures. One houses a small gallery, the foundation's offices, and a terrace that serves as an additional exhibition area. It connects, through a steel staircase, to the studio of the foundation's founder, artist Bosco Sodi. Filled with robust structural elements to accommodate Sodi's artwork and practice, the studio showcases a transparent freight elevator (glass and steel), spaces with large clearances, and subtle light entrances designed to preserve the artwork.
An inherent interest in the use of land binds Sodi and Kalach, manifesting in a shared vision to transform Mexico City into a 'Lake City' once more. Using basic elements like wood, stone, clay, fire, sun, and time, their work exudes a primordial sense. Sodi's works, like cubes, spheres, and "wood" molded from earth clay, alongside sections of the planet's surface depicted in sawdust and pigment, reflect the diversity of its biomes and encourage expansive, non-anthropocentric forms of terrestrial thinking.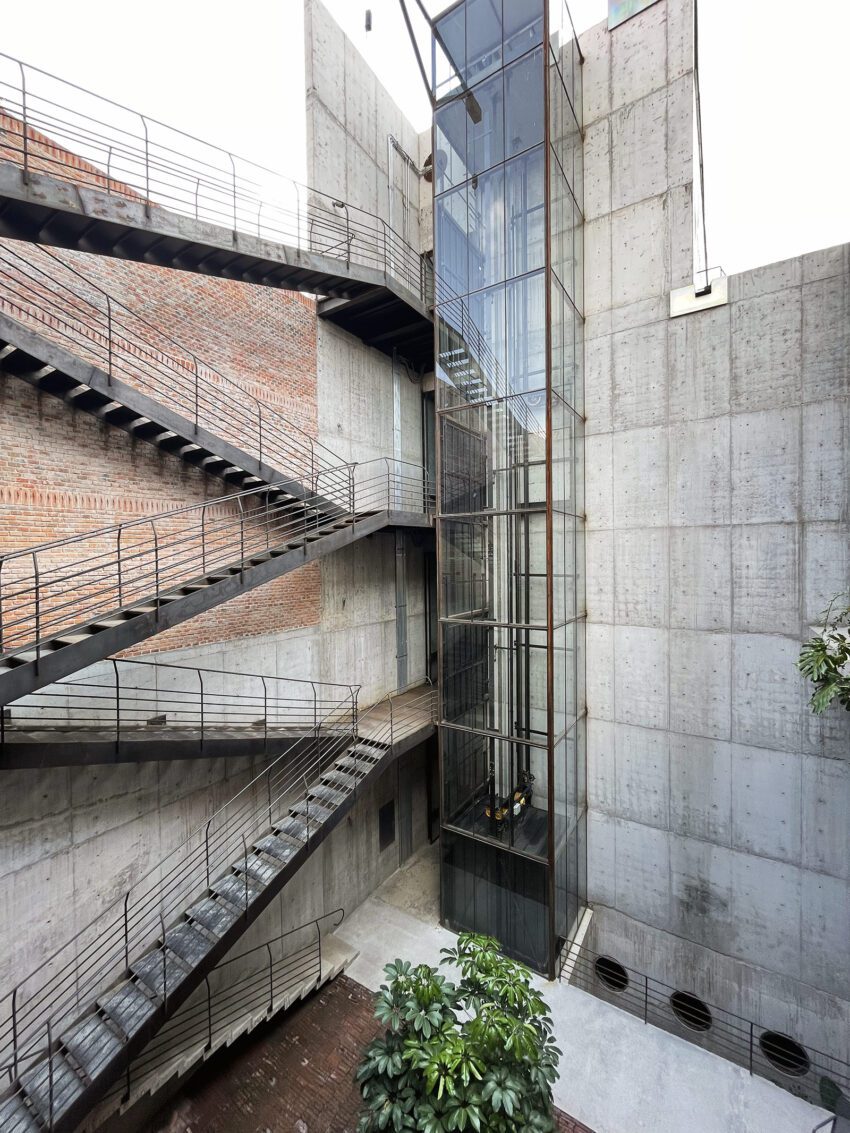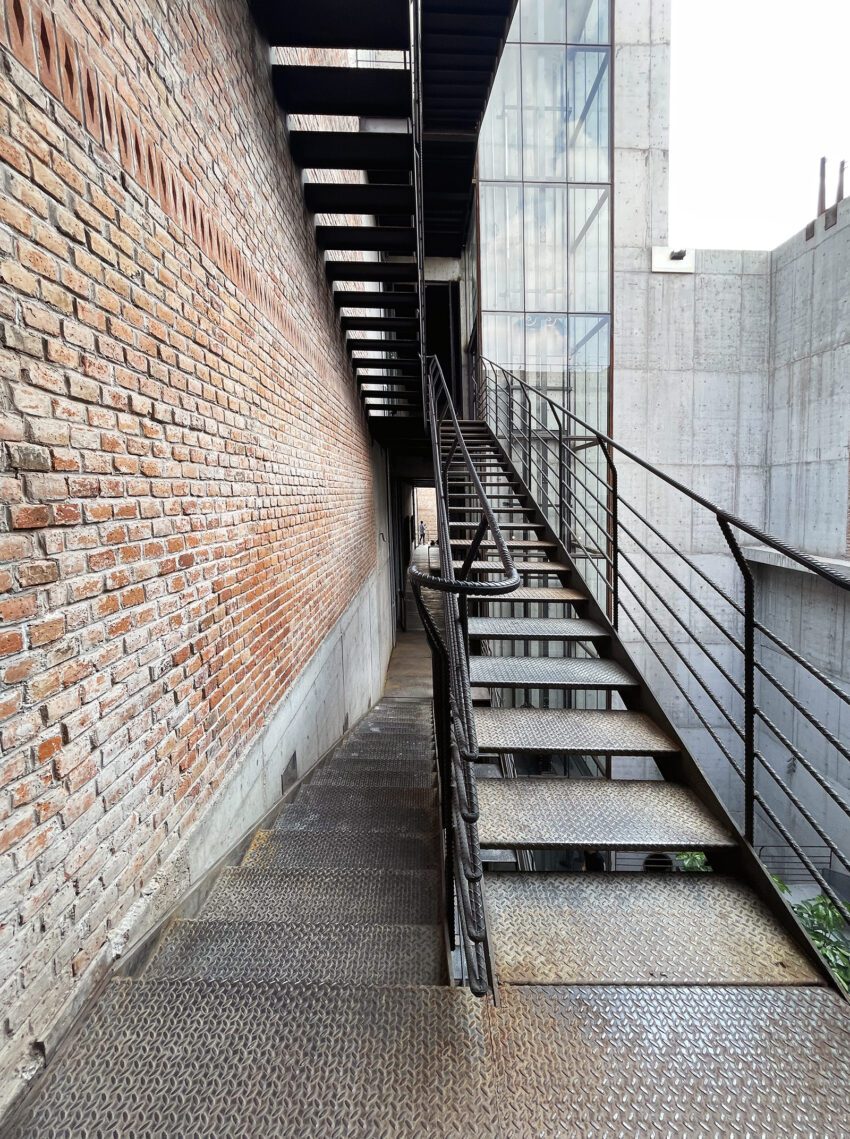 As the building is slightly higher than the surrounding structures, it offers a modest view over the persisting industrial landscape. Tlatelolco and several housing units can be discerned in the distance, adding a contrasting urban texture to the Casa Wabi Foundation's industrial and artistic milieu.
Sabino 336, described as a "secular sanctuary," opened its doors for the first time during Art Week 2023, in correspondence with its exhibition at the Hilario Galguera Gallery "Alabanzas", featuring a curated collection of the artist's work. This new extension of the Casa Wabi Foundation is an embodiment of Sodi's ongoing determination to control aesthetic production, from raw material to exhibition.
The space provides a constant reminder of Sodi's concerns: how we inhabit the earth and how it occupies us. It reflects the synergy between Sodi's practice and Kalach's architectural vision, showcasing a shared aspiration to utilize natural resources sustainably and restore Mexico City's ecology.
While the artworks within Sabino 336 cannot reverse time or entirely restore the central Mexican highland's ecology, they underscore the significance of consciously and respectfully utilizing natural resources.
Casa Wabi Expansion Plans
Casa Wabi Expansion Gallery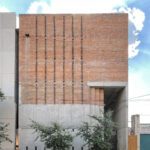 About Alberto Kalach
Alberto Kalach, born in 1960, is a renowned Mexican architect known for his innovative and sustainable designs that seamlessly integrate with nature. After studying architecture at the Universidad Iberoamericana, Mexico City, and Cornell University, USA, Kalach has been involved in ambitious projects ranging from individual buildings to visionary urban planning proposals. Notably, he designed the celebrated Vasconcelos Library in Mexico City, a testament to his remarkable architectural vision. Alongside his architectural practice, Kalach co-founded the "Investigación y Desarrollo de la Ciudad de México" (Mexico City Research and Development), a project proposing infrastructure, transportation, and ecological preservation initiatives for Mexico City, including the ambitious plan for the restoration of Lake Texcoco. As of my knowledge cutoff in September 2021, his significant contributions to addressing environmental concerns through architecture have established him as a highly respected figure in contemporary architecture.
About Bosco Sodi
Bosco Sodi is a renowned contemporary Mexican artist recognized for his large-scale, heavily textured paintings that evoke natural geological formations. Born in Mexico City in 1970, Sodi uses a unique blend of raw materials, including pure pigment, sawdust, wood pulp, and natural fibers, to create his monochromatic works. His artistic approach hinges on the philosophy of 'controlled accidents,' as he allows the materials' inherent characteristics and the process of drying and cracking to influence the final outcome. Having exhibited globally in major cities such as New York, London, Tokyo, and Berlin, Sodi's exploration of materiality and time leaves an indelible mark on contemporary art.
Notes & Additional Credits
Bosco Sodi by Dakin Hart, Juan Manuel Bonet, Matthew J. Abrams
The quote reflects Sodi's belief in the process of 'controlled accidents,' where he allows the materials he uses and their inherent characteristics to play a significant role in shaping his work.