Completed in 2014, Casa Wabi is an extraordinary fusion of an Art Centre and a residential edifice, masterfully designed by Japanese architect Tadao Ando. The concept of Casa Wabi gracefully intertwines artistic inspiration with living space, all carefully arranged along a staggering 312-meter-long concrete wall, making it a testament to Ando's love for minimalist architecture. The project is beautifully nestled on a picturesque site that boasts a stunning Mexican seafront view, highlighting Ando's exceptional ability to harmonize built structures with their natural surroundings.
The name 'Casa Wabi' derives its essence from the profound Japanese philosophy of wabi-sabi, which celebrates the beauty found in life's imperfections and the natural cycle of growth and decay. Inherent in the design of Casa Wabi, this philosophy fosters a deep appreciation for the authenticity, texture, and tranquility of the space, making it not just a structure but an experience of aesthetic enlightenment.
In 2023, The Casa Wabi Foundation, in collaboration with Bosco Sodi, proudly unveiled the expansion project of Casa Wabi in CDMX (Mexico City). This remarkable endeavor continues to reinforce the original vision, echoing the foundational principles that have made Casa Wabi a symbol of architectural brilliance and cultural resonance.
Casa Wabi Technical Information
The project site is situated directly facing the South Pacific Ocean, sharing 550 metres of coastline with only the breathtaking beach. With such a generous length of site, I have created a single concrete wall of 312 metres long by 3.6 metres high.

The wall creates horizontal separation between public programmes on the north side and private programmes on the south side. The wall also generates the main circulation path cutting across every programme, serving as a dual interior and exterior wall. Rich red and orange sunset is to be reflected on the concrete surface.

– Tadao Ando
Casa Wabi by Tadao Ando Photographs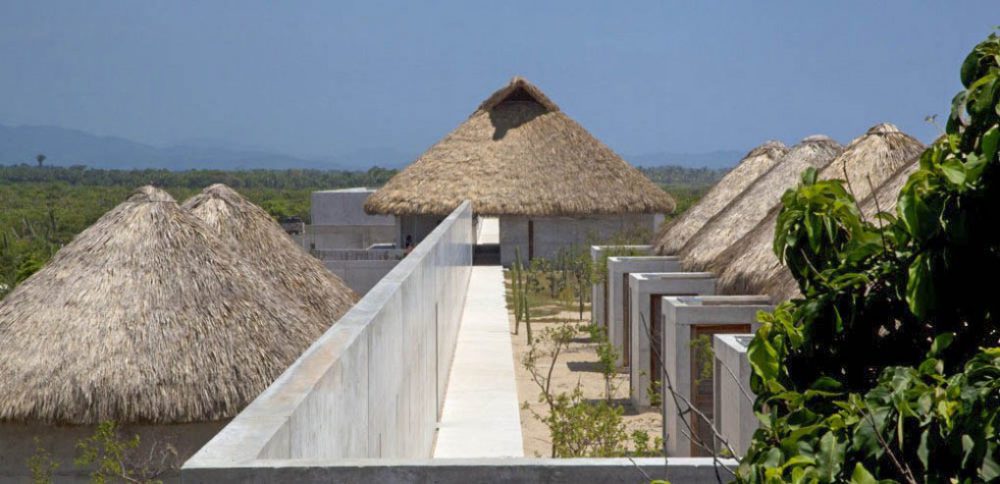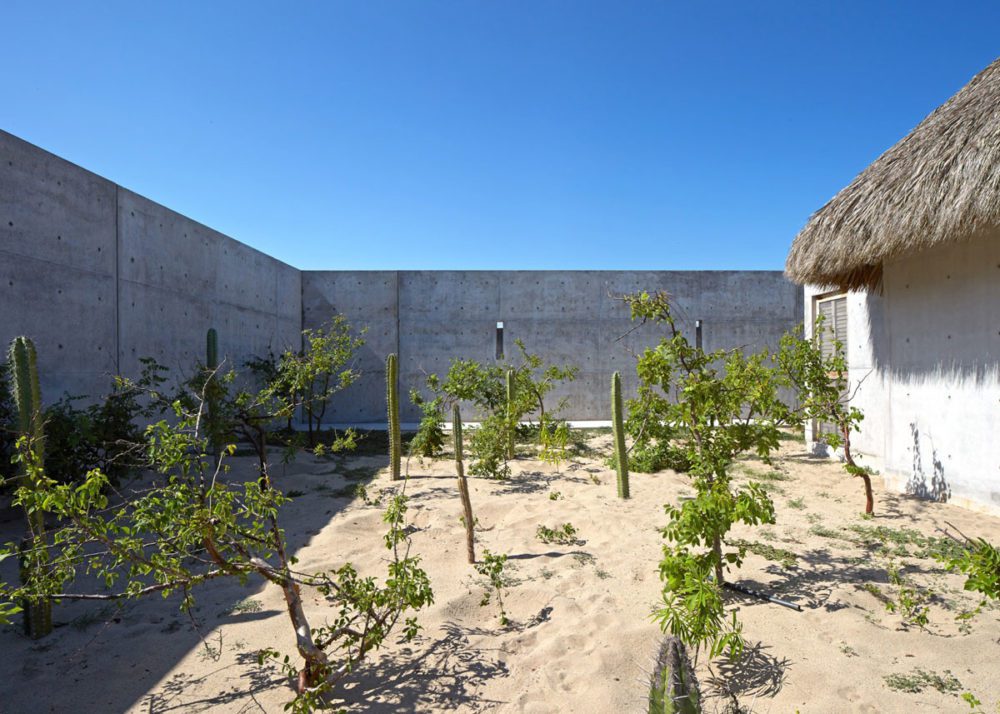 Casa Wabi: An Intersection of Art, Philanthropy, and Architecture
Casa Wabi, a creative haven for artists and philanthropists alike, provides a home for the Casa Wabi Foundation, a philanthropic institution established by Mexican artist Bosco Sodi and managed by Patricia Martin. Martin, highly regarded as the curator of Latin America's most prestigious private art collection, the Colección Júmex, collaborates with Sodi, who has long admired the architectural prowess of Tadao Ando. Sodi invited the illustrious Japanese Pritzker Prize-winning architect to envision and craft the architectural design for the foundation's new headquarters.
Accommodating up to six occupants simultaneously, the Casa Wabi Foundation incorporates six meticulously designed villas, each equipped with essentials for a comfortable stay. Additional facilities include a well-stocked library, two shared studios, a gallery, a state-of-the-art projection room, a lush garden, and various spaces for relaxation and recreation.
Conceived as a large compass, the layout of the building is both practical and poetic. A long, solid concrete wall stretches from east to west, paralleling the coastline, and organically dividing the interior into a series of distinct spaces.
In the south-north axis, the primary vehicular entryway is positioned, extending towards a narrow courtyard and a serene swimming pool that reaches towards the water's edge.
In addition to the private villas, the compound includes two collaborative studios, an exhibition gallery, a sculpture garden, a multipurpose room, a projection room, and various recreational areas, creating a vibrant cultural hub. Casa Wabi stands as a beacon for artists, offering a diverse range of residency programs. These residencies, which range from 15 days to three months, cover accommodation and daily expenses. During their stay, residents maintain a journal documenting their experiences in a format of their choice, contributing to the foundation's permanent archive.
Complementing the austere linearity of the concrete walls, the roof is layered with dried leaves of the Royal Palm Tree, a material traditionally employed in the region for its combination of shelter and ventilation. Buildings sporting such roofs are locally known as "Palapa," furthering the dialogue between the building and its cultural context.
Casa Wabi by Tadao Ando Plans
Casa Wabi Gallery of Images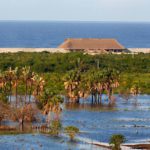 About Tadao Ando
Tadao Ando is an acclaimed Japanese architect based in Osaka who won the Pritzker Architecture Prize in 1995.  He is a self-taught architect who has actively been engaged in social projects as well as post-disaster reconstructions. Ando's work frequently combines large expanses of unadorned concrete walls with wooden or stone floors. Architectural historian Francesco Dal Co has categorized his approach to architecture as "critical regionalism."
More Works from Tadao Ando | Tadao Ando Profile & Bibliography