Completed in 1951, the Eric & Pat Pratt House is a shining example of Frank Lloyd Wright's architectural creativity. Located in the esteemed Galesburg Country Homes community—also affectionately called "The Acres"—this house sits within a stunning 70-acre landscape. Alongside its neighboring Samuel & Dorothy Eppstein House, the Pratt residence presents a rare opportunity to own not one but two living embodiments of Wright's transformative Usonian vision.
Eric & Pat Pratt House Technical Information
The Usonian house is American, creating a new standard, simple, gracious, evolving a dignified home for all.

– Frank Lloyd Wright1
Eric & Pat Pratt House Photographs
A Testament to Usonian Grandeur
Located in a serene setting that also hosts landmarks such as Wright's Meyer May House in Grand Rapids and the Gilmore Car Museum in Hickory Corners, the Eric & Pat Pratt House is a striking representation of mid-century Usonian architecture. The home was meticulously crafted under the direct supervision of Wright, embodying his design principles of harmony between nature, form, and function.
Approaching the residence from "The Acres" single-lane path, the house instantly captures attention with its clean lines and masterfully restored mahogany exterior. The 2,200-square-foot home sprawls expansively across a single level and comprises 2 bedrooms, 2 baths, a lovely library/music room, and a larger common entertainment area. This living space is accentuated by 10-foot ceilings and floor-to-ceiling windows that invite a flood of natural light, setting the stage for a tranquil yet vibrant atmosphere.
The Pratt House takes the notion of open-concept living to new heights. A striking fireplace serves as the focal point, around which spaces for dining, reading, or simply enjoying the ambiance have been arranged. The floor-to-ceiling windows and glass doors effortlessly dissolve the boundaries between indoor and outdoor spaces, establishing a fluid relationship with nature.
Externally, the home features a glorious cantilevered overhang typical of the Usonian style. Multiple terraces allow residents to soak in the scenic views, creating an idyllic outdoor sanctuary complete with occasional deer and playful fawns wandering through the extensive, park-like setting.
A Personal Perspective
When Marika Broere and Tony Hillebrandt acquired the Pratt House, they were immediately entranced by its potential despite its somewhat neglected state. Once, part of the residence had been draped in blue tarp to prevent leaks, indicating years of minimal upkeep. However, after an extensive restoration process that included a new roof, masonry repairs, and careful woodwork restoration, the Pratt House has been returned to its original splendor—just as Frank Lloyd Wright had envisioned.
Their close relationship with the Pratt family throughout the restoration added an emotional layer to this architectural undertaking, further cementing the house's place in their hearts. Now adorned in mid-century furnishings, the Pratt House radiates the warmth and inviting atmosphere that Usonian homes were intended to offer.
The Eric & Pat Pratt House is more than just a building; it's a masterpiece that blends architectural innovation with a keen sensitivity to the natural world. Its restoration has been a labor of love for its current owners, and now it awaits a new chapter.
Eric & Pat Pratt House Plans
Eric & Pat Pratt House Image Gallery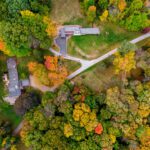 About Frank Lloyd Wright
Frank Lloyd Wright was an American architect, designer, and writer who revolutionized 20th-century architecture with his organic approach and innovative designs. Often hailed as "the greatest American architect of all time," Wright introduced the Prairie School movement and later developed the Usonian architectural style, aiming to create harmony between the built environment and the natural world. Notable for iconic works like Fallingwater, the Guggenheim Museum, and the Robie House, his design principles emphasized horizontal lines, open floor plans, and a seamless integration between interior and exterior spaces. Over his long career, he designed more than 1,000 structures, of which more than 500 were completed, leaving an indelible impact on architecture worldwide.
Notes & Additional Credits
For inquiries about the house, please contact: