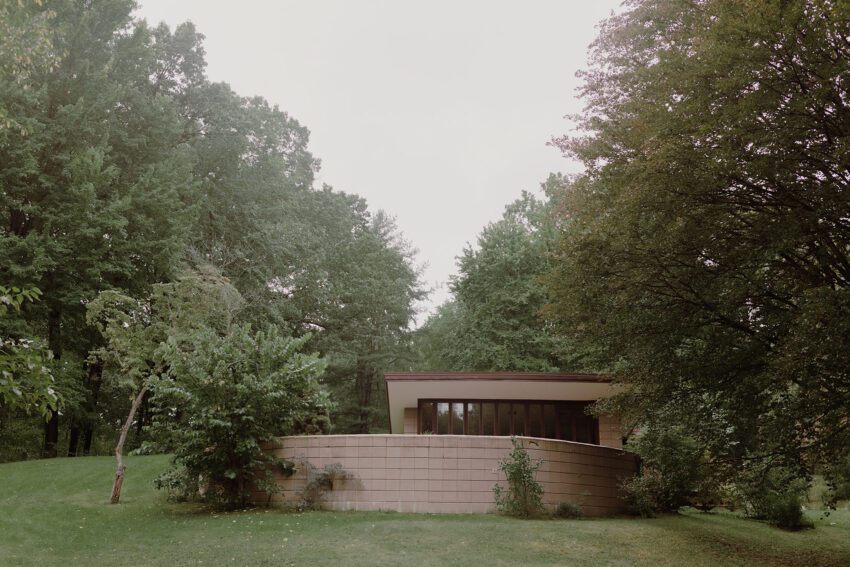 In the tranquil community of Galesburg Country Homes—better known as "The Acres"—lies The Samuel & Dorothy Eppstein House. Completed in 1953 and meticulously restored between 2016 and 2021, this quintessential Frank Lloyd Wright creation offers a once-in-a-lifetime opportunity for admirers of Usonian architecture. Nestled amid 70 acres of bucolic landscape, the home represents an unbroken dialogue between man and nature, structure and setting. 
The Eppstein House Technical Information
The Usonian house has always seemed to me to be the natural descendant of the democratic American pioneer home … with emphasis as here—on roominess, on light, on sun and outdoor circumstance—low cost to run and easily kept.

– Frank Lloyd Wright1
The Eppstein House Photographs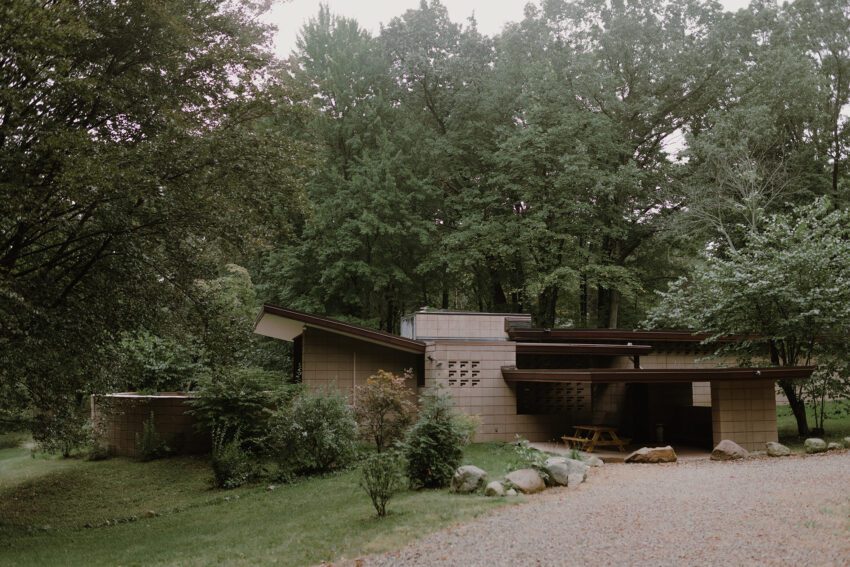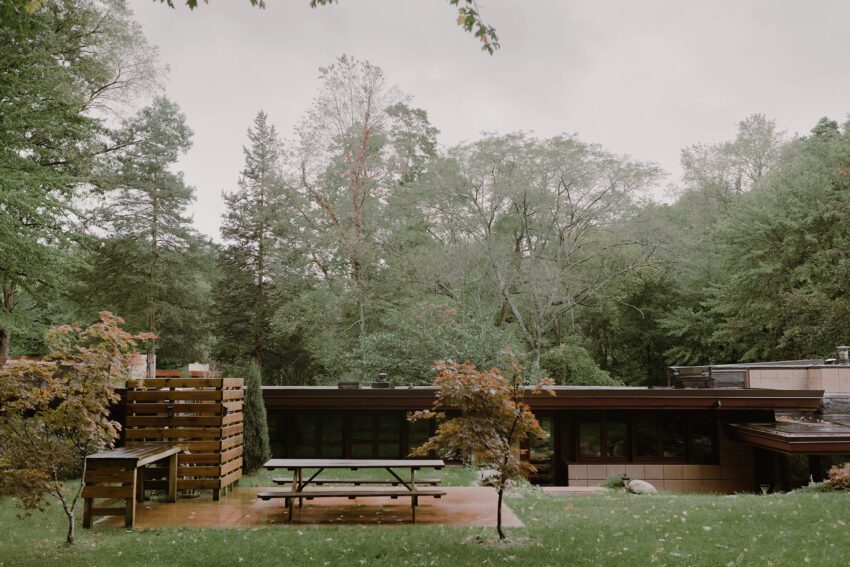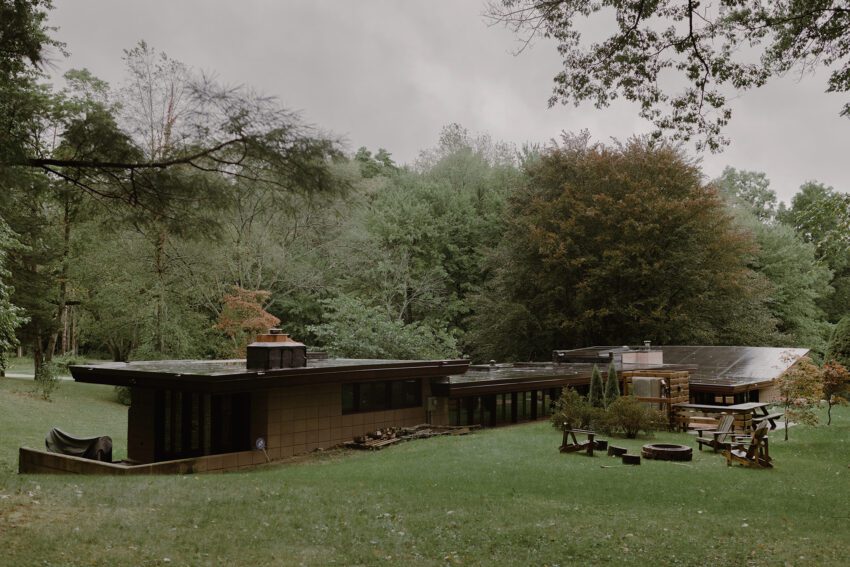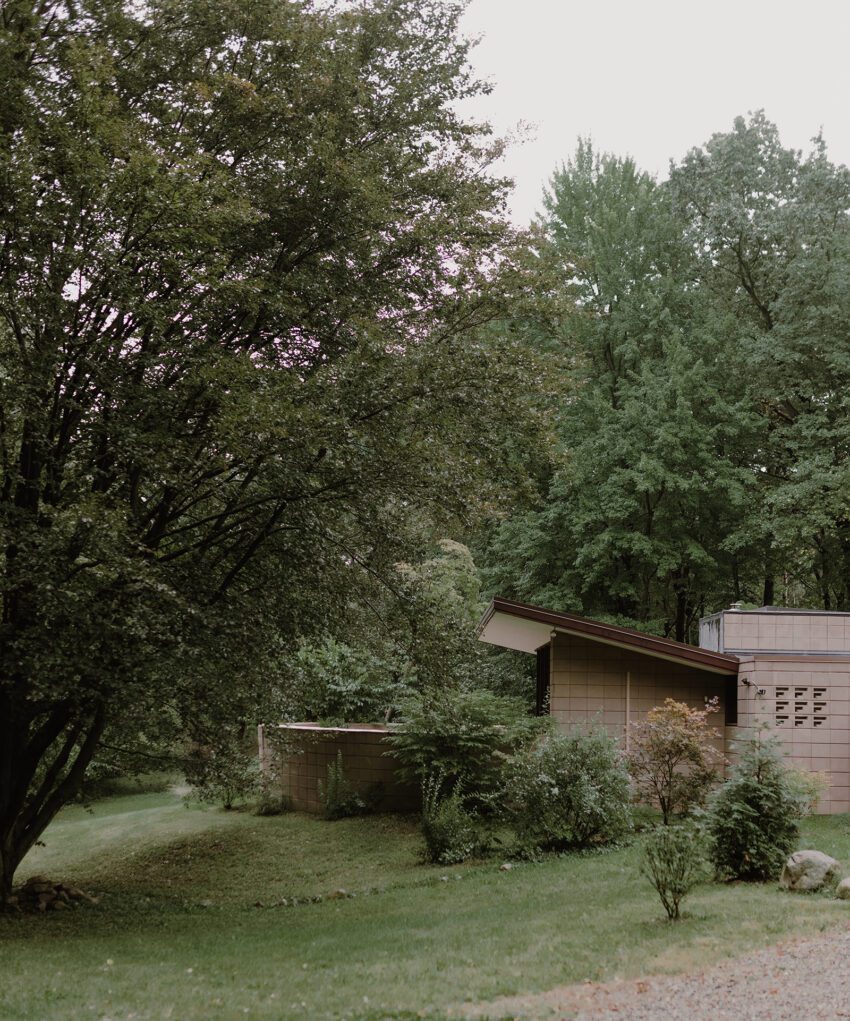 Setting the Scene of the House
Situated within the prestigious Galesburg Country Homes community—also referred to as "The Acres" and listed on the National Register of Historic Places—the Eppstein House is nestled amid mature trees, rolling hills, and a tranquil environment. It shares the region with other iconic landmarks like Wright's Meyer May House in Grand Rapids and the Gilmore Car Museum in Hickory Corners.
The Eppstein and Pratt Houses are stunning representations of Wright's Usonian vision and were originally constructed under his direct supervision. Both homes underwent extensive restoration between 2016 and 2021 by their current owners, Marika Broere and Tony Hillebrandt. Contrary to many of Wright's Usonian homes, these two still maintain their original footprints and have been modernized to meet 21st-century standards.
Built in 1953, the Eppstein House is flooded with natural light. Its low profile, horizontal lines, and expansive glass façade blend seamlessly with the surrounding nature. The home's interior features two spacious living areas adorned with Wright-designed furniture, fireplaces, and three cozy bedrooms. The outdoor terraces provide perfect venues for relaxation and entertainment, overlooking a peaceful meadow and blooming wildflowers.
The Eppstein House stands as a testament to Wright's signature Usonian principles—seamlessly blending nature, form, and function. With its mahogany detailing and concrete structure, the house exhibits a harmonious blend of materials, creating inviting interior spaces and fluid transitions to outdoor living areas.
The Owners' Perspective
Eight years ago, Marika Broere and Tony Hillebrandt were initially shocked by the dilapidated state of the Eppstein House, likening it to "a prison in a third-world country." Undeterred, they undertook a laborious restoration process involving hundreds of thousands of dollars and a team of skilled craftsmen. Their work received international attention and brought both homes back to life, fulfilling Wright's original vision for these architectural treasures.
Never before have two adjacent Frank Lloyd Wright Usonian homes been offered together. The Eppstein House is more than just an architectural landmark; it's a piece of American history meticulously restored and ready for its next chapter. Whether as a private residence or an investment, owning this property offers a chance to be part of Frank Lloyd Wright's enduring legacy.
The Eppstein House Plans
The Eppstein House Image Gallery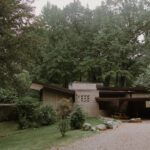 About Frank Lloyd Wright
Frank Lloyd Wright was an American architect, designer, and writer who revolutionized 20th-century architecture with his organic approach and innovative designs. Often hailed as "the greatest American architect of all time," Wright introduced the Prairie School movement and later developed the Usonian architectural style, aiming to create harmony between the built environment and the natural world. Notable for iconic works like Fallingwater, the Guggenheim Museum, and the Robie House, his design principles emphasized horizontal lines, open floor plans, and a seamless integration between interior and exterior spaces. Over his long career, he designed more than 1,000 structures, of which more than 500 were completed, leaving an indelible impact on architecture worldwide.
Notes & Additional Credits
For inquiries about the house, please contact:

Victoria Krause Schutte of @properties Christie's International Real Estate
Fred Taber of Jaqua Realtors in Portage, Mich.