Completed in 1977, the Centre Georges Pompidou by Piano + Rogers transcends the concept of a mere building to become a distinguished symbol of modern architecture nestled in the heart of Paris. Internationally acknowledged for its avant-garde design and architectural brilliance, it dramatically encapsulates the inventive spirit of its creators. The Centre Pompidou is more than an edifice; it represents a distinctly philosophical approach to architecture, one that champions innovation, dares to question norms, and relentlessly expands the traditional architectural boundaries.
The Centre Pompidou Technical Information
When you're young, you have the courage of stupidity… The Pompidou didn't have a client… We had to invent the client. That's probably why the Pompidou Centre is so strange. It's not a building. It's a town. A town where you find a museum, a school, a library, music, movies… It's a quarter of Paris. It's a piece of town.

– Renzo Piano5
The Centre Pompidou Photographs
The Vision of Renzo Piano and Richard Rogers
At the helm of the Centre's conception was Renzo Piano and Richard Rogers. Together, they epitomized a unique design philosophy that went on to shape the trajectory of modern architecture.
Renzo Piano, a Pritzker laureate, is renowned for his ability to merge technical expertise with a supreme sense of aesthetics. His portfolio, filled with structures that echo the harmony of design and function, speaks volumes about his commitment to architecture that serves people and enhances their lives.
Richard Rogers was famed for his penchant for sustainable and high-tech design. Rogers, too, was a Pritzker laureate, and his designs often promote transparency, flexibility, and a keen consideration for the urban context.
The collaboration of these two titans for the Centre Pompidou was a landmark moment in architectural history. Their shared vision was to create a structure that would symbolize the future while being deeply rooted in its function and societal context. They envisioned a "culture machine," a functional and dynamic center that would stimulate interaction and creativity.
Architectural Analysis of the Centre Pompidou
The Centre Pompidou is a bold and raw manifestation of the high-tech architectural style. This design approach places technology and structural elements at the forefront, turning them into dominant visual features rather than hiding them behind facades.
The building's facade, devoid of any decorative elements, reveals its structural skeleton and technical components – the steel superstructure, the brightly color-coded conduits, and the escalator encased in a transparent tube. These elements, usually concealed, become part of the architectural dialogue, creating an interactive spectacle for the passerby.
Each color represents a different functional system: blue for air conditioning, green for plumbing, yellow for electrical, and red for circulation. This transparent and color-coded system demystifies the building's functioning and forms a distinct architectural vocabulary.
The open floor plan of the Centre is equally revolutionary. Without the constraint of internal load-bearing walls, the space is entirely flexible, capable of adapting to changing needs and exhibitions. This modularity represented a break from traditional museum layouts, offering a fluid space that fosters creativity and innovation.
The Centre Pompidou is not merely an architectural statement but a reflection of an era's spirit, a testament to the endless possibilities of high-tech architecture when guided by vision and a sense of societal responsibility. This building, still radical and relevant decades after its completion, demonstrates the power of architecture to challenge, inspire, and endure.
The Centre Pompidou Plans
The Centre Pompidou Image Gallery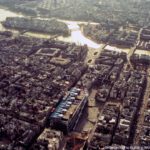 About Richard Rogers
Richard Rogers was a celebrated British architect known for his innovative, modernist, and functional designs that often celebrate technological elements. Co-winner of the Pritzker Architecture Prize in 2007, Rogers made a considerable impact on contemporary architecture. His high-tech design aesthetic was exemplified in the Pompidou Centre in Paris, a project he jointly led with Renzo Piano. Rogers' work, including notable buildings like the Lloyd's building in London, typically emphasizes transparency and displays structural and servicing elements on the exteriors. His designs often reflect his commitment to sustainability, urban revitalization, and social awareness, furthering the role of architecture in society's development. His philosophy of "legibility" – the idea that a building's function should be readable from its exterior – is a recurring theme in his architectural practice.
About Renzo Piano
Renzo Piano is an internationally acclaimed Italian architect known for his diverse array of designs, blending cutting-edge technology with a sensitivity to the environment, local culture, and history. He was awarded the Pritzker Prize, often considered the Nobel Prize of architecture, in 1998. His portfolio ranges from cultural institutions, such as the iconic Centre Georges Pompidou in Paris, co-designed with Richard Rogers, to striking skyscrapers like the Shard in London. Piano's work is distinguished by his commitment to humanist values, his ability to create structures that seem lightly placed in their environments yet are highly complex feats of engineering, and his innovative use of natural light, which is often a defining feature of his buildings. His work embodies an ethos where "beauty comes from the harmony of function and form."
Notes & Additional Credits
Structural & Services Engineer: Ove Arup & Partners
Mechanical Services & Superstructure: Laurie Abbott – Shunji Ishida – Hiroshi Naruse – Hiroyuki Takahashi
Mechanical Engineer: Walter Zbinden – Hans-Peter Bysaeth – Johanna Lohse – Peter Merz – Philippe Dupont
Interior Design: Gianfranco Franchini
Centre Pompidou by Renzo Piano