Completed in 2022 by KiKi ARCHi, the Homelinker Library transcends the traditional concept of a library, emerging as a symbolic fusion of nature and intellect. Reflecting values of creativity, inclusivity, and growth, this unique space epitomizes a philosophy that resonates with natural elements. From its alignment with the Fibonacci spiral to its delicate balance of determination and tranquility, the design invites exploration and wonder. Join us as we delve into the details of this inspiring project, an architectural testament to innovation and harmony.
Homelinker Library Technical Information
Architects: KiKi ARCHi
Client: Beike
Topics: Libraries
Area: 200 m2
Project Year: 2022
Photographs: © Ruijing Photo Beijing
The library design process begins with site selection. Each of the eight floors of the office building has a different view angle. KiKi ARCHi finally sets the library in a separate area on the second floor with a big, curved glass window.

– KiKi ARCHi Architects
Homelinker Library Photographs
Connecting Minds and Nature: The Homelinker Library
If the office space embodies the vibrancy and creativity of an enterprise, the Homelinker Library serves as its ideological and cultural soul. This unique space, designed by KiKi ARCHi for Beike, is not just a library but a nexus of thought and emotion. Serene and open, energizing, and communal, it echoes the perfect symmetry found in nature, such as the Fibonacci spiral of shell creatures. The design forms a balanced and deliberate path, constructing an embracing spiritual retreat.
The process of designing the Homelinker Library began with a meticulous selection of the site. Within the eight-floor office building, each level offers a distinct viewpoint. KiKi ARCHi's innovative approach led them to choose a secluded area on the second floor, accentuated by a sweeping, curved glass window. This window frames the lush greenery outside, where the towering tree crowns create a verdant screen, instilling a sense of peace while symbolizing constant growth under spiritual nourishment.
Visitors are welcomed into the library through a grand staircase, a gateway not ostentatious but subtly profound. Its white, arched motif seamlessly blends into the space, hinting at the delicate and creative atmosphere within. The painting 'My Dream,' handpicked by Beike's founder Hui Zuo, aligns with the company's origins and philosophy. The graceful white entrance harmonizes with the technological aesthetic of the office, introducing a fluid, winding path into the heart of the library.
As one steps inside, the white aluminum grating corridor unfolds a sequence of experiences guided by Maoyuan Yang's sculpture—a symbolic expression of purity and auspicious intention. Circulating around this artistic hub, visitors are led to the central exhibition area, showcasing the founder's original manuscripts. Enclosed by two transparent, curved partitions, this intimate space invites contemplation and conversation, fostering a dialogue between past, present, and future, and inspiring a fresh perspective on life and work.
The journey culminates at the window-side reading area. Designed in gentle arcs, the bookshelves, seats, and desks encircle the core of knowledge. This spiral arrangement breathes life into thoughts, widening the dimension of imagination. Natural wood elements anchor the ethereal white space to earth, mirroring the trees outside and creating an orchestrated balance.
Through layers of interaction and revelation, the Homelinker Library weaves a complex narrative. It pays tribute to the entrepreneurial spirit and illuminates a path toward future discovery. More than a physical place, it's a testament to human aspiration, a space where architecture meets philosophy, inviting us all to connect, reflect, and aspire.
Homelinker Library Plans
Homelinker Library Image Gallery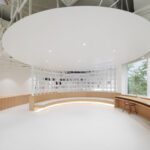 About KiKi ARCHi
KiKi ARCHi, founded by Japanese architects Yoshihiko Seki and Saika Akiyoshi in 2013, is an international architectural firm with offices in Tokyo, Beijing, and Shanghai. Embracing the Japanese term "KiKi," meaning appreciation, mastery, and unique perspectives, the firm integrates these principles into their creative process. They prioritize harmony and uniqueness in humanistic ideas, extending to various dimensions of space such as spirit, form, structure, and texture.
Notes & Additional Credits
Director: Yoshihiko Seki
Design Team: Saika Akiyoshi, Tianping Wang
Material & Brands: PVC sheet / Aluminum plate / Latex paint