Finalized in 2021 by Tetro Architecture, Casa Açucena, or "Lily House," beautifully complements the lush wilderness of Brazil's Atlantic Rainforest. This sanctuary, teeming with colossal trees, abundant greenery, a variety of birds, and myriad wildlife species, offers more than just a dwelling. Casa Açucena manifests as a gentle embrace of the challenging, steeply inclined landscape, an iconic trait of the Nova Lima region in Minas Gerais. Seamlessly woven into this rich tapestry of nature, the house stands as a testament to harmonious coexistence with the natural world.
Casa Açucena Technical Information
The initial understanding was that the architecture should mold itself to the terrain, and not the other way around. The house rises above the ground, while animal and plant life develops underneath

– Tetro Architects
Casa Açucena Photographs
Harmony and Innovation Amidst the Rainforest
This architectural work is the result of a meticulous interpretation of the land's topography. The terrain's inherent characteristics were integral to the design process. The perspective of gazing upward, from the forest floor to the towering fifteen-meter canopy, was the pivotal inspiration behind an innovative architectural concept.
This concept addresses the unique challenge of constructing within such a dramatic landscape while preserving its natural beauty and offering inhabitants the daily wonder of witnessing the sky through the leafy treetops.
Tetro's philosophy for Casa Açucena centered on the belief that the architecture should seamlessly integrate into the landscape, not vice versa. As such, the house elegantly ascends from the ground, allowing the vibrant flora and fauna to flourish beneath.
The design organically occupies the spaces between the trees, ensuring a harmonious blend of art and nature without the need for tree removal or topographical alterations. This philosophy was the catalyst for all subsequent design choices, each reinforcing the original concept.
Upon arrival, the striking white façade of Casa Açucena captivates visitors. Its dark, randomly arranged pillars integrate with the surrounding tree trunks, creating the illusion of the house floating among the forest canopy.
The fluid floorplan, dictated by the positioning of the trees, includes apertures and folds that offer unobstructed views of the treetops and add a sense of volume. Despite the harmonious integration with the surrounding greenery, the architecture asserts its distinct presence. Surprise and novelty, inherent to the art world, are beautifully embodied in Casa Açucena, a shining white beacon amidst the vibrant hues of the rainforest.
Casa Açucena Plans
Casa Açucena Image Gallery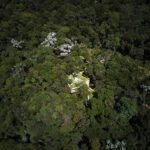 About Tetro Architecture
Founded by architects Carlos Maia, Débora Mendes, and Igor Macedo, Tetro is an architecture studio based in Belo Horizonte, Brazil, that works globally. The office's professional practice is based on the careful study of premises and conditions presented by a location and the client, always seeking a unique and irreplicable solution to each project. Fundamentals such as integration with nature, use of apparent materials, and exploration of empty spaces are characteristics that permeate all of Tetro's work.
Architects: Carlos Maia, Débora Mendes and Igor Macedo
Contributors: Laura Georgia Rodrigues Layoun, Otávio, Daniele Meloni, Déborah Martins
Concrete structural project: MV Estruturas
Construction: Engecapo