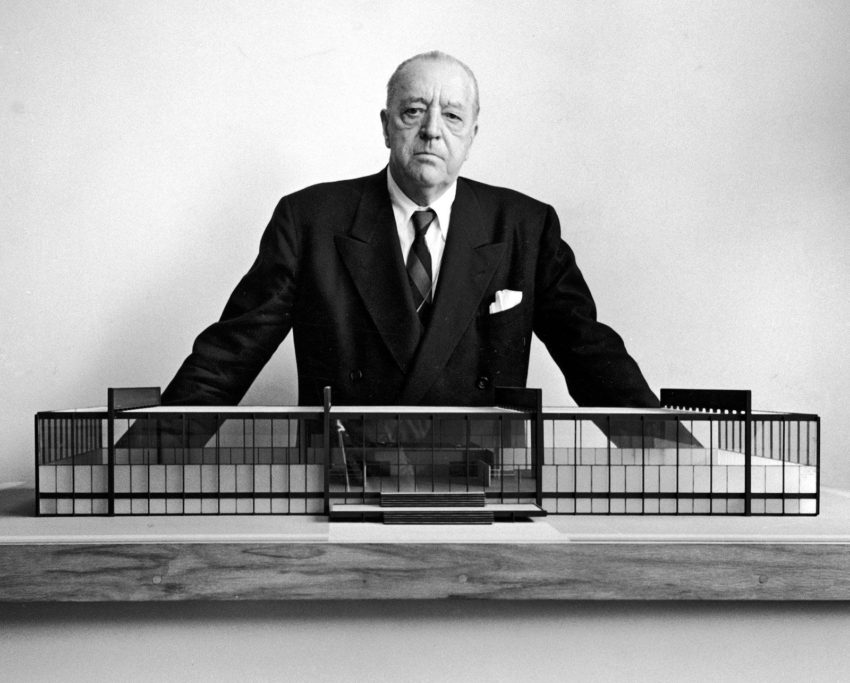 Mies Van Der Rohe Biography
German-born American / Works of Mies van der Rohe
Ludwig Mies van der Rohe (Maria Ludwig Michael Mies 1886-1969) was a German-born American architect whose rectilinear forms, crafted in elegant simplicity, made him among the most prominent and influential architects of the twentieth century. He was initiated into architecture through masonry, stone carving, stucco decoration, and furniture design before working as an architect in Peter Behrens' office.
Mies Career in Europe 
In 1905, at the age of 19, Mies went to work for an architect in Berlin, but he soon left his job to become an apprentice with Bruno Paul, a leading furniture designer who worked in the Art Nouveau style of the period. Two years later, he received his first commission, a traditional suburban house. Its perfect execution impressed Peter Behrens, who, at the time, was Germany's most progressive architect, and offered the 21-year-old Mies a job in his office, where, at about the same time, Walter Gropius and Le Corbusier were also starting.
Behrens was a leading member of the Deutscher Werkbund, and through him, Mies established ties with this association of artists and craftsmen, which advocated "a marriage between art and technology." The Werkbund's members envisioned a new design tradition that would give form and meaning to machine-made things, including machine-made buildings. This new and "functional" design for the industrial age would then give birth to a Gesamtkultur, a new universal culture in a totally reformed man-made environment. These ideas motivated the "modern" movement in architecture that would soon culminate in the so-called International Style of modern architecture.
During World War I, Mies served as an enlisted man, building bridges and roads in the Balkans. When he returned to Berlin in 1918, the fall of the German monarchy and the birth of the democratic Weimar Republic helped inspire a prodigious burst of new creativity among modernist artists and architects. Architecture, painting, and sculpture, according to the Bauhaus manifesto—the avant-garde school of the arts just established in Weimar—were not only moving toward new forms of expression but were becoming internationalized in scope. Mies joined several modernist architectural groups at this time and organized many exhibitions.
By the end of the 1920s, Mies had emerged as one of Germany's leading architects, noted for his visionary skyscraper projects wherein the weightless and revealed "skin and bone" modern construction permitted the most significant play of light on the building surface. Few unbuilt buildings surpassed them in the variety of ideas and their influence on the development of the architecture of the time.
This influence was apparent at the first postwar Werkbund exposition at Weissenhof near Stuttgart in 1927. The exhibition consisted of a housing demonstration project planned by Mies, who became Werkbund's vice president. Europe's 16 leading modernist architects, including Le Corbusier and Mies himself, designed various houses and apartment buildings, 33 units in all. Weissenhof demonstrated, above all, that the various architectural factions of the early postwar years had now merged into a single movement—the International Style was born.
Perhaps Mies's most famous executed project of the interwar period in Europe was the German Pavilion (also known as the Barcelona Pavilion). The German government commissioned for the 1929 International Exposition at Barcelona (demolished in 1930; reconstructed in 1986). It exhibited a sequence of marvelous spaces on a 175- by 56-foot (53.6- by 17-meter) travertine platform, partly under a thin roof and partly outdoors, supported by chromed steel columns. The spaces were defined by walls of honey-colored onyx, green Tinian marble, and frosted glass and contained nothing but a pool, in which stood a sculptural nude and a few of the chairs Mies had designed for the pavilion. These cantilevered steel chairs, known as Barcelona chairs, became an instant classic of 20th-century furniture design.
In 1930 Mies was appointed director of the Bauhaus, which had moved from Weimar to Dessau in 1925. When the Nazis closed the school in 1933, Mies tried for a few months to continue it in Berlin. But the modern design was as hopeless a cause in Hitler's totalitarian state as was political freedom. Mies announced the end of the Bauhaus in Berlin late in 1933 before the Nazis could close it.
Mies Emigration to the United States
Four years later, in 1937—again after working mainly on projects that were never built—Mies moved to the United States. Soon after he arrived in the country, he was appointed as director of the School of Architecture at Chicago's Armour Institute (later the Illinois Institute of Technology). Mies served as the school's director for the next 20 years, and by the time he retired in 1958, the school had become world-renowned for its disciplined teaching methods and its campus, which Mies had designed in 1939–41.
Among the major commissions that his architectural office received after World War II are the Promontory Apartments in Chicago (1949), the Lake Shore Drive Apartments (1949–51) in that city, and the Seagram Building (1956–58) in New York City, a skyscraper office building with glass, bronze, and marble exterior that Mies designed with Philip Johnson.
These buildings exemplify Mies's famous principle that "less is more" and demonstrate, despite their austere and forthright use of the most modern materials, his exceptional sense of proportion and his extreme concern for detail. The International Style reached its zenith at this time. The United States in the 1950s had faith in material and technical progress that seemed similar to the earlier German notion of Gesamtkultur. Miesian-influenced steel-and-glass office buildings appeared all over the United States and indeed all over the world.
Also, during this period, Mies applied his modernist aesthetic to three more-intimate structures, the Farnsworth House in Plano, Illinois (completed 1951), the Robert McCormick House in Elmhurst, Illinois (completed 1952; now part of the Elmhurst Art Museum), and the Morris Greenwald House in Weston, Connecticut (completed 1955).
In the 1960s, Mies continued to create beautiful buildings, among them the Bacardi Building in Mexico City (1961); One Charles Center office building in Baltimore (1963); the Federal Center in Chicago (1964); the Public Library in Washington, D.C. (1967); and, most Miesian of all, the Gallery of the Twentieth Century (later called the New National Gallery) in Berlin, dedicated in 1968. A heavy man, badly plagued by arthritis, Mies continued to live alone in a spacious apartment in an old building near Lake Michigan in Chicago until he died in 1969. The IBM Building (1972) in Chicago was completed after his death.
Architect Bibliography / Recommended Books
This bibliography consists of a selective list of books relating to the architects' Architecture.
Hardcover:

544 pages
Publisher: Phaidon Press (March 10, 2014)
Language: English

Description by publisher: Unprecedented in scope and illustrated with more than 700 original drawings, plans, diagrams, and contemporary and archival photographs, Mies by Detlef Mertins is the most definitive monograph ever published on the modern master of architecture Mies van der Rohe.

SHOP NOW →
Hardcover: 192 pages
Publisher: Birkhauser; 3rd Updated ed. edition (July 23, 2018)
Language: English

Description by publisher: Jean-Louis Cohen was the Institut français d'architecture until 2003 and is currently a professor at New York University. He has an established reputation as a leading international historian of architecture. His broad and encompassing perspective makes this book a reliable and comprehensive introduction to Mies van der Rohe's work.

SHOP NOW →
Hardcover: 256 pages
Publisher: Tenov Books; 1st edition (April 15, 2018)
Language: English

Description by publisher: The expert contributors to this lavishly illustrated volume, devoted entirely to Mies van der Rohe's Barcelona Pavilion of 1929, address here for the first time the forgotten contexts of the Pavilion's genesis. Habitually thought of as an abstract, unpolluted, and splendidly isolated building—a precursor of Mies's American period—the Pavilion is revealed here as a thoroughly European work, perhaps less pristine but more authentic.

SHOP NOW →
Paperback: 60 pages
Publisher: Phaidon Press; Pbk. Ed edition (September 1, 2005)
Language: English

Description by publisher: Farnsworth House (1948-51) exemplifies the central tenet both of the International Style, be inverting the conventions of traditional architecture, and Mies' own design philosophy. Commissioned by Dr. Edith Farnsworth to build a weekend retreat, Mies designed the house as an envelope of glass and steel floating over the Illinois Fox River flood plain. Richly illustrated with detailed drawings and specially commissioned photography, this latest book in an award-winning series provides an in-depth account of this icon of twentieth-century Modernist architecture.

SHOP NOW →
Paperback: 96 pages
Publisher: Princeton Architectural Press; 1st edition (June 4, 2008)
Language: English

Description by publisher: Conversations with Mies van der Rohe make an important contribution to Mies scholarship's corpus. It presents a vivid picture of a master of modernism, bringing his artistic biography to a close while completing the scope of his style in terms of techniques, scale, use of materials, and typology. An essay by Iñaki Ábalos provides a context for these interviews and looks at Mies's legacy from a contemporary perspective.

SHOP NOW →

Other Recommended Books:
Mies van der Rohe: Objects and Furniture Design (Objects and Furniture Design By Architects). Publisher: Poligrafa (January 1, 1843)
Bauhaus. Updated Edition. 

Publisher:

TASCHEN; Illustrated edition (February 21, 2019). 

Language:

English
Fear of Glass – Mies van der Rohe's Pavilion in Barcelona.

Publisher:

Birkhauser; 1st edition (January 1, 2001).

Language:

English

Mies van der Rohe, furniture and interiors. 

Publisher:

Barron's (January 1, 1982).

Language:

English
Mies van der Rohe. West Meets East (German and English Edition).

Publisher: Birkhäuser Basel; 1st edition (September 26, 1996). Language: German and English

Mies van der Rohe (Basic Art Series 2.0).

Publisher: TASCHEN; Illustrated edition (November 18, 2015). Language: English 

Mies van der Rohe: A Critical Biography, New and Revised Edition. Publisher: University of Chicago Press; Second edition (April 15, 2014). Language: English
Broken Glass: Mies van der Rohe, Edith Farnsworth, and the Fight Over a Modernist Masterpiece. Publisher: Random House; Illustrated edition (March 17, 2020). Language: English 
Mies van der Rohe: Architecture and Design in Stuttgart, Barcelona and Brno. Publisher: Skira (December 18, 1998). Language: English
Works of Mies van der Rohe