Envisioned and brought to life by American architect Louis I. Kahn, the Yale Center for British Art stands as a testament to Kahn's genius and his enduring influence on modern architecture. Completed in 1977, this modernist building was specifically designed to house Paul Mellon's prestigious collection of British artwork. Located in New Haven, Connecticut, the Yale Center holds the distinction of being Kahn's final architectural project.
Tragically, Kahn passed away while the building was still under construction, making it a poignant culmination of his illustrious career. Despite its minimalist aesthetics, the Center employs a complex spatial design that facilitates an immersive engagement with art. Kahn's thoughtful integration of natural light through a series of skylights and clerestories has been celebrated as a defining characteristic of the building, illuminating the artworks in a profoundly enhancing manner. Today, the Yale Center for British Art stands not only as a repository of extraordinary art but also as an architectural marvel in its own right, embodying Kahn's commitment to functionality, form, and light.
Yale Center for British Art Technical Information
I do not like ducts, I do not like pipes. I hate them really thoroughly, but because I hate them so thoroughly, I feel that they have to be given their place. If I just hated them and took no care, I think that they would invade the building and completely destroy it.

– Louis I. Kahn1 in World Architecture, 1964
Yale Center for British Art Photographs
The Yale Center for British Art as a Masterpiece of Modernist Architecture
Kahn was recognized in his lifetime as among the most significant American architects of the Modernist period, and his reputation persists at a time when the work of some other Modernist designers is suffering neglect, alteration, or demolition.
Louis Kahn was hired in 1969 by Yale University as the architect for a public museum and research center to hold the donation by Paul Mellon of his art and rare book collection. Professor Jules Prown, the first director of the YCBA, worked to recommend possible architects to the university and Paul Mellon. In the search, visits were made to several contemporary museums.
Once Kahn was selected, Prown represented the university in working with the architect. Kahn was known for free-standing projects which expressed formal connections with ancient monuments – mainly works such as the Salk Institute for Biological Studies (1962), Phillips Exeter Academy Library (1965-71), and the Bangladesh Parliament (1961-1982). In New Haven, he had a site in the fully built-up center of a city and close to his own earlier work of 1953, the Yale University Art Gallery. There was a concept important to the donor – as described by Jules Prown:
Although Paul Mellon was keenly interested in the building's architecture, his perspective was shaped by his love for his art and books. A significant factor in the choice of an architect would be the ability to create a sympathetic environment for the collection rather than a signature architectural statement. The architecture was to serve the art, not the converse.
In response to this program, Kahn created a contextual building and modestly established a setting for artwork. Yet, at the same time, the refined detailing transforms industrial materials like concrete and stainless steel into elegant surfaces that go well with white oak, Belgian linen, and priceless works of art.
In Kahn's design, there are intimations of lessons learned from Italian palazzos with their urban street facades, private interior courtyards, and commercial spaces on the ground level; English country estates with long galleries; and factory lofts with their regular grids of exposed structure. And the building is in conversation with its predecessor across Chapel Street, where there is the cylindrical stair tower and the muscular concrete ceiling grid of the Art Gallery. As part of the dialogue, the glass of the YCBA reflects the architecture of buildings, both traditional and Modernist, that sits across the street.
Another significant feature of the YCBA is the use of daylighting with skylights. Interior courts had been a critical way to bring light into buildings, for example, the Fogg Art Museum of 1927 at Harvard University. The use of skylights protected the interior space in cold climates, but fragile works of art must not be exposed to damaging sunlight. By the mid-twentieth century, museums had turned to artificial light, which could be fully controlled. With lighting consultant Richard Kelly, Kahn planned skylights with a system of baffles, ultra-violet light filters, and diffusers. For Kahn, light was essential to the existence and perception of buildings; the poetics of light was an integral component of his designs' spiritual quality.
In contrast to the bravado of some "starchitects" who made their names in the twentieth century, the Center is a work of architecture that is both modest and remarkable. In the recent conservation efforts, numerous features of Kahn's design that were compromised in the original have been replaced as he imagined them, including the Long Gallery and the Pogo panels.
Yale Center for British Art Plans
Yale Center for British Art Image Gallery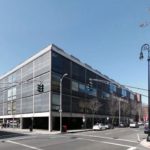 About Louis Kahn
Louis Isadore Kahn (1901 – 1974) was an American architect based in Philadelphia whose proposals and teaching made him one of the most influential architects of the twentieth century. Kahn created a monumental and monolithic style. For the most part, his massive buildings do not hide their weight, materials, or the way they are assembled.
Full Bio of Louis Kahn | Works of Louis Kahn
Louis I Kahn: Revised and Expanded Edition by Robert McCarter