The Vanna Venturi House, located in Philadelphia, is a seminal piece of modern architecture designed by the renowned architect Robert Venturi. Built between 1962 and 1964 for Venturi's mother, Vanna, the house served as a defiant statement against the rigid doctrines of Modernism, setting the stage for the architectural movement known as Post-Modernism.
The Vanna Venturi House is an epitome of complexity and contradiction in form, challenging conventional design principles. It incorporates both traditional and modern elements, reflecting Venturi's desire to recognize architectural history while simultaneously embracing the zeitgeist of the 20th century.
Vanna Venturi House Technical Information
Less is a bore.

– Robert Venturi1
Vanna Venturi House Photographs
The Vanna Venturi House: A Revolutionary Design
The house's complex design manifests itself through a combination of symmetry and asymmetry, conventional and unconventional geometry. The exterior façade is simultaneously symmetrical and asymmetrical, with a gabled roof interrupted by a central chimney. This juxtaposition provides a sense of balance while incorporating unique and unexpected elements.
The interior layout of the Vanna Venturi House is equally complex and contradictory. Rooms are unexpectedly scaled and aligned, creating a labyrinth-like experience. The stairway, for instance, leads to a dead-end, symbolizing Venturi's belief that architecture should be multi-layered and engaging rather than merely functional.
The Influence of Historical Architecture
Venturi's work on the Vanna Venturi House was heavily influenced by architectural history. The home features many classical elements, such as arches and Palladian motifs, reinterpreted through a modern lens.
The blending of these traditional elements with avant-garde design techniques created a rich visual language that served as a precursor to Post-Modernism. The house's fragmented geometry and combination of historical motifs were revolutionary for the time, offering a new perspective on architectural design.
Venturi employed a symbolic vocabulary throughout the house, using forms that referenced architectural history to create layers of meaning. The central chimney, for example, is reminiscent of traditional domestic architecture, while its exaggerated scale and placement imbue it with contemporary significance.
These design elements form a dialogue between the past and the present, creating a complexity that resonates with viewers and challenges prevailing architectural norms.
The Impact on Contemporary Architecture
The Vanna Venturi House's design has had a profound impact on contemporary architecture, inspiring subsequent generations of architects and contributing to the Post-Modern movement.
At a time when Modernism advocated simplicity, uniformity, and functionality, Venturi's design was a deliberate departure. His embrace of complexity, contradiction, and historical reference points challenged the status quo and inspired a new architectural discourse.
The house's playful, contradictory elements and its willingness to draw on various historical and stylistic references helped lay the groundwork for Post-Modernism. This movement, which emerged in the late 20th century, rejected the rigid dogmas of Modernism in favor of a more eclectic and context-sensitive approach.
Legacy and Preservation
Understanding the significance of the Vanna Venturi House, preservationists, and architectural historians have made efforts to ensure its protection. The house stands as a testament to an era of architectural exploration and innovation, and its continued preservation is vital to understanding the evolution of modern architectural thought.
The Vanna Venturi House is more than a residential building; it's a philosophical statement and a revolutionary piece of architectural design. By challenging conventional wisdom and embracing complexity and contradiction, Robert Venturi crafted a home that continues to inspire and provoke.
With its complex geometry, playful contradictions, and rich symbolic vocabulary, the Vanna Venturi House continues to captivate, offering endless insights into the nature of architecture and the potential for design to transcend time and place. It stands as a timeless reminder that architecture is not merely about shelter but about the creation of meaningful spaces that engage, challenge, and inspire.
Vanna Venturi House Plans
Vanna Venturi House Image Gallery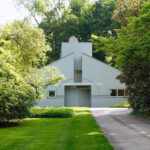 About Robert Venturi
Robert Venturi (1925–2018) was an acclaimed American architect, theorist, and educator widely regarded as one of the most influential architects of the 20th century. He played a seminal role in the development of Post-Modern architecture, challenging the rigid principles of Modernism and advocating for complexity, contradiction, and the incorporation of historical references. Venturi's groundbreaking book "Complexity and Contradiction in Architecture" (1966) articulated his philosophy and his designs, including the iconic Vanna Venturi House. Along with his partner and later wife, Denise Scott Brown, Venturi reshaped architectural thinking, emphasizing context, symbolism, and the role of architecture as communication, earning the prestigious Pritzker Architecture Prize in 1991.
Notes & Additional Credits
The quote was a direct challenge to the famous Modernist principle "Less is more" advocated by Mies van der Rohe. Venturi's statement embodies his rejection of the austere and minimalistic tendencies of Modernism, emphasizing instead the richness, complexity, and contradiction that he embraced in his designs.