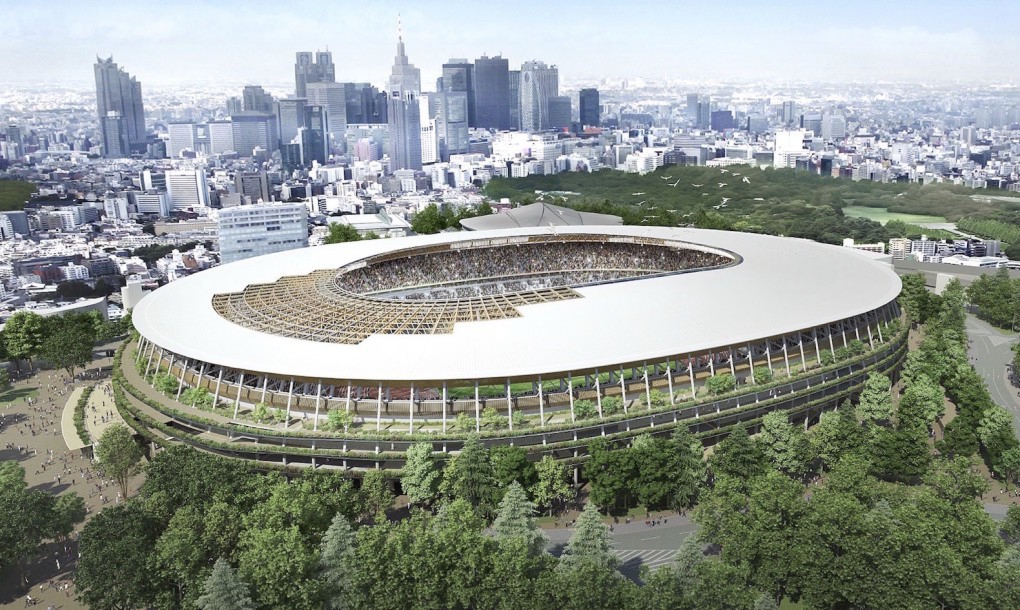 Designed in his famous contemporary style, Kengo Kuma's proposal for the Tokyo Olympic Stadium 2020 conveys a sense of lightness despite its large size.  The oval arena is ringed with leafy vegetation planted in the exposed terraces. According to Japan Times, the estimated cost of the overall project is ¥153 billion, half of which will be paid by the central government.
Tokyo Olympic Stadium 2020 technical information
The problem of twentieth century society was the arrogance of designers and engineers. Every architect and engineer thought that architecture was much stronger than nature. […] After the tsunami, we finally found that we were weak in front of the power of nature. I changed my definition to nature. […] The criteria for architecture after the tsunami is humbleness.

– Kengo Kuma in Dezeen interview
Kengo Kuma Olympic Stadium
The proposal of Kengo Kuma features a roof made of wood and steel for a design that draws on traditional Japanese architecture. Using this roof, Kuma's design creates a green space within the city of Tokyo. In addition, the facade's horizontal lines seemingly refer to the 1,300-year-old Gojunoto wooden pagoda at Horyuji Temple. The project will also implement Jingu Shrine trees and other foliage found within the vicinity of the stadium.

The 80,000 capacity stadium will cost $1.2 billion (¥153 billion), almost half the cost of Hadid's proposal and will crucially be constructed by Taisei Corp, a major firm in Japan. That's not to say that decision isn't still mired in controversy. Nicknamed the "hamburger," several architects, according to the Financial Times, claim it bears "remarkable similarities" to a an earlier design that was scrapped in July.
According to the Japan Times "Japanese-ness" was a key factor in choosing the winning design. Panellists were asked to grade each proposal on cost and expected construction time.
The proposal incorporates the surrounding trees of Jingu Shrine to create a stadium of wood and greenery.  The plan is for a stadium that is in tune with the surrounding environment and uses the latest technology to create a modern interpretation Japan's climate, culture and tradition.

Kengo Kuma (隈 研吾 Kuma Kengo, born 1954) is a Japanese architect and professor at the Graduate School of Architecture at the University of Tokyo. Frequently compared to contemporaries Shigeru Ban and Kazuyo Sejima, Kuma is also noted for his prolific writings.