In 2022, architectural firm S-AR unveiled their latest work, The Outlands Glamping Retreat in Sierra de Santiago. This project is underpinned by the ethos of connectivity, ingeniously crafted to generate a palpable bond between human beings and the natural world through its distinctive destination.
The design interlaces various elements within the specific landscape, creating a unified composition that values the innate properties and purposes of each component, and respects the interdependence necessary for forming an integrated ensemble.
The Outlands Glamping Technical Information
The new abstract pieces lie in the natural millenary forest. They are the first in this new place without local precedent, blend among the enormous nature and these small architectural pieces.

– S-AR Architects
The Outlands Glamping Photographs
Bridging Architecture and Nature
At its core, the project beautifully juxtaposes the security and assurance offered by architectural design with the formidable, steadfast vitality of the forest. This harmonious blend creates a unique experience where guests can fully immerse themselves in the power and tranquility of nature while enjoying the comfort and safety of expertly designed structures.
Located on the outskirts of Monterrey city, in the Sierra de Santiago, Nuevo León, México, the project embarks on its initial phase as a glamping retreat. It nests within different architectural manifestations that inhabit the lower regions of a forest terrain.
The project's program is centered around a rectangular communal platform. This platform hosts gathering spaces, including dining and campfire areas, encased within concrete and stone walls. The incorporation of bricks and tree bark as fillers further establishes a harmonious union with nature. Also, part of the platform is a versatile room constructed on a sturdy pre-existing terrace, complete with a peculiarly charming chimney.
This room boasts a fusion of steel and wood architecture that runs parallel to the length of the central platform, just as the steel and concrete kitchen unit aligns with its width, serving the dining room. Pathways, seats, and steps formed from monolithic concrete elements thread these distinct pieces together, ensuring both physical and visual connectivity. Completing the ensemble is an enigmatic concrete cube nestled deeper within the forest, which houses the communal bathrooms.
The living and resting quarters comprise a series of compact cabins, each with a room, living space, bathroom, and terrace, along with minimalistic shelters that feature a rooftop terrace. Employing a combination of concrete, steel, metallic sheets, and wood, these structures are tactfully arranged on the terrain's slopes, ensuring considerable privacy amid the tree-dotted landscape.
The chosen material palette — encompassing hues of gray, black, white, yellow, and red — subtly recedes into the dominant forest colors of brown, dark green, and black.
These newly introduced abstract architectural pieces find their home in the age-old natural forest. With no local precedent, they elegantly coexist with the immense natural surroundings, showcasing an intriguing interplay between grand nature and small-scale architectural design.
The Outlands Glamping Plans
The Outlands Glamping Image Gallery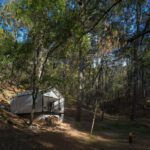 About S-AR
S-AR is an architectural practice known for its thoughtful approach to design, where forms and figures are secondary to the philosophical and material messages conveyed by their works. The firm's design process emphasizes exploration, observation, and critical reflection on the project's conditions. S-AR strongly believes that architecture must be clear in its motivations and responsible for its origin. The team continually seeks to enhance the human experience and respond to social, economic, and environmental issues through their work. 
Notes & Additional Credits
Architects in charge: César Guerrero, Ana Cecilia Garza
Collaborators: Carlos Morales, María Sevilla, Kimberley Loya, Narda Rigal.
Video: Hugo Tirso – Mavix
Builder / General Contractor: Daniel Hernández
Interior Design: S-AR, Juan Pablo Lojero
Landscape Design: S-AR, Juan Pablo Lojero
Supervision: Daniel Hernández, Juan Pablo Lojero, S-AR.