The Neutra VDL Studio and Residence is a prime example of mid-century modernist architecture designed by architect Richard Neutra. Located in the heart of Silver Lake, Los Angeles, this building is a testament to Neutra's innovative design philosophy and his commitment to creating functional, sustainable, and aesthetically pleasing structures.
Neutra VDL Studio & Residence Technical Information
I was convinced that high-density design could succeed in a fully human way, and I saw my new house as a concrete pilot project. I wanted to demonstrate that human beings, brought together in close proximity, can be accommodated in very satisfying circumstances, taking in that precious amenity called privacy. So armed with my memories and convictions, and in direct contrast to the sense-inimical mien of my boyhood surroundings, I planted three families on my ordinary 60-by-70-foot lot, next to Silver Lake. And I was able to arrange things in such a way as to embellish our lives with abundant plantings and bracing vistas. One felt a great sense of freedom in the VDL, as everything was carefully planned to avoid interference between the various zones of the house, and there were many options for getting off by oneself.

– Richard Neutra1
Neutra VDL Studio and Residence Photographs
The Building's Design and Characteristics
The Neutra VDL Studio and Residence, also known as the Neutra Research House, is a two-story building with a distinct cubic form featuring a steel frame and glass walls that allow abundant natural light to penetrate the interior spaces. The building is situated on a sloping lot, which was terraced to create a series of levels that provide access to the various rooms and outdoor spaces.
The building's design is characterized by its use of simple, clean lines and its integration with the surrounding landscape. The main floor of the building contains the studio, which was used as Neutra's workspace and exhibition space for his architectural models and drawings. The second floor includes the residence, which features a living room, kitchen, bedrooms, and a terrace overlooking the city.
The Building's Significance in Modernist Architecture
The Neutra VDL Studio and Residence is considered a seminal work of modernist architecture, as it embodies the principles and values of the modernist movement. Neutra's design philosophy emphasized the integration of architecture with nature and the use of technology and materials to create functional and sustainable structures.
In addition to its architectural significance, the Neutra VDL Studio and Residence is also significant for its historical and cultural value. The building has been preserved as a museum and cultural center and is open to the public for tours and events. It is a testament to Neutra's legacy and contributions to modernist architecture.
This property was added to the National Register of Historic Places in 2009 and was designated a National Historic Landmark in 2016. It was initially built in 1932 for Neutra and his family as the VDL Research House with a loan from Neutra's patron, Cees H. Van der Leeuw. After being destroyed by a fire in 1963, the house was rebuilt with Neutra's oversight by his son Dion. In 1980, Neutra's widow donated the house to Cal Poly Pomona, and a fundraising campaign to preserve it was launched in 2008.
Architecture firm Marmol Radziner performed pro-bono repairs and improvements to the roof, reflecting pool, and water intrusion and waterproofing issues during Phase I and II of the restoration project.
Neutra VDL Studio and Residence Plans
Neutra VDL Studio and Residence Image Gallery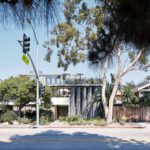 About Richard Neutra
Richard Joseph Neutra was an Austrian-American architect active in Southern California from the 1920s to the 1950s. He was a pioneer of modernist architecture and is best known for his use of glass and steel in residential buildings. Neutra was trained in architecture in Vienna, Austria, and was influenced by the work of Le Corbusier, among other architects. He immigrated to the United States in 1923 and established his architecture practice in Los Angeles, California. Throughout his career, Neutra designed several significant works, including the Lovell Health House and the VDL Research House and Studio, which are now considered landmarks of modernist architecture.
Neutra. Complete Works by Barbara Lamprecht Peter Gössel