Designed by ZJJZ Atelier, the Mushroom House is a unique architectural project that seamlessly integrates with its natural surroundings. Nestled within a pine forest, the design of the house pays homage to the relationship between nature and architecture, making it the central approach.
The Mushroom House Technical Information
The Mushroom house adopts a lifted steel structure to minimize the impact of construction on the site. As time goes by, green plants on the ground will gradually spread to embrace the building. […] The material changes in color with humidity and time, allowing the building to harmonize with the surrounding natural environment.

– ZJJZ Atelier Architects
The Mushroom House Photographs
The Mushroom House: Harmony with Nature
The architectural form of the Mushroom House is composed of two distinct volumes, each serving a specific function. The main volume, in the shape of a mushroom cap, serves as the guest room and features a panoramic window that provides stunning views of the surrounding nature. The loft, accessible via small-scale stairs, serves as a child's area. The pure white cone-shaped roof, rounded on top, creates a sense of unbounded extension to the space and enhances the overall aesthetic of the house.
The bathroom and storage spaces are housed in a simple rectangular volume that is inserted into the main body of the Mushroom House. A horizontal window next to the bathtub provides a connection to nature while maintaining privacy. The circular skylight at the top introduces different expressions of light and shadows throughout the day, creating a poetic and serene space that also serves as the entrance lobby.
The Mushroom House adopts a lifted steel structure that minimizes its impact on the environment. Over time, green plants will gradually spread and embrace the building, enhancing its natural appearance. The cone-shaped roof is clad with pine wood, while the rest of the house is coated with granolithic concrete that changes color with humidity and time, allowing it to harmonize with its surroundings.
The Mushroom House Plans
The Mushroom House Image Gallery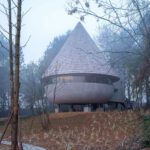 About ZJJZ Atelier
ZJJZ Atelier is a Chinese Architecture firm specializing in cultural and public projects such as art galleries, libraries, museums, and hotels. They offer design solutions for various spaces, considering the space's creative uses. "Architecture is not simply a physical structure that meets functional requirements but rather a container of space where users interact closely with light, shadow, sound, color, and details." The office believes that architecture is a combination of rationality and spirituality.
Works from ZJJZ Atelier
Lead Architects:

Sean Shen, Xuanru Chen, Yuying Kate Tsai

Structure Consultant:

XIE Technologies

Contractor:

Zhejiang Huzhou deyi Construction Co., Ltd.