The Bunshaft Residence, also known as the Travertine House, is a landmark of modernist architecture. Designed by architect Gordon Bunshaft for himself and his wife, this weekend getaway on the shores of Georgica Pond, Long Island, was completed in 1963. The building served as a residence and a gallery showcasing Bunshaft's impressive collection of art, including sculptures and paintings.
The 2.4-acre property features a minimalist, grounded design that reflects Bunshaft's practical and unromanticized approach to architecture. Its clean lines and emphasis on functionality are hallmarks of the modernist movement and make it a prime example of mid-century modern design. 
Gordon Bunshaft Residence Technical Information
The Bunshaft house is…a perfect setting for paintings and sculpture and each piece in the collection is seen to its full advantage.

– Architectural Record in 1965
Gordon Bunshaft House Photographs
 The Iconic Travertine House: A Residential Gallery by Gordon Bunshaft
Built in 1962, the Travertine House, also known as the Bunshaft Residence, was a single-story modernist home designed by architect Gordon Bunshaft for himself and his wife. The symmetrical structure measured 26 feet wide by 100 feet long and featured stone-walled pavilions on either side of a central glass-walled core, creating a balance between solid and transparent elements.
The central living room, which ran the entire depth of the house, was the home's focal point and offered stunning views of Georgica Pond through floor-to-ceiling plate glass windows. The house also included a master bedroom and bathroom, a kitchen, a guest bedroom, and a studio, providing ample space for the couple to entertain and display their extensive collection of modern art.
The house was designed to showcase Bunshaft's art collection, which included works by Giacometti, Dubuffet, Miro, and other prominent artists. It was known primarily through a series of photographs by architectural photographer Ezra Stoller. The exterior walls were clad in travertine, while the roof structure was made up of pre-stressed concrete beams with a "double T" shape, giving the house a distinctive and functional look.
The home's interior was decorated in off-whites with natural wood and glass, with occasional red accents. The floors were made of travertine over a concrete slab foundation, and the walls were white-painted plaster. The lighting was carefully designed to highlight the couple's art collection, including works by Pablo Picasso,  Le Corbusier, Jack Youngerman, and Henry Moore and rocks with faces painted on them by Mrs. Bunshaft.
The Travertine House remains an important example of modernist residential architecture, showcasing Gordon Bunshaft's vision for functional and aesthetically pleasing design.
Gordon Bunshaft House Plans
Gordon Bunshaft House Image Gallery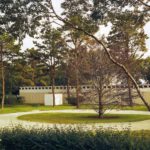 About Gordon Bunshaft
Gordon Bunshaft (1909 – 1990) was a prominent American architect who significantly shaped the modernist architectural movement during the mid-twentieth century. He was a partner in the architectural firm Skidmore, Owings & Merrill (SOM) for over 40 years, joining the company in 1937 and contributing to its growth and reputation as a leader in modern architecture.
Bunshaft is widely recognized for his pioneering work in skyscraper design, particularly his first major project, the 24-story Lever House in New York. This building, completed in 1952, is considered the cornerstone of the International Style and set a new standard for corporate architecture in America. Its clean lines, use of modern materials like glass and steel, and emphasis on functionality established Bunshaft as a leading architect of his time.
Throughout his career, Bunshaft continued to design iconic buildings that have had a lasting impact on modern architecture. He was awarded the Pritzker Prize for Architecture in 1988 and remains a significant figure in the history of modern architecture.