In the heart of Beijing's bustling Chaoyang District lies 'The Transition: House of a Filmmaker.' Designed by Fon Studio, this 380-square-meter space serves not just as a home but also as a cinematic canvas where imagination takes physical form. What began as the lower level of a duplex villa has been transformed into a dynamic space filled with light, form, and function.
The House of a Filmmaker Technical Information
The priority is to build a 'transition' stage between chance and imagination through reasonable transformation of the existing site, so that the life stories and plot emotions of the house owners are naturally and lightly connected and presented.

– Fon Studio
The House of a Filmmaker Photographs
The Transition: Where Architecture Meets Cinema in a 'Life Studio'
When Mr. Cui, a film producer, and his spouse purchased the property, their ambitions went beyond conventional domesticity. Cui envisioned the house as an "experimental field," a 'Life Studio,' where his vivid imagination could roam freely. The architects at Fon Studio were thus challenged to create a "transition" stage between reality and imagination, turning the existing framework into an architectural screenplay teeming with life stories and emotional plots.
The original villa came with two floors and a five-meter-high basement. One of the most pressing challenges was that these spaces, though interconnected by a staircase, existed in isolation. Another issue was the basement's lack of natural light and inadequate ventilation.
Fon Studio's ingenuity lay in "opening" a portion of the floor slab between the ground floor and basement. This bold move created vertical continuity and allowed for an influx of natural light into the basement. The design not only improved the flow of the house but also reshaped how space could be experienced.
The staircase, which originally served as a mere connecting element, became an integral part of the spatial narrative. Relocated and redesigned, the new staircase spans a vertical visual field of almost 8 meters, compelling residents to reconsider how they engage with the space. The elevated vantage points contribute to better cross-ventilation, solving the problem of dampness common in basements while also creating an intriguing visual journey.
Entering through the basement—the home's main daily entrance—one is greeted by a marble stone wall that runs vertically through the space. This architectural "spine" directs one's vision upwards, symbolizing the flow of time and limitless possibilities.
Another notable detail is the inclusion of a mezzanine in the high-ceilinged basement. This area serves as a guest room, lit by a skylight, and can be expanded to join the multifunctional underground space. Here, imagination knows no bounds—it's a children's play area, a party hall, and a sanctuary of creativity all rolled into one.
The family room, dining area, and kitchen are conveniently situated on the ground floor, catering to daily routines. A semi-open glass corridor links these interior spaces with the courtyard, blurring the boundaries between indoor and outdoor spaces.
The Transition exudes warmth and sophistication through its choice of materials—timber, ivory-white travertine, and unadorned limestone. These natural elements are contrasted by Mr. Cui's eclectic collection of design chairs and artworks, each finding its unique place within the space.
The Transition: House of a Filmmaker by Fon Studio is a profound architectural statement that moves beyond walls and ceilings. It embraces the fluidity of life, light, and imagination, embodying what a "Life Studio" should be—a platform for unrestrained creativity. The house serves as an ever-changing stage, where the free play of light, shadow, and color infuses the space with a perpetual sense of "transition."
The House of a Filmmaker Plans
The House of a Filmmaker Image Gallery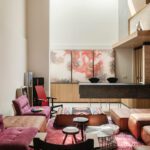 About Fon Studio
Fon Studio is an architectural design firm founded in 2016 by three partners—Jin Bo'an, Li Hongzhen, and Luo Shuanghua—who united over a shared passion for design aesthetics and practice. Embracing a multi-disciplinary approach that spans space, product, and vision, the firm is committed to the principles of open experimentation and rational analysis. Driven by curiosity, Fon Studio aims to imbue each project with its unique "temperature and texture" while continually examining the broader contexts of city, land, and daily life. At its core, the studio views design as an art form geared towards problem-solving, with every concept and skill eventually finding expression and realization through practical application.
Notes & Additional Credits
Design Team: Luo Shuanghua, Li Hongzhen, Jin Boan, Song Yuanyaun