The Green Corner building, designed by Studio Anne Holtrop, features a visually stunning and environmentally conscious design with sand-casted structural wall elements and unique aesthetic features. The facade emphasizes the building's shallow depth and is complemented by large sand-casted aluminum shutters, while the interior features sand-casted concrete floor slabs.
35 Green Corner Building Technical Information
Architecture is a form of cultural production, and I think it's important that we use it to engage in a larger cultural discussion.

– Anne Holtrop
35 Green Corner Building Photographs
Design and Construction with Sand-Casted Structural Walls
The Green Corner building features a floor plan consisting of two identically sized rooms and a core in between, with a very shallow depth that emphasizes the main facade as the primary spatial element. The facade itself is made of sand-casted structural wall elements with a strong relief, adding a unique touch to each element cast on the ground next to the building. This technique creates a geological cut in the ground at the positions of the windows and the corners of the building, adding to its aesthetic appeal.
The sand-casting technique is also repeated in the concrete floor slabs on the interior, maintaining the building's unique theme throughout. Large shutters made of sand-casted aluminum with the relief facing towards the interior can be moved in front of the windows, providing natural light and ventilation while offering an artistic touch to the interior space. These aluminum casts are also hollow, allowing the interior of the casts to be seen through the windows.
The building's name, the Green Corner, comes from an existing corner designed by Patrick Blanc that features a vertical garden. The building was built adjacent to a parking structure designed by Christian Kerez, providing a unique contrast in architectural styles. Overall, the building's design and materials offer a visually stunning and environmentally conscious approach to modern architecture.
Construction Process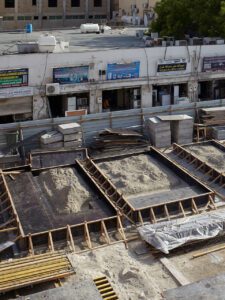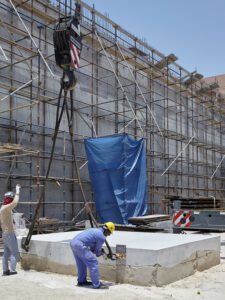 35 Green Corner Building Plans
35 Green Corner Building Image Gallery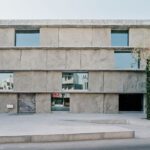 About Studio Anne Holtrop
Studio Anne Holtrop is a design and architecture firm founded by Dutch architect Anne Holtrop. The studio is based in Amsterdam, Netherlands, and focuses on creating innovative and functional designs that are deeply rooted in the context of their surroundings. Studio Anne Holtrop's work includes architecture, interior design, furniture design, and installations, and they have completed projects in various countries around the world. Their approach to design often involves using natural materials and simple forms to create spaces that are both practical and visually stunning.
Works from Studio Anne Holtrop 
Collaborators: Maitham Almubarak, Dario Biscaro, Pedro Henriques, Edoardo Massa, Massimiliano Marcorni, Yuiko Shigeta, Remco Siebring, Carlotta Testa
Structural engineer: Mario Monotti
Local engineer: Ismail Khonji Associates
Construction: GCT
Aluminum casting: Art Foundry Kemner