Nestled in one of Mexico City's most exclusive residential enclaves, Bosques de las Lomas, Departamento Ventanas emerges as a paradigm of meticulously planned residential interior architecture. Crafted by Taller David Dana, with David Dana Cohen at the helm, the project unfolds over an expansive area of 420 m², acting as a canvas where modern design elements come alive.
Windows Apartment Renovation Technical Information
The apartment offers a seamless blend of indoor and outdoor spaces through generous windows, while crafting each room as a personalized retreat tailored to reflect the lifestyles and hobbies of its inhabitants.
Windows Apartment Renovation Photographs
A Symphony of Light, Space, and Materiality
On stepping in, visitors are greeted by a foyer featuring a striking, flame-treated black clay wainscot, serving as a visual full-stop that introduces the subsequent narrative of the home. As they move further in, the social areas unfurl—comprising the dining room, living area, and terrace, which serve as the pulse of the residence.
These communal spaces offer a seamless connection to the exterior via generous windows, blurring the lines between inside and outside. The windows serve a dual purpose—extending the interior space into the terrace and, at the same time, framing spectacular views of the surrounding landscape.
Towards the rear, the kitchen stands out as an elegant oasis with its minimalist design, dark tonalities, and green accents from indoor plants. Adjacent to the kitchen, the playroom and music room are designed with an introspective ambiance, featuring warm tones and privacy-enhancing elements like shutters and smart glass sliding doors.
The design uniquely combines readymade furniture with a rich palette of natural materials—wood, marble, faux leather, steel, and glass. Wood, in particular, is the show-stealer, manifesting in architectural and decorative elements like wainscoting and beams, creating intriguing perspectives and visual focal points.
Acting as a central meeting point and a vestibule for the private quarters, the family room features a large bookshelf teeming with diverse decorative objects, a testament to the family's eclectic style.
In the private spaces, each room is tailored to reflect the lifestyle and hobbies of the family members. In the master bedroom, a neutral color scheme envelops the floors and walls in earthy ochre tones, amplifying the natural light and setting the stage for accentuating the furnishings.
Windows Apartment Renovation Plans
Windows Apartment Renovation Image Gallery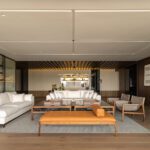 About Taller David Dana
Taller David Dana is an architecture and design studio based in Mexico City, led by visionary architect David Dana Cohen. Known for its avant-garde approach and meticulous attention to detail, the firm specializes in residential, commercial, and public projects that seek to push the boundaries of traditional architecture. With a portfolio that ranges from luxurious homes to innovative office spaces, Taller David Dana is committed to sustainable practices and innovative design solutions, often blending natural elements with cutting-edge technology to create environments that are both aesthetically pleasing and functionally exceptional.
Notes & Additional Credits
Lead Architect: David Dana Cohen
Landscape: Taller de Paisaje Entorno