"Paris Rooftops" represents the latest chapter in Michael Wolf's enduring exploration of architecture and urban existence, a theme that has consistently fascinated him throughout his prolific career. In 2008, Wolf's personal life and professional interests converged when he relocated to Paris part-time with his family.
This move provided a fresh canvas for his work – the historically rich and architecturally diverse cityscape of Paris. Within this series, Wolf masterfully captures the intricate details of the city's rooftops, revealing a unique perspective of Paris's urban fabric. This body of work not only underscores his artistic curiosity about city life but also offers viewers a fresh, often unseen perspective of the City of Lights, where the commonplace becomes extraordinary through his lens.
I was used to the excitement and constant change in Asia. It was so difficult to find something [in Paris]. The Haussmannian Architecture didn't interest me because it was more of less the same, and photographing people is difficult because of the privacy laws.

– Michael Wolf
Paris Rooftop Photographs
About Paris Roof Top Work
Since the 1990s, Wolf had mostly lived in Hong Kong and had photographed mostly in Asia up until that point. In his new Parisian surroundings, with cautious curiosity, making a conscious decision to stay away from the quintessentially Parisian sights that enhance travel books. Amid his investigation of the city, Wolf found the uniqueness and excellence of its zinc rooftops.
In Hong Kong, he made various photograph series about existence in the sprawling, rapidly modernizing urban areas around the region. In 'Architecture of Density', he focused on the dizzying skyscraper condo structures in Hong Kong, while in 'Tokyo Compressions', he investigated the claustrophobic way of Tokyo metros amid peak hours of a daily commute.
When he moved to Paris in 2008, he found himself encompassed in a city loaded with sights that could easily be interpreted as cliché. Wolf pointed his camera away from the recognizable landmarks and instead focused on the dense rooftops encompassing the city. Packed with stout chimneys, tv antennas, graffiti, and various geometric structures, these photographs introduce an interesting dreamy perspective of a typically recognizable place.
Parisian Rooftops Gallery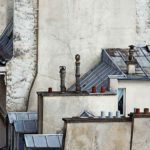 About Michael Wolf
The focus of the German photographer Michael Wolf's work is life in mega cities. Many of his projects document the architecture and the vernacular culture of metropolises. Wolf grew up in Canada, Europe, and the United States, studying at UC Berkeley and at the folkwang school with otto steinert in Essen, Germany. He moved to Hong Kong in 1994, where he worked for 8 years as a contract photographer for Stern magazine. Since 2001, Wolf has been focusing on his own projects, many of which have been published as books.