Envisioned in 2021 by Laney LA, the "SQ Residence" is an unbuilt single-family house nestled within the tranquil forests of Lake Tahoe. The concept offers a distinct architectural synergy that seamlessly merges with its natural backdrop, epitomizing a sanctuary designed for tranquility and serene living experiences.
SQ Residence Technical Information
From its function to its form, this residence facilitates the escape from urban rush, and instead supports the space for peaceful thinking.

– Laney LA Architects
SQ Residence Photographs
Merging Nature with Modern Design in Lake Tahoe
Laney LA presented the "SQ Residence," an unbuilt project nestled in the natural forests of Lake Tahoe. This envisioned residence seamlessly integrates with its serene environment, blending effortlessly with the mountainscape and enhancing tranquility. Though perched on a secluded hillside within a sprawling valley, the design caters to the sensory experiences of mountain life, accentuating both the audible and visual encounters with the local fauna.
The resilient exterior boasts a cladding of Shou Sugi Ban, a sustainable and renewable charred wood. Its dark shell not only fortifies the residence against the rigorous climate but also assimilates with the forest, amplifying the visibility of local wildlife and nature's marvels. Its rugged exterior, akin to a mountain cave, serves as a sanctuary amidst the demanding wilderness.
Contrasting its robust exterior, the residence features an interior pulsating with a warm and radiant glow. The interior palette is relaxed and inviting, embedding communal spaces across all levels and a mirrored living space on the third floor. The thoughtful integration of materials like Patagonia granite and charred cedar siding emulate nature's inherent textures. A contrasting, subdued color scheme amplifies the influence of nature, making the residence a welcoming retreat.
The SQ Residence, in essence, promotes a haven for serene reflection, offering an escape from the urban hustle. Had it been built, the residents would have been able to relish the dynamic seasonal shifts, all while nestled in the comforts of modern design.
SQ Residence Plans
SQ Residence Image Gallery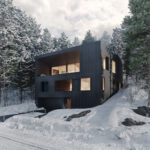 About Laney LA
Based in Los Angeles, Laney LA is a distinguished architecture and design studio known for its remarkable projects across the US western coast and mountain ranges. The dynamic, young team is celebrated for their dedication to client relationships, unique design creation, and promotion of purposeful architecture. Laney LA commits to delivering customized homes that encapsulate clients' lifestyles and values, with a steadfast belief that exceptional architecture can inspire humanity and positively shape our environment.
Notes & Additional Credits
Interiors: HSH Interiors
Engineering: Riverstone Structural Concepts