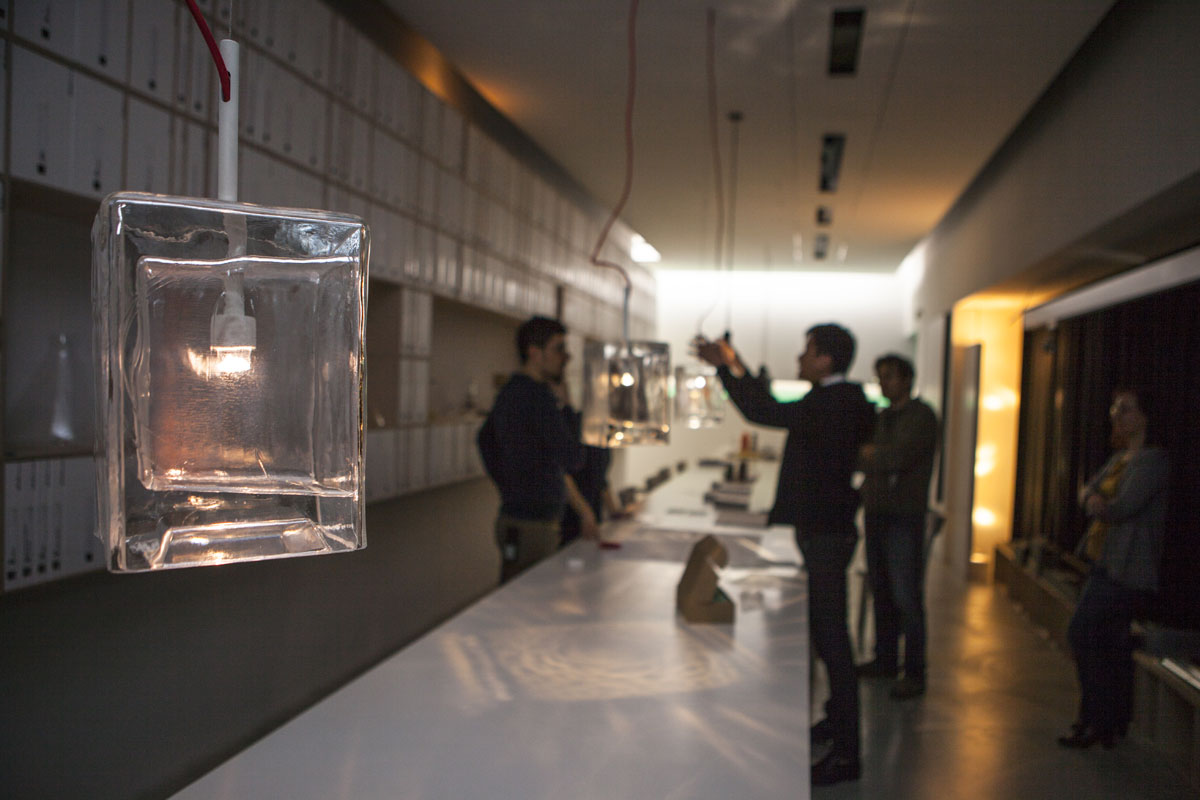 Responding to the Biennale Director Alejandro Aravena's main exhibition theme, the Singapore Pavilion – Reporting from the Front – focuses on the small 'battles' fought at the homefront, contributing to the emergence of an invigorated Singapore.
Pavilion of Singapore Technical Information
Commissioner: Jeffrey Ho, Executive Director, DesignSingapore Council
Co-Commissioner: Tai Lee Siang, Board Member, DesignSingapore Council
Curators: Wong Yunn Chii (Lead Curator), Tomohisa Miyauchi (Co-curator), Teo Yee Chin (Co-Curator & Pavilion Designer), Liane Ee (Curatorial Assistant)
Type: Pavilion
Project Year: 2016
Photographs: © Tomohisa Miyauchi, Keyakismos,  Lei Yuanbin, Lilian Chee, Creatures Studios, URA & Viabizzuno
Space to Imagine, Room for Everyone shares with the global audience, the challenges in Singapore's next stage of development; especially how individuals, enterprises and ground-up actions are making a palpable difference.

As small "battles" in its home-front, the selections provide a poignant account on how design improves the quality of the built environment and people's lives.

– Wong Yunn Chii
Pavilion of Singapore Photographs
Space to Imagine, Room for Everyone goes behind Singapore's carefully planned infrastructure and its modern cityscape to spotlight the people and their creative actions in forging new identities, connections to place, and social bonds. The Singapore Pavilion presents a selection of works in three segments: People and their Homes, People working the Land, and People engaging the City.
Curator's Statement
Responding to the primary theme of the 15th International Architecture Exhibition, 'Reporting from the Front,' Singapore's presentation places the small "battles" fought at the home-front. These efforts are contributing to the emergence of an invigorated Singapore.
From within the comfort and the security of the domestic environments and public spaces that have been created over the past five decades, we are now pushing the home-front from within – to create more Space to Imagine and Room for Everyone.
Through actions, guided and spontaneous, initiated by individuals, establishments, and groups, we witness active participation of our citizens: stepping out, taking actions, owning, and adopting their environments. They have also heightened the role of design advocacy and participation, both real and imagined, at various scales and levels in schemes of future renewals, intensified in-fills of left-over spaces, in the narrow confines of domestic spaces.
In two broad themes (archetypal terrains), at every scale, in the boundary between the private and public realms, actions like participation, contestations, activations, appropriations, transgressions, and occupations are enacted. All these happen in the building and urban fabric – on the grounds, in the void decks in our housing estates' private abodes and our public spaces.
In a battery of actions on these terrains, we forge through design a new society built on the previous more austere generation's gains. In pushing against this front, we move beyond from being productive and technocratic to be creative and egalitarian in turning Singapore inside out. Thus, these "battles" at the front are a poignant visual account of our human capacity building, looking at the past with new eyes and broadly, and in our attempts to humanize Singapore's environments.
Content of the Exhibition
PEOPLE AND THEIR HOMES
Uncovering the creativity inherent in our domestic lives
.
In the heartland of our new towns where 85% of the population dwell and own homes, there exists the dominant 'front' where the challenges are the real and hidden edges of the commonplace. To remain vigilant is to tug against the complacency of sedentary comfort and security. While some individuals dare to reinvent their domestic space definition and actualize their dreams, many others remain satisfied, comfortably settled into their routines. Despite these different reactions and conditions, there is a rising awareness that the domestic realms' stability sets the tone for communal and collective thoughts of social resilience.
HDB1 : Homes of Singapore
By Keyakismos and Tomohisa Miyauchi
HDB Homes of Singapore is a pictorial journey, with photographs taken over three years that portray the diversity, culture, individuality, colors, and creativity inside HDB Homes. These extraordinary images will be presented on lanterns, suspended, and illuminated. Within each lantern is a model of an HDB building.
03-FLATS
By Lei Yuan Bin and Lilian Chee
03-FLATS is an essay film that follows three women's domestic lives, from the well-worn, lived-in spaces of their homes, to the contrasting orderliness and expanse of the outside. The essay film records how domestic resilience might resist mass housing's ennui, turning housing into a home.
03-FLATS is a key filmic output of a research initiative led by Dr Lilian Chee, who conceptualised the project. The film was in collaboration with award-winning Singaporean director and filmmaker, Lei Yuan Bin, to probe how domesticity – a critical component wherein home is produced – may be viscerally represented and effectively encountered.
03-FLATS was selected for competitive standing in the Wide Angle Documentary Competition at the Busan International Film Festival (2014) and won the best ASEAN documentary at the Salaya International Documentary Film Festival (2015).
PEOPLE WORKING THE LAND
Working the earth, forming roots
Here, the participants reflect a new wave within this land-scarce city-state, where groups discover a connection to the ground. As much as urban development has housed people in modules, grids, and stacks, their spontaneous engagement with the land release them, even momentarily, from the imposed order of modern life. The 'battle' in this terrain contemplates the renewal of the social, communal, and spiritual gains in working the land. It offers alternatives in seeing such creative activities beyond the economic bottom-lines or confined to neatly zoned and controlled areas.
This section of the three projects will feature artifacts such as handmade bricks used to build their eco-campus and interviews with enthusiastic participants.
Community In Bloom
By Goldhill Gardening Club
Community in Bloom is a nationwide gardening movement started by the National Parks Board. The exhibition features an award-winning garden and vegetable farm in a 465 sqm plot of land behind their houses maintained by a group of 50 enthusiastic residents from the Moulmein Goldhill Neighbourhood Garden Committee.
Rootedness & Resilience
By Ground-Up Initiative (GUI)
Ground-Up Initiative (GUI) is a non-profit organization dedicated to building and promoting Singapore's first low carbon footprint 5G village campus in its 'Balek Kampung' (Return to the Village) program for a more Gracious, Green, Giving, Grounded, and Grateful place to live as well as create a sustainable future through the 21st Century Kampung Culture.
Urban Farming
By Edible Garden City and Comcrop Edible
Garden City champions the "Grow Your Own Food" movement in land-scarce and import-dependent Singapore. They are made of a team of farmers that design and care for food gardens in urban areas and push forth initiatives that transform under-utilized metropolitan spaces into arable plots to grow to produce. Comcrop is a farming enterprise that employs innovative agriculture technology on roof-top spaces in the city. With their accessible location, they engage students, homemakers, and retirees as their community of farmers. They are focused on producing vegetables efficiently to provide 3% of Singapore's entire vegetable intake eventually.
PEOPLE ENGAGING THE CITY

Citizens taking the initiative in shaping the environment
In our city, a new 'front' in urban spaces and the Rail Corridor are open to being enlivened, made more responsive, and transformed into places of conviviality for public involvement and creative activation. This entails careful place management and public consultation with stakeholders. The affordances of place are explored to understand and evaluate the extent obstacles created by control and management legacies. Similarly, the quest for more responsive spaces and inclusive services in our built environment has also fired up young designers' imagination to find ways to empower a larger segment of our population in imagining their spaces, making them accessible to many.
Rail Corridor Project 
By Rail Corridor Partnership, Friends of the Rail Corridor, Nature Society (Singapore), Singapore Heritage Society, and Urban Redevelopment Authority (URA)
The Rail Corridor is a 26km stretch of railway land, which served as a route for train services from Peninsular Malaysia to Singapore, beginning from the early 1900s. When the Malaysian government ceased the train services' operations, the land was returned to Singapore in 2011. The Rail Corridor passes through a myriad of landscapes and threads through various communities that showcase a cross-section of Singapore's urban history and development
URA heads the Rail Corridor project, Singapore's land use planning and a conservation authority, to plot the rail corridor's future in consultation with the various interest groups listed above. The exhibition features a video presentation that records dialogues with the various parties on their ideas and passion and a 10m long topographical model of the corridor, made by the students from the Department of Architecture of the National University of Singapore.
Our Favourite Place
By Urban Redevelopment Authority (URA)
Our Favourite Place is an initiative by the URA to celebrate and enliven public spaces through events and activities that would engage the people and raise their awareness of urban life's potentialities. The program aims to provide more opportunities for the community to step forward and activate public spaces – be it a space under a viaduct or a public area within a commercial or public building – and transform them into meaningful and accessible public spaces.
Empowering Design
By Participate in Design (P!D)
This is a presentation of projects by P!D, a non-profit organization that creates awareness of participatory design. It helps neighborhoods and public institutions in Singapore design community-owned spaces and finds solutions for uses of spaces by engaging and enabling people to shape their everyday environments and local communities. P!D's projects are presented in video footage together with a post-it note wall, with hand-written notes by participants in their engagement activities.
ADDITIONAL INFORMATION
Design Forum
A design forum will also be held to discuss the "battles" that Asian cities have to contend with, namely, under cover of high-density and speed of urbanization, the prospects for its people to have Space to Imagine, Room for Everyone. The forum will be held on 28 May, 5 pm at Level 1, Sale d'Armi building (adjacent to Singapore Pavilion). Architects and representatives from Singapore, China, Korea, Japan, and Taiwan will share their views on the forum.
Convenor: Lai Chee Kien. Adjunct Associate Professor, Singapore University of Technology and Design
Panelists :
 Siew Man Kok – Chairman & Founding Director, MKPL Architects
Liang Jingyu – Curator for the Pavilion of China & Principal, Approach Architecture Studio
Yoshiyuki Yamana – Curator for Pavilion of Japan & Professor at Tokyo University of Science, Faculty of Science and Technology, Department of Architecture and Building and Engineering
Kim Sung Hong – Curator for Pavilion of South Korea & Professor at University of Seoul, Department of Architecture
C David Tseng – Curator for the National Taiwan Museum of Fine Arts, Chair Professor of the Faculty of Architecture, Director of Transdisciplinary Design Innovation Shop and Dean of the College of Humanities and Social Sciences, National Chiao Tung University
[cite]