Completed in 2022 by Taller de Arquitectura Viva, the Soona Houses stand as a symbol of the harmonious balance between Yin and Yang – heaven and earth, darkness and light, femininity, and masculinity. This complex of four duplex homes has been meticulously designed to ensure total privacy for its inhabitants, embodying the contrasting yet complementary aspects of life in its architectural solution.
Soona Houses Technical Information
Soona Houses, inspired by Yin and Yang, are a complex of four duplex homes with moon-inspired circular design. They provide a harmonious, luxurious living experience that blends seamlessly with the Maya jungle, employing local materials and artisan techniques.

– Taller de Arquitectura Viva Architects
Soona Houses Photographs
Yin and Yang in Contemporary Tropical Design
With a circular geometry inspired by the moon, the design resolves its interior spaces in such a way that every corner is maximized, allowing views toward its gardens and pool. The architectural program corresponds to a two-level construction with a living room, kitchen, dining room, laundry area, 3 bedrooms, 2 ½ bathrooms, pool, terrace, and garden. Each house has 168 square meters, giving a total of 336 square meters of construction for the complete circle.
The architectural style is contemporary tropical, and it's resolved with local materials of low ecological impact, such as stone and wood. The aim is to blend in with the environment, to become part of the natural context of the Maya jungle, and to age along with it. The interior design of the spaces connects with the artisan techniques of the region, such as chukum (vegetable resin), henequen, carpentry, and all types of natural textiles. This achieves a luxurious experience in harmony with different tones close to white.
Adopting a philosophy of balance between opposing yet interconnected forces, Soona Houses represent the spirit of its environment. Through smart and sustainable design, these homes not only respect but also enrich the natural beauty of the Maya jungle. It's an architectural testament to harmonious living, both in the personal realm and in connection with the wider world.
Soona Houses Plans
Soona Houses Image Gallery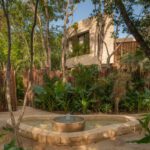 About Taller de Arquitectura Viva
Taller de Arquitectura Viva (TAV) is an architectural firm deeply committed to creating architecture as a living entity, harmonizing with both its surroundings and the zeitgeist of its time. They offer a wide array of architectural services with a strong emphasis on conceptualization and the generation of necessary documents to transition an architectural project from its planning stage to its execution.
Notes & Additional Credits
Design Team: Arq. José Edeza, Anny Díaz, Rene Barzon