To commemorate the 350 years since the foundation of the Zuisho-Ji Temple, Kengo Kuma was asked to renovate the temple and the priests' quarters within the temple. The new addition was planned in consideration of the peculiar arrangement of the Chinese temple architecture.
Zuishoji Temple Information
Architects: Kengo Kuma and Associates
Material: Wood
Type: Temple
Project Year: 2018
Project team: Tomoyuki Yokoi, Kimio Suzuki (Visualization), Yuzuru Kamiya (model)
Partner in charge: Minoru Yokoo
Photographs: © Masaki Hamada
But can there ever be a 100 per-cent achievement in architecture? I only distrust those who take that level of satisfaction in their work. All building materials harm the environment in some way, whether in production or transportation or assembly.

– Kengo Kuma
Zuishoji Temple Photographs
Text provided by the Architects
Zuisho-Ji Temple (Minato-ku, Tokyo) is the first temple in Tokyo of the Obaku Sect, one of the Zen Buddhist schools brought to Japan by the Priest Ingen during the Edo Period. In this project, we rebuilt the priests' quarters within the temple.
Designated as jūyō bunkazai or Tangible Cultural Property, close attention was paid to the axis extending from the temple's repository. We developed a design to reflect the arrangement of Chinese temples, which highlight orientation and depth.
We placed a U-shaped cloister on the south side of the axis so that the temple could be more accessible to the community. At the center of the courtyard is a water pool with a raised stage to encourage people to hold events and performances for the community.
The building is supported by a combination of steel and wooden frame. The wood joists and louvers on the exterior resonate with each other and create a geometric pattern that highlights the uniqueness of Obaku Sect.
Zuishoji Temple Image Gallery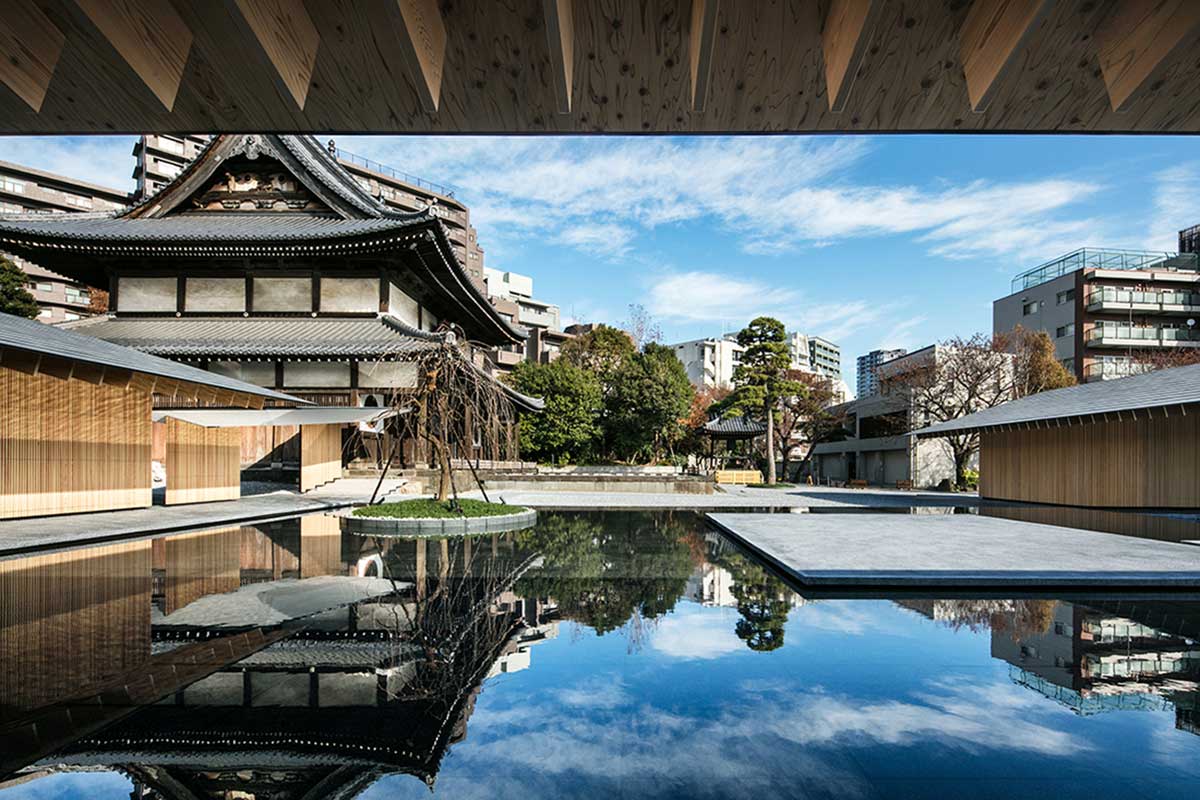 About Kengo Kuma
Kengo Kuma is a Japanese architect and professor in the Department of Architecture (Graduate School of Engineering) at the University of Tokyo. Frequently compared to contemporaries Shigeru Ban and Kazuyo Sejima, Kuma is also noted for his prolific writings. He is the designer of the Japan National Stadium in Tokyo which has been built for the 2020 Summer Olympics.
In 1987, Kuma founded the Spatial Design Studio, and in 1990, he established his own firm, Kengo Kuma & Associates. He has taught at Columbia University, the University of Illinois at Urbana-Champaign, and Keio University, where in 2008, Kuma was awarded a Ph.D. in architecture. As a professor at the Graduate School of Architecture at the University of Tokyo, he runs a variety of research projects concerning architecture, urbanism and design within his laboratory, Kuma Lab. Kengo Kuma & Associates employs over 150 architects in Tokyo and Paris, designing projects of diverse type and scale throughout the world.