The SESC Pompéia Factory, designed by the renowned female Modernist architect Lina Bo Bardi, is a landmark example of adaptive reuse architecture. The building, originally a drum factory, was transformed in 1982 into a thriving multi-functional space through the addition of two concrete towers connected by diagonal walkways. Bo Bardi's design approach emphasized the building's structural elements, revealed through stripping the factory to its original concrete and brick, and was guided by a socially utopian vision in line with the highest ideals of Modernism. Today, the SESC Pompéia Factory continues to captivate modern architecture enthusiasts worldwide and stands as a testament to Bo Bardi's innovative approach to design.
SESC Pompéia Factory Technical Information
Architecture and architectural freedom are above all a social issue that must be seen from inside a political structure, not from outside it.

– Lina Bo Bardi
SESC Pompéia Factory Photographs
Sesc Pompeia History
The year 1982 saw the arrival of a new and striking architectural landmark in Brazil, in the city of São Paulo. It was the Centro de Lazer Fábrica da Pompéia (Pompéia Factory Leisure Centre), now known simply as the SESC Pompéia. An architectural complex in some ways shocking, combining a red-brick building that had housed a drum factory since the 1920s – well proportioned, in the style of British factories – with three huge and unconventional concrete towers connected by aerial walkways.
When Lina Bo Bardi visited the old metal barrel factory in the working-class district of Pompéia with plans to build a sports and culture center, the space had already been occupied spontaneously by neighbors who spent the weekends amidst the warehouses of the industrial complex. The priority, therefore, was to maintain and promote this vital activity without demolishing the existing structures designed by the French François Hennebique, one of the pioneers in the use of reinforced concrete.
Lina Bo Bardi's determination to preserve the old factory reduced the space for sports facilities to a small corner of the plot that had a central corridor on which the building was not permitted because there was groundwater. The solution was radical. Two concrete towers house the stacked sports spaces and the dressing rooms. Between them, eight prestressed concrete footbridges span distances of up to twenty-five meters over the non-buildable areas. Rounding off the complex, a third cylindrical tower rising seventy meters high functions as a landmark that can be seen from afar, inviting citizens to become part of this 'little joy in a sad city.'
All new structures are entirely made from rough concrete—alleviated by amoeba-shaped windows the architect referred to as "Spanish civil war holes"—and contain sports facilities like football fields, a swimming pool, and a solarium. Both the "Spanish civil war holes" and the general redesign of the old factory exemplify "muxarabi" (Mashrabiya), a postmodern remix of colonial-style elements that foregrounds references to Brazilian popular culture.
Lina Bo Bardi stripped the factory back to its original concrete and brick to show the structural tectonics while allowing the program to drive the design in a socially utopic vision reflecting Modernism's highest ideals. The building continues to thrive to this day, fascinating lovers of modern architecture worldwide.
Sesc Pompeia Factory Aftermath
Lina Bo Bardi, who had suffered ostracism for almost ten years as a victim of the military regime and the conventional architectural outlook, surprised everyone with this gift to São Paulo. Paris had just seen the inauguration of the Pompidou Centre, an extravagant architectural model that caused a stir among students and young architects and which would soon become a point of reference.
It symbolized an escape route from a modernist model already somewhat in decline. Comparisons were, therefore, inevitable with the new cultural and sports center that had sprung up in the district of Pompéia: they shared an industrial idiom; abrupt changes of scale; colors, many colors; and, principally, 'strangeness' in the context of their surroundings. And yet, despite all this, the two proposals were very distant and dissimilar in their origins, ideology, and results.
SESC Pompéia Factory Plans
SESC Pompéia Factory Image Gallery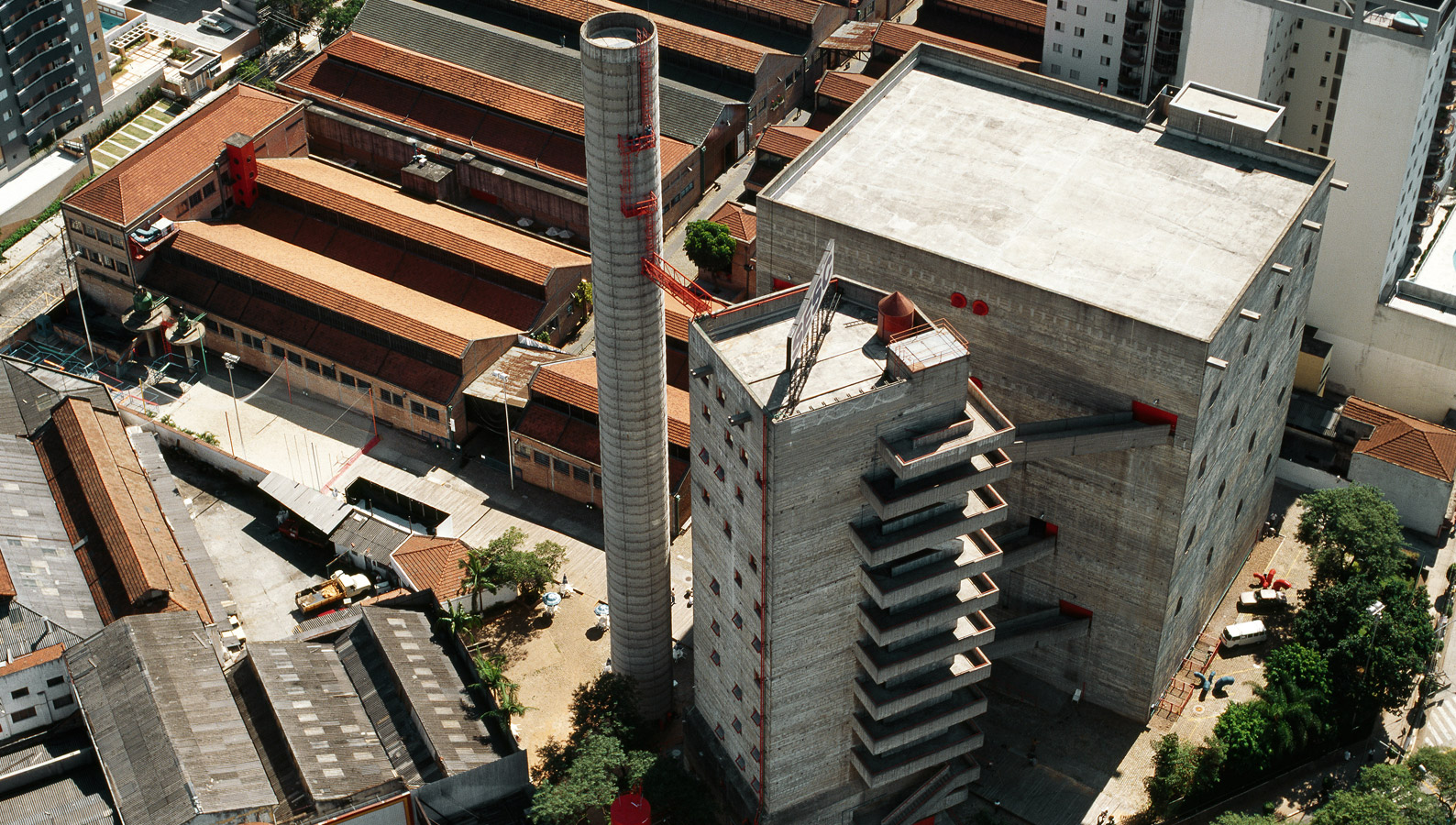 About Lina Bo Bardi
Lina Bo Bardi was an Italian-born Brazilian Modernist architect, industrial designer, historic preservationist, journalist, and activist whose work defied conventional categorization. She designed daring idiosyncratic structures that merged Modernism with populism.
Though somewhat belatedly, Bo Bardi is recognized as one of the most prolific women architects of the 20th century. Among her most famous work is the Art Museum of São Paulo, her own Glass House residence, and Teatro Oficina.
[cite]