Salaryman #6, is a short 2002 movie, about overwork in Japan, frustration, depression and importance of work-life balance. A man in a suit is sprawled on the floor of an office; his colleagues help him to his feet but he seems to have lost his memory. The next morning, he remembers his name (Shiode) and where he works, but he doesn't remember yesterday. That evening, he adjusts his camera to take photographs automatically and leaves a sign on his suit – "take this camera to work." For several days, while the camera makes a record, Shiode rises, leaves his apartment block, takes the train, works at his computer station, buys food at a convenience store, and eats at home. He has the photographs developed, and all is revealed. Spectacular widescrean footage of a mundane day-to-day life: apartment block, train, work, convenience store and dinner at home again. The pieces of a repetitive life are thus revealed.
Salaryman 6 technical information
Salaryman Opinions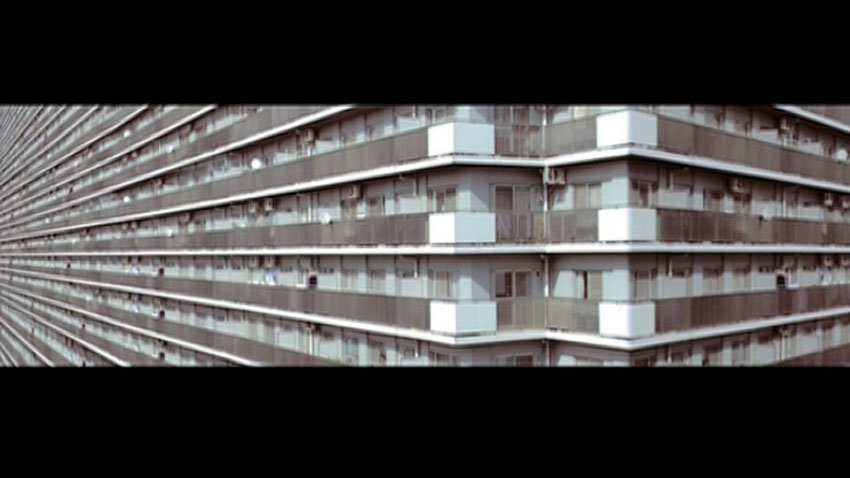 This is a powerful little low-budget short about the dullness of office existence as a single man in the urban jungle. We're taken along for the ride in his effort to see his life objectively by capturing photographs of his day. It's an interesting and worthy idea on its own and marvelously explored in a minimalistic manner, but the real strength of the film is the amazing cinematography by Jacques Nuit – matted to what looks like between 3:1 and 4:1.

I'm not familiar with either the director or the cinematographer, but wonder at how they got together to shoot a Japanese short. I'd definitely like to see it a few more times, just to absorb the imagery. Prior to viewing this, I didn't appreciate extreme widescreen or matted formats (greater than 2.35:1 ratio). This is a perfect example of how visually enticing it can be – and a reminder that a film should always be shown in the aspect ratio the director intended, whether that's 1.33:1 or 4.5:1.
[cite]