In the historic heart of Palma de Mallorca, a transformative architectural endeavor, Project Gomila, is underway, led by renowned firms MVRDV and GRAS Reynés Arquitectos. Having completed the construction of five out of seven buildings, this project, characterized by its vibrant colors, varied materials, and unique rooflines, reinvigorates the Plaza Gomila area in El Terreno neighborhood. The Fluxà Family, owners of the Camper shoe brand, initiated Project Gomila to reinstate El Terreno as a vibrant, green, and sustainable residential neighborhood.
The project, now with 60 new dwellings of various sizes and types, as well as commercial spaces, is resonating with its ethos of merging heritage with innovation and creativity. The buildings, designed in line with the principles of the Passivhaus standard, demonstrate a commitment to energy efficiency and sustainability, incorporating locally sourced materials to reduce carbon emissions. As the project advances with the addition of two more buildings in the forthcoming phases, it is progressively re-establishing El Terreno's historic vibrancy and charm, demonstrating the transformative power of thoughtful architectural design in revitalizing communities.
Project Gomila Technical Information
Project Gomila is an exciting architectural project – each of the seven buildings can stand alone as its own individual design, and yet at the same time, they are also carefully considered as an ensemble that gives Gomila a fresh boost. When looked at together, you see a colorful collection of buildings that still somehow work together as a group.

– Jacob van Rijs, MVRDV founding partner
Project Gomila Photographs
A colorful collection of buildings
Text by the Architects
The construction of the first five out of the seven buildings that make up Project Gomila in Palma de Mallorca is complete. Designed by MVRDV and GRAS Reynés Arquitectos, Project Gomila is a collection of buildings, each with their own individual character derived from their colors, materials, and rooflines, that is transforming the area around Plaza Gomila in the neighborhood of El Terreno. Adding a total of 60 new dwellings of various sizes and types, as well as new commercial spaces, after one phase Project Gomila is already well on the way to reviving El Terreno as a vibrant, green, sustainable residential neighborhood.
Centered around Plaza Gomila, close to the city's harbor, El Terreno is a historic neighborhood of Palma. In the '60s and '70s, it was known for its nightlife, with famous performances by musicians such as Jimi Hendrix, Ray Charles, and Tom Jones in its bohemian nightclubs. After a long period of neglect and decline, the Fluxà Family, owners of the Mallorca-based Camper shoe brand, purchased a series of neighboring plots around the Plaza, initiating a renewal plan that echoed Camper's philosophy of combining heritage with innovation and creativity.
In terms of urbanism, the concept revolves around the diversity of the buildings. Where some of the designs are more suited to family homes, others are more suited for apartments for singles or couples; where some buildings are fully residential, others bring commercial functions into the mix. This diversity of people and spaces will help bring back El Terreno's lost vibrancy.

– Winy Maas, MVRDV founding partner 
The five buildings completed in phase one include the Gomila Center, which forms the heart of the neighborhood. A renovation of a 1979 design by architect Pere Nicolau, on the ground floor, this white building features a spacious patio, with a restaurant, office spaces, and apartments rising around this central feature in a series of stepping terraces and balconies. Next to the Gomila Centre are the red townhouses, Las Casitas, which are topped by a landscape of rooftop terraces, allowing neighboring residents to socialize together.
On the other side of the Gomila Center, located on a prominent street corner, is Las Fabri-Casas, a set of row houses with a saw-tooth roof completed with blue ceramic façades. Tucked behind this is a low-carbon apartment building constructed of compressed earth blocks, with a communal rooftop swimming pool that offers views towards the nearby Bellver Castle. Finally, across the street on the Plaza Gomila itself is the green building La Plaza, a transformation of an existing building that hosts a revival of the historic bar Bellver, offices, and a communal rooftop with views of the bay and the cathedral.
The Gomila buildings are energy neutral, using many of the same principles developed for the Passivhaus standard, including high thermal efficiency and passive climate control measures such as shutters and cross ventilation to reduce energy needs. To utilize the many sun hours of Mallorca, the rooftops host solar panels while heat recovery systems further reduce the buildings' energy consumption. Many of the materials have been sourced locally, reducing the carbon produced by the construction.
The following phases of the project will add two further buildings to the ensemble: the yellow Casa Virginia and a small villa next to the Gomila Center, both renovations of existing neighborhood buildings.
The Gomila Project activates a new centrality in Palma, a new meeting and reference point not just for the people in the neighborhood, but for all the citizens. The project has been very well received, bringing back good memories that Palmesanos had of the area.

– Guillermo Reynés, founder of GRAS Reynés Arquitectos
Project Gomila Plans
Project Gomila Image Gallery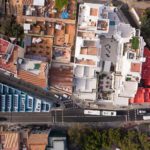 About MVRDV
MVRDV is a globally renowned architectural and urbanistic practice based in Rotterdam, the Netherlands. The firm was established in 1993 by Winy Maas, Jacob van Rijs, and Nathalie de Vries, whose initials form the name MVRDV. Known for its innovative, playful, and often bold designs, the firm has produced a wide array of work spanning various scales and types, including residential, commercial, mixed-use, cultural, and urban design projects.
MVRDV's approach to design is characterized by a high degree of social, economic, and environmental engagement, leading to designs that often challenge architectural norms and conventions. They are known for their projects' experimental research methodology and innovative use of technology and sustainable materials.
Founding Partner in charge: Winy Maas, Jacob van Rijs, Nathalie de Vries
Partner: Fokke Moerel
Design Team: Jose Ignacio Velasco Martin, Jonathan Schuster, Samuel Delgado, Mathias Pudelko, Marek Nosek, Jonas Andresen, Alicja Pawlak, Simone Costa, Ranmalie Mataraarachchi, Carl Jarneving
Partners: Co-architect: GRAS Reynés Arquitectos – Guillermo Reynes, Mayca Sánchez Carvajal, Alejandro Domingo Leal, Mikolaj Zajda Giacomo Sorino, Mariano Esposito.
Contractors: Ferratur, Bibiloni, Tarraco
Structural engineering, MEP, & Cost calculation: EA Engineers Assessors
Graphic Design: Mario Eskenazi, Arauna Studio