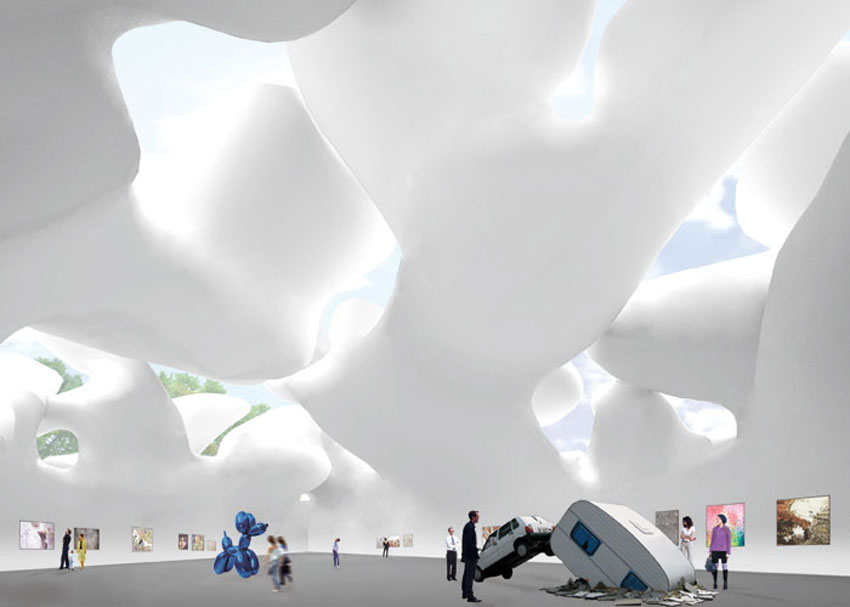 The Pleated Sky Museum in Japan by Architect Akihisa Hirata  is inspired in the way trees spread out to capture the sun.

Pleated Sky Museum technical information
Trees have a symbolic shape. Simultaneously they produce shade while providing an ideal space for mankind. I wondered what would happen if the walls were to keep growing upwards and present an uneven surface like 'pleats'.

Pleats resemble a tree in the way that they spread out and capture the sun and I felt that they would produce a bright, impressive exterior. I also thought that the space beneath this surface would present a relaxed atmosphere, similar to that of tree shade that would be an ideal quality for an exhibition space.

– Akihisa Hirata
Pleated Sky Museum Article
The conceptual philosophy of Akihisa Hirata is called Tangling.  It is inspired by the way fish roe tangle with seaweed in their natural environment.   Refreshingly, Akihisa has invested the time and energy into developing his concept and the work that has come out of it is thoughtful and provides a new approach to the way spaces interact with each other.  The building is "tangled" while maintaining a flow and connection between the spaces, their functions and the people in them.  They have a very village feel to them.  The intent is to see from one room into another and from one level to the next. This comes with the obvious design challenge of protecting people's privacy from below.
Pleated Sky Museum Plans

Pleated Sky Museum Schemes
About Akihisa Hirata
Akihisa Hirata (born 1971) is a highly regarded Tokyo-based architect working on projects both in Japan and abroad. Following studies at Kyoto University Graduate School, Hirata worked for architect Toyo Ito & Associates (1997-2005), before establishing Akihisa Hirata Architecture Office (2005). Realizing commercial buildings, housing, and individual homes in Japan, Hirata's accolades include the SD Review Asakura Award (2004), Japan Institute of Architects New Face Award (2008) and ELLE DECO Young Japanese Design Talent (2009).
His publications include, INAX Contemporary Architect Concept Series 8: Akihisa Hirata – Tangling (2011). In 2011 created the celebrated 'Bloomberg Pavilion' for the Museum of Contemporary Art, Tokyo. Hirata has exhibited at Art Basel, Taka Ishii Gallery (Tokyo), Milano Salone and the Yokohama Triennale. Hirata's contribution, alongside Kumiko Inui, Sou Fujimoto and Naoya Hatakeyama, to the Japanese Pavilion at the 13th Venice Biennale, curated by Toyo Ito, was awarded the Golden Lion for best national pavilion.
More Works from Akihisa Hirata
[cite]