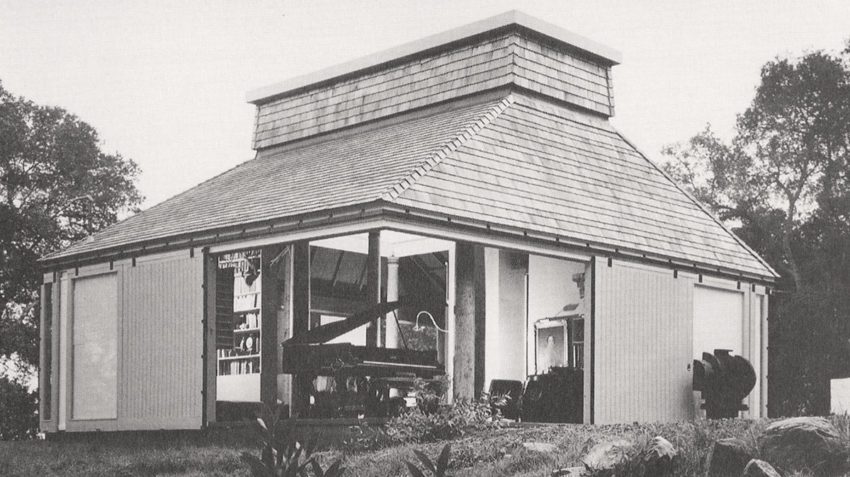 The Orinda House designed by architect Charles W. Moore for himself in 1962 is located in a valley behind San Francisco. In this project, Moore experimented with very simple means the possibility to recreate a project that could embody references to different moments of architectural history and that would allow an unconventional distribution and articulation of space.
Moore House Technical Information
The site was bought one day on impulse simply because it seems full of magic…. Years before, a bulldozer had cut a flat circular building site, which had since grown grassy and now seemed part of the natural setting, like those perfectly circular meadows that inspired medieval Chinese poets to mediate upon perfection

– Charles Moore1
Moore House Photographs
The small project is based on simple geometry and on the archetypal square plan to create a direct relationship with architectural archetypes such as the primitive hut or a Hindu temple.
Its forms admittedly derive from primitive huts and from Mayan or Hindu temples—to say nothing of the famous Trenton Bathhouses by Louis I. Kahn—and Moore makes it clear that he was thinking in broad and recollective terms when he made the design."

– Gerald Allen2
A pyramidal roof with a flat sky window on top emerges from the outside walls and is supported by a combination of elements: a ring of beams laid on the exterior walls and some of the wooden columns inhabiting the interior space, while the whole house rests on a simple, concrete foundation. The corners of the building, materialized by sliding barn-like doors, are never touched by the outside walls. The doors can be opened to let the light to get in, underlining the continuity between interior and exterior.
Eight columns, in groups of four, sustain two aediculae of different dimensions supporting two asymmetrical pyramidal roofs located within the main roof. These two sub-spaces inside the larger volume articulate the interior, and as they are painted white, they contrast with the rest of the surfaces. Between the two pavilions, a high bookcase structures the place for the beds. Only the toilet, some shelves and the cooking area are enclosed behind a wall, while all the rest of the space is freely distributed under the main roof.
The significance of Moore's Orinda house is expressed by Kevin Keim in his book An Architectural Life: Memoirs and Memories of Charles W. Moore:
In a decisive move of great clarity and wit, Moore broke from the shackles of modernist ideology. It was astoundingly fresh. Modernism's sacred flat roof was swept away and replaced with a pyramidal roof. Even more to the point, the house was a simple pavilion of banal materials, defying the convention that a building had to be monumental in order to be architecture.

– Kevin Keim
Moore House Floor Plan and Section
About Charles Moore
American postmodern architect and educator Charles Willard Moore (1925-1993) is noted for his eclectic range of historicist buildings, each of which represents a unique response to the context of its site and culture—whether in the form of vernacular shed-roof wooden houses, Palladian-inspired stuccoed villas, or Federal-style college buildings. All are done as serious comments on current architectural theory and at the same time evoking a sense of gaiety or irony.
Orinda House Image Gallery
Other works from Charles Moore  
Sources
Charles Moore, Gerald Allen, Donlyn Lyndon. The Place of Houses. New York: Holt, Rinehart and Winston, 1974. p59
Gerald Allen. Charles Moore. New York: Whitney Library of Design, 1980. p.24.